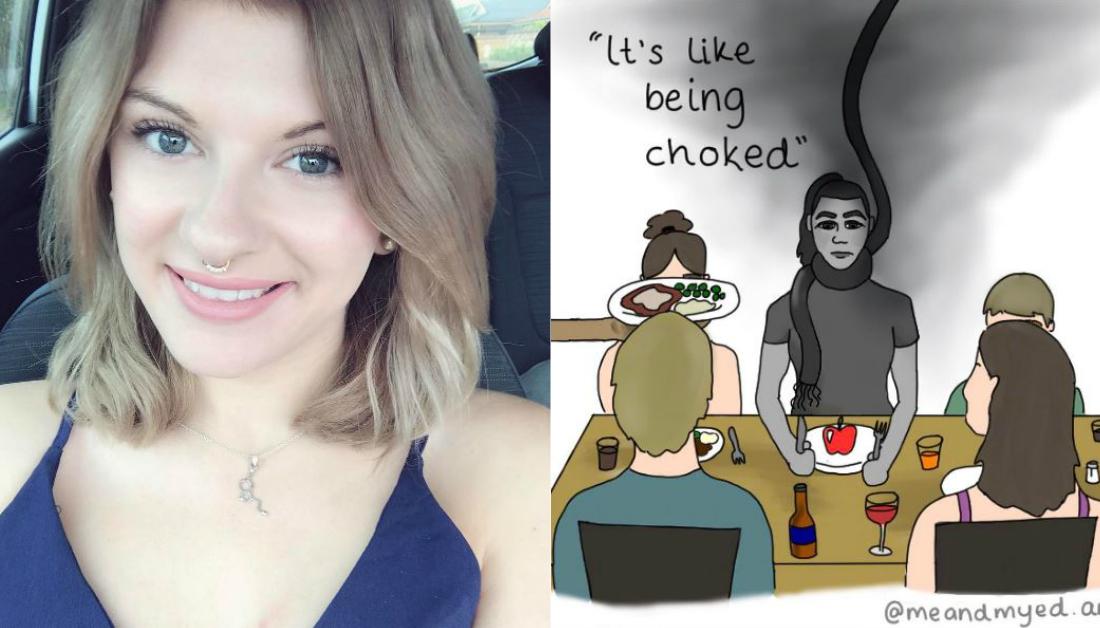 This Artist's Instagram Account Is Reaching Eating Disorder Survivors In A Profound Way
By Mustafa Gatollari
It bothers me just how much of my existence revolves around food. And given that 8 million people in the U.S. suffer from eating disorders, I'm far from alone in having an unhealthy relationship with food.
I hate myself for what I eat when it's unhealthy. When I am eating healthy for weeks and I feel self-destructive I binge for days on cheesecake for breakfast and chocolates at all times of the day, fooling myself into thinking my body can "burn it off" with the 30 minutes of cardio I do a day.
If I'm not eating what I should be eating: I'm stressing over it. Even when I am eating what I should be eating I don't stress enough and fall back into the habits of self-destructive eating. I've tried all sorts of drugs and substances, opiates that have made me feel incredible and to be honest, none of them had anything on a bar of chocolate packed with hazelnuts.
Both men and women suffer from eating disorders, and sometimes a complicated relationship with food can morph into a relationship that is actually debilitating. Eating disorders can have long-term effects on all aspects of your health, from the strength of your heart, to your bone mass, to even your teeth. Eating disorders can also be crippling for mental health and have a high correlation with depression, anxiety, and low self-esteem. They're no joke, and they're definitely not a choice.
Many people with complicated relationships with food immediately relate to this artist's Instagram.
Titled, "Me and my ED" artist Christie Begnell addressed her eating disorder through a series of candid illustrations that get brutally honest on how she copes with food.
Many of the drawings deal directly with her fear of weight gain and the social demands that are put on women's bodies.
Both the physical and mental health implications with society's obsession of women being thin.
A lot of her illustrations have uplifting messages, too.
Bregnell even tackles the often overlooked struggles men have with body image.
Begnell compiled her illustrations and passages into an e-book called "Me and my ED."
She hopes to raise more awareness and start a larger conversation about eating disorders, as there are tons of people who suffer from them.
Judging by the positive response and great start her account's received, it looks like it's definitely a topic of conversation that needs to be addressed more.
Because at the end of the day, we should always just strive to find happiness and health.
Isn't that what life's all about?