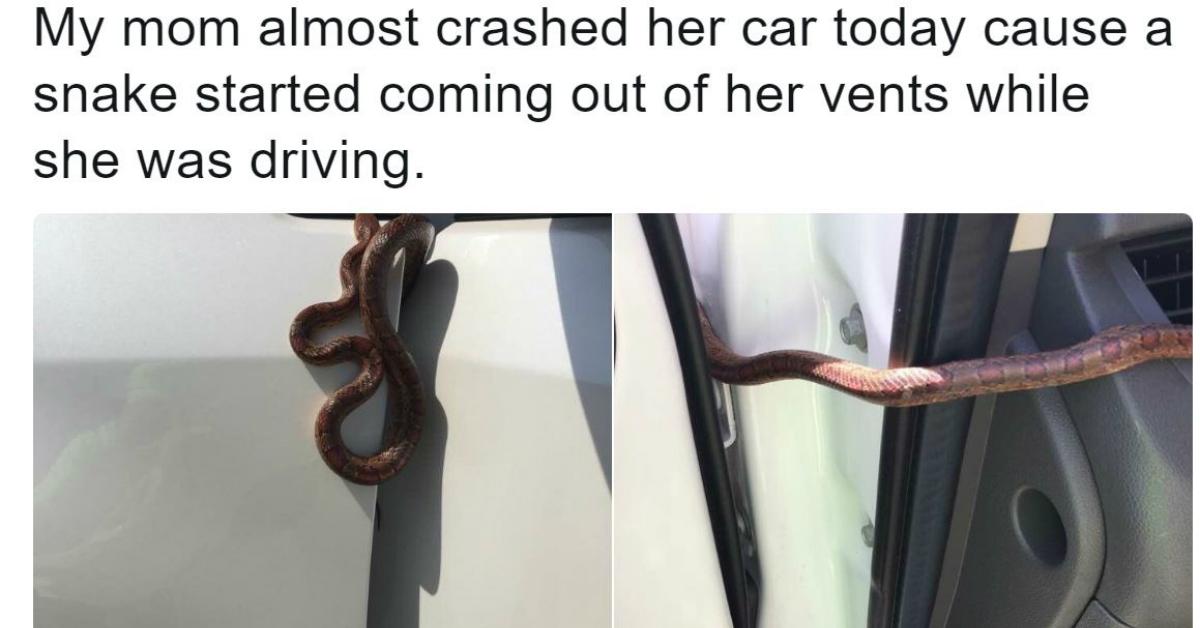 Real Life Nightmare: Snake Crawled Out Of Woman's Air Vent While She Was Driving
By Mustafa Gatollari
Now, I don't have a lot in common with Indiana Jones. I'm not super intelligent. I don't go on adventures. And I don't have rugged good looks.
What I do have in common with old Indy, however, is an irrational fear of snakes. Maybe I'm not as afraid of snakes as he is, but I have to admit that the slithery buggers really creep me out.
So when I saw what happened to Monica Dorsett while she was driving her car, I nearly spit my coffee out and shrieked like a little girl.
Because one day, when she was minding her own business, a friggin' snake crawled right out of her car's air conditioner vents.
Monica's daughter Kristina wrote on Twitter, "My mom almost crashed her car today cause a snake started coming out of her vents while she was driving." That would 100% scar me for life.
In an interview with Fox 35 Orlando, Monica said that when she saw the snake, she screamed and then tried to get out of the car as quickly as possible. "I looked and I didn't see anybody in [the passenger side] mirror so I did a right turn over two lanes into a parking lot." She "slammed it in reverse, undid my belt and rolled out of the car as fast as I could."
Just imagine...you're happily put-putting across the highway when this comes your way. Where the heck did it come from? What does it want??
No thanks. Shortly after she snapped these photos, Monica says the snake started crawling back into the vent.
In case you're wondering where this took place...
You hear that Floridians? CHECK YER VENTS.
People were obviously freaking out over it.
My thoughts exactly, Bugs.