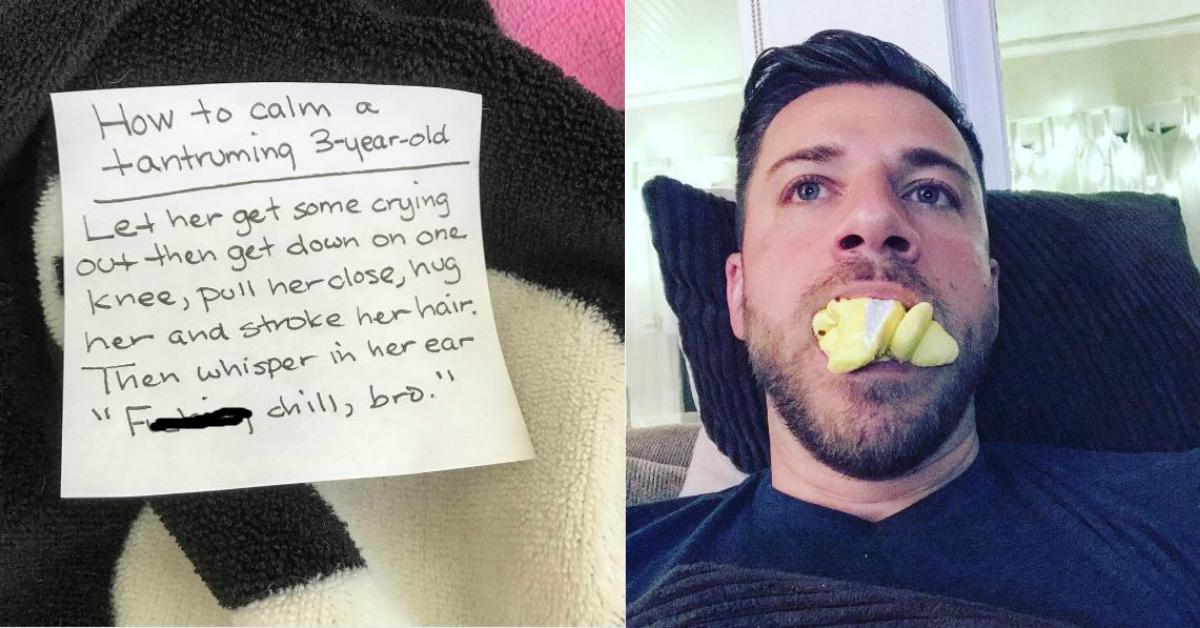 This Stay-At-Home Dad Leaves Hilarious Parenting Notes For His Wife To Find
By Mustafa Gatollari
I never thought I'd be a father, nor did I ever really want to have kids, until I went on my first real date with my wife. I remember sitting there and the thought just popping into my head that if I were to have kids with someone, I could definitely see myself raising another being with her.
And although it happened a hell of a lot sooner than I would have liked, I'm really digging being a dad and look forward to hanging out with my son every chance I get. The love that the little rambunctious monster is capable of is astounding and he's easily one of the best things that's ever happened to me.
Although I had a lot of fears about becoming a parent, I think one of the bigger ones I had was that it was going to turn me into some insufferable know-it-all when it comes to raising children. But the fact is that helping to raise a tiny human 24 hours a day affords you a certain amount of knowledge on the subject of child-rearing. So you learn a thing or two about parenting.
And this stay-at-home dad decided to share his parenting experiences with these hilarious notes he leaves across the house for his wife to find.
Chris Illuminati said in an interview with Metro that he decided to be a stay-at-home dad because childcare was "obscenely expensive" and that it didn't make sense for him to work another job so someone else could take care of his kids. So he decided to stay at home with the children and do freelance work on the side for extra income.
He got the idea for notes when his wife, Libby, initially reminded him of all the duties he was responsible for while at home with the kids.
He joked about writing down the duties in case he forgot, and soon the serious notes took on a more humorous tone, which made his wife laugh. And his ridiculous messages were born.
After seeing that his wife was getting such a kick out of them, he decided to post them to Tumblr.
The response he got online was overwhelmingly positive, so he started his own Instagram account, @messagewithabottle.
The short joke format comes from his obsession with Twitter, which he says "kind of transferred over to written notes."
"The purpose is to make other parents (or even non-parents) laugh. Because raising a kid is sort of the same for everyone. We all have these moments with our kids."
Chris is all about making parents laugh with his notes: "If I can make one parent laugh on an otherwise crappy day, I'm happy."
"I plan on doing this for as long as people think I'm funny. And I mean strangers. My kids already stopped thinking I'm funny."