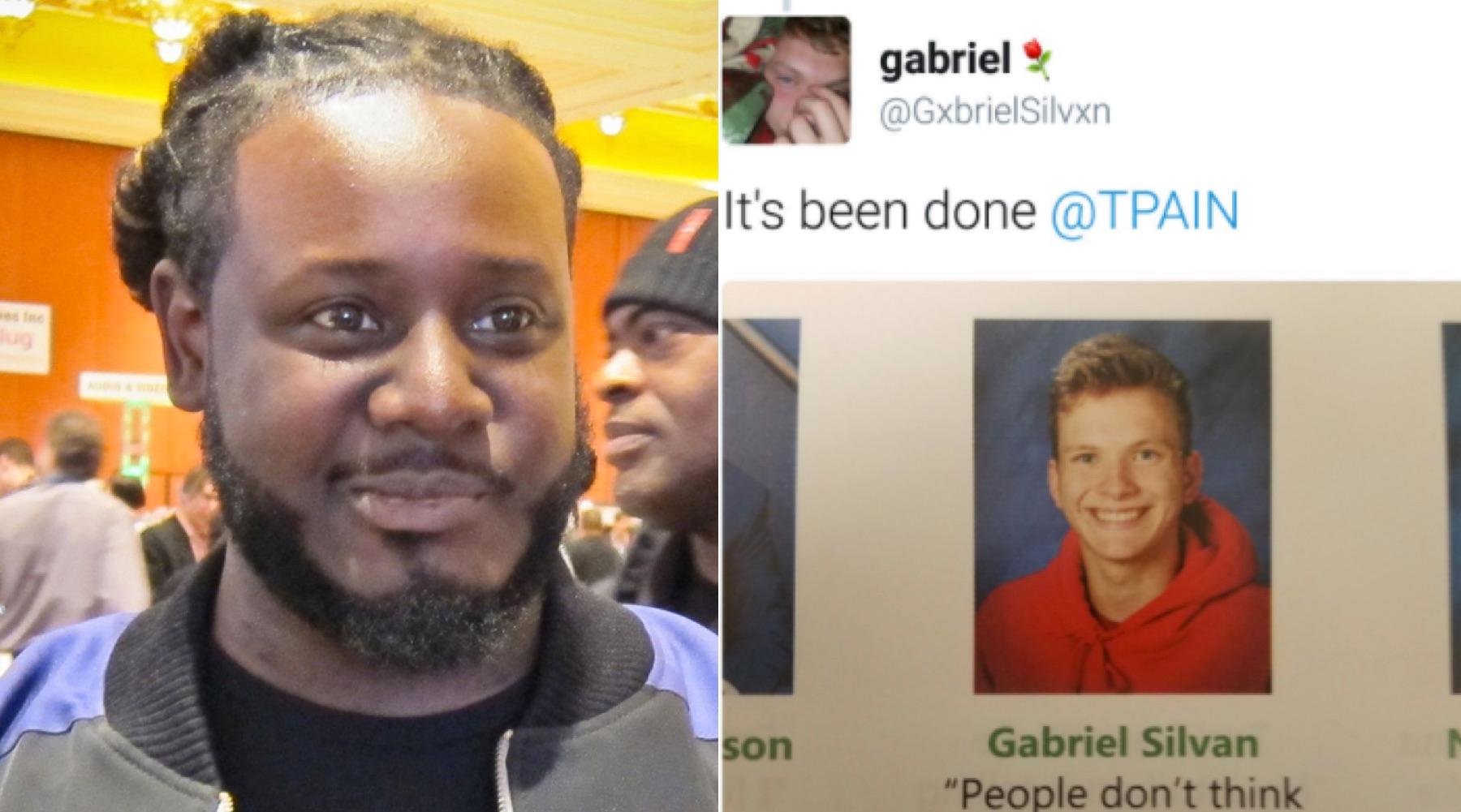 Teen Got More Than He Expected When He Asked T-Pain For A Yearbook Quote On Twitter
By Aimee Lutkin
High school is funny in a way that a lot of RPGs are funny. You level up your characters by fighting enemies in these small areas for hours and hours to beat this big bad, boss. Then, once that's done, you go out into another area of the game that eventually leads you to the World Map and you realize, "Wow, this game is a heck of a lot bigger than I imagined."
That's what high school was like for me: everything seems like such a big deal and then, once you get to college and start working multiple part-time jobs to save money, you realize that all of the stuff you dealt with in high school was petty and not worth your time.
A teen named Gabriel who just graduated is celebrating going viral after his hero, T-Pain, tweeted back at him in a fantastic display of online comradery. Gabriel has two Twitter accounts, @dryrain and @gxbrielsilvxn, but both of them are littered with references to his hero.
In fact, one of his bios says, "T-Pain is my dad," so this is the level of fandom we're talking. When you love someone that much, you want to get them involved in the big moments in your life. In Gabriel's case, T-Pain actually wanted to connect:
The story is quite a roller coaster. Gabriel asked T-Pain for a yearbook quote:
And the man provided, writing, "People don't think it be like it be, but it do." Wise words, which Gabriel took to heart:
This is an awesome story, but some Internet sleuths discovered that this quote is actually attributed to baseball player Oscar Gamble, which he reportedly said in reference to racism in the sport. Much heavier than Gabriel likely intended:
This has unexpectedly turned into a learning moment for Gabriel and all of us. The greatest yearbook quotes make you think.