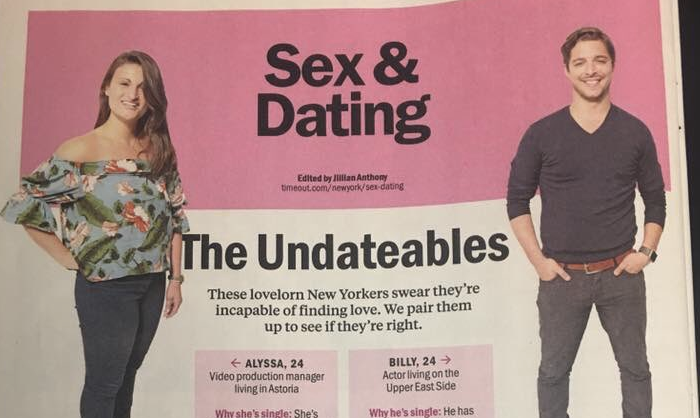 This Blind Date From Hell Has The Internet Screaming
By Jaime Lutz

Nov. 18 2019, Updated 2:20 p.m. ET
Online dating has changed the game forever.  It took a crazy thing in dating to begin with, and just added so many different layers to beware of and now we seem to be in an endless abyss. 
Everybody in New York City knows that the best part of getting Time Out New York handed to you while you're getting on the subway is getting to read the "Undateables" section, in which two New Yorkers are thrown together on a blind date at some hip restaurant. Often, it unfolds as a mini reality show, featuring the kind of bitchiness New Yorkers have mastered. And in this week's issue, the column might have reached its apex, with the lopsided duo of Alyssa and Billy.
Article continues below advertisement
There's a lot to unpack there. This 24-year-old lives on the Upper East Side, gets mad when a women is five minutes late to a date, and apparently thinks a good conversation is someone complimenting him "many times." (Full disclosure: I used to freelance regularly for Time Out and on one occasion I organized a series of blind dates for the magazine for a similar feature.)
The internet couldn't get enough of this guy.
Article continues below advertisement
When my family asks me why I'm not dating anyone, I'm just going to show them today's Undateables article.

— Emmy Potter (@emmylanepotter) June 28, 2017
I love how she seems nice and like "we ordered ice cream I guess it was a little weird" and he's like "this dumb bitch ordered ice cream"

— nuanced opinion guy (@charles_kinbote) June 28, 2017
Article continues below advertisement
this week on the undateables: sweet, hardworking film professional has terrible date with rude jobless man whose daddy pays his UES rent https://t.co/13IPavoIJ4

— amanda pell (@missamandapell) June 28, 2017
Article continues below advertisement
.@TimeOutNewYork Where did you find Billy for this week's Undateables? He's the worst person I could imagine.

— Rosie Izzi (@rizzi_PR) June 28, 2017
And even people who know him didn't defend him.
Article continues below advertisement
I KNOW HIM!!! Holy crap. Trust me this article isn't the least of it. There's honestly SO MUCH.

— Christian (@Amadeus_CV) June 28, 2017
Omg I know him and he is a BACKGROUND ACTOR and mansplainer extraordinaire lmfao

— Eileen Limer (@leenonme413) June 28, 2017
Article continues below advertisement
Billy tried to defend his name in tweets that have since been deleted. "Hey ladies! It's easy to think someone's a dick when the magazine takes full artistic liberty with their words! GROSSLY misquoted! Awful!" someone claiming to be Billy tweeted. "I would swear on my life that I was grossly misquoted. Not for me? Yes. Doesn't have the goods? Never would I say that. I'm actually upset."
Who knows if there's any validity to Billy's claims, but it should be mentioned that Billy has this description on his IMDB page: