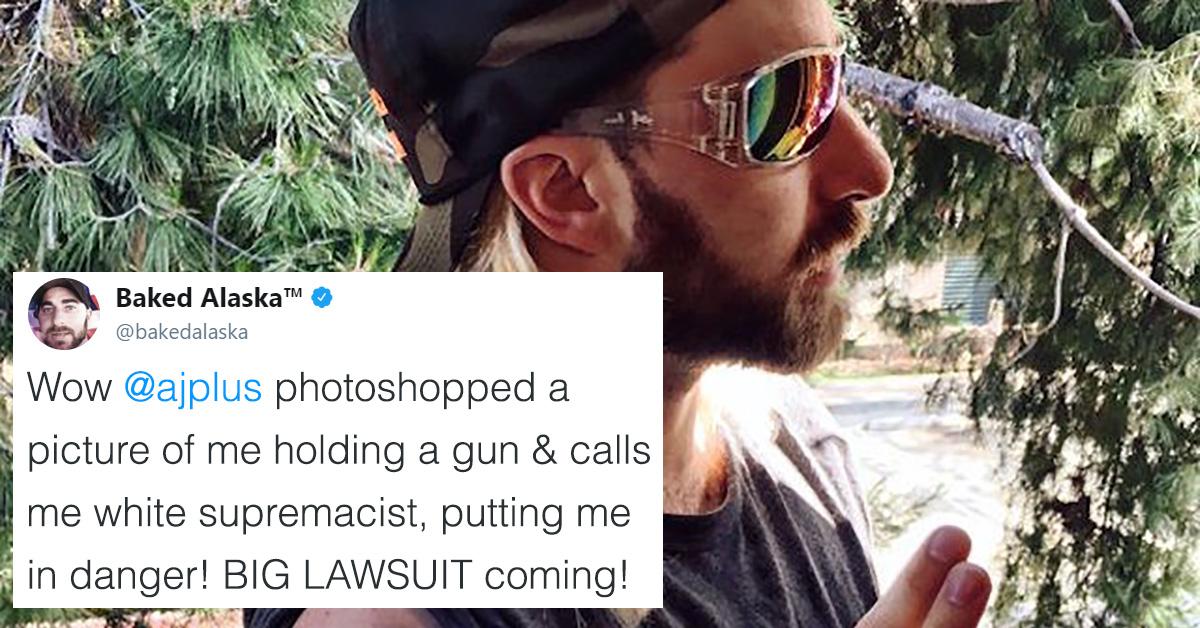 White Nationalist Claims Website Photoshopped A Photo Of Him With A Gun—But Twitter Had The Receipts
By Mark Pygas
Tim "Treadstone" Gionet is a 29-year-old internet troll widely known as Baked Alaska on Twitter. Gionet is perhaps most infamous for being removed as a headliner of the pro-Donald Trump 'DeploraBall' back in December 2016 after it emerged that he had a history of anti-Semitic and pro-Nazi tweets about the "Jewish question."
Gionet also led a boycott of Netflix over their new show Dear White People, which Gionet labelled as an "anti-white show that promotes white genocide."
On Wednesday, Gionet took to Twitter to accuse AJ+ of photoshopping one of his images to appear as if he was holding a gun. He went on to claim that the video that featured the image put him in danger, and threatened the news outlet with a lawsuit.
The problem? The photo is from one of his own tweets posted in August. I mean if there ever was a nerd of nerd mistakes to make, this is one of them.
The video in question, which features a clip of Gionet claiming that Syrian dictator Bashar al Assad "did nothing wrong," even credits Gionet's Twitter account as the source of the image, with the citation clearly visible in the top left corner of Gionet's screenshot.
The United States government has repeatedly accused Assad of atrocities against civilians during the Syrian civil war. In April, President Donald Trump ordered a missile strike on a Syrian government airbase linked to a deadly gas attack on civilians.
Here's how Gionet responded to a request for comment from Gizmodo...
Twitter users were quick to point out Gionet's mistake...
Well then, maybe next time he decides to start making noises about lawsuits and defamation, he should check his own timeline history. It's hard to blame him though, when you try to make a living off of talking $#*! on the internet, it's hard to keep track of all that $#*!.