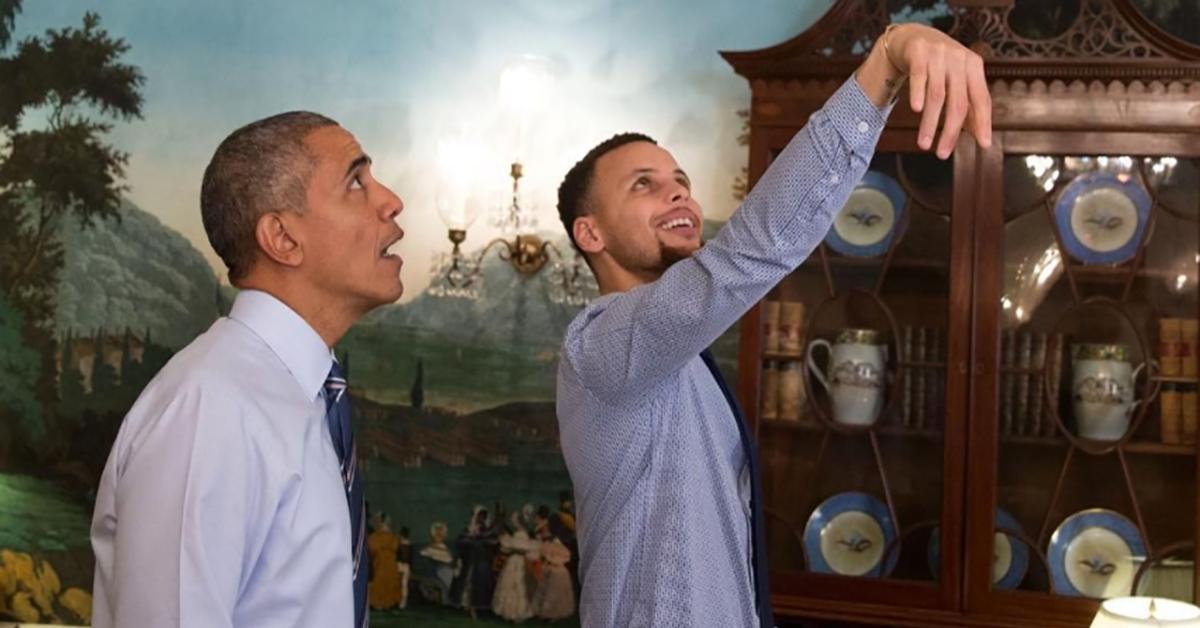 Obama's Photographer Throws Shade At Trump With Photo Of Steph Curry Visiting White House
By Mark Pygas
President Donald Trump has a new enemy: the National Basketball League. It's all the result of the Golden State Warriors announcing a plan to allow their team to vote on whether or not they would visit the White House. Steph Curry quickly announced that he'd be joining teammate Kevin Durant in not going.
"The things [Trump] has said, the things he hasn't said in the right times, we won't stand for it," Curry said. The news quickly went viral, and it wasn't long before President Donald Trump took to Twitter to withdraw his invite to the team.
The Warriors also fired back, and "constructively use our trip [to Washington] to celebrate equality, diversity, and inclusion — the values that we embrace as an organization."
And in true style, President Barack Obama's former photographer, Pete Souza, took to Twitter to share a photo of President Obama shooting hoops with Steph Curry.
Jemele Hill, the ESPN journalist who got into a fight with Donald Trump on Twitter, also had something to say.
Pete Souza's website describes him as:
"A freelance photographer in the Washington, D.C. area and Professor Emeritus of Visual Communication at Ohio University. Souza was the Chief Official White House Photographer for President Obama and the Director of the White House photo office."
"His book, "Obama: An Intimate Portrait," was published by Little, Brown & Company in 2017, and debuted at #1 on the New York Times bestseller list. It is one of the best-selling photography books of all time."
"His new book, "Shade: A Tale of Two Presidents," also debuted at #1 on the New York Times bestseller list in October 2018. Shade is a portrait in Presidential contrasts, telling the tale of the Obama and Trump administrations through a series of visual juxtapositions. Here, more than one hundred of Souza's unforgettable images of President Obama deliver new power and meaning when framed by the tweets, news headlines, and quotes that defined the first 500 days of the Trump White House. His companion exhibit, "Throw Shade, Then Vote," is currently on display at the Stephen Kasher Gallery in New York."