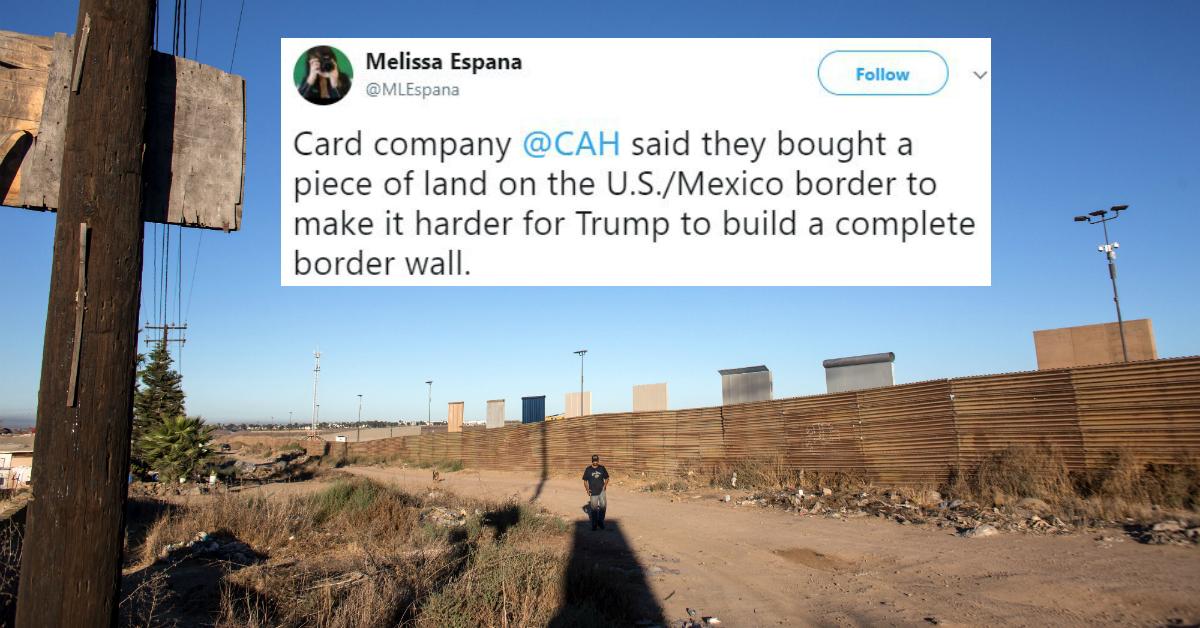 'Cards Against Humanity' Bought A Piece Of The U.S. Border So Trump Can't Build His Wall
By Mustafa Gatollari

Updated
Cards Against Humanity's been known for its huge publicity stunts. Like when the company dug a giant hole to represent the bleakness of the 2016 election.
And when they raised the price of their game by $5 on Black Friday 2016, resulting in a sales spike.
The company's latest stunt, however, might be its biggest yet. To make a point to Donald Trump (and gain some serious publicity) the game manufacturer reportedly decided to purchase a plot of land right along the U.S. border to try and stop Donald Trump from building the wall.
As part of this year's Black Friday promotion, "Cards Against Humanity Saves America" debuted with a press release directly aimed at Donald Trump in an attempt to foil one of his earliest campaign promises.
As per the company's official statement, the "Saves America" edition of the game comes with a few special goodies.
"Donald Trump is a preposterous golem who is afraid of Mexicans. He is so afraid that he wants to build a twenty-billion dollar wall that everyone knows will accomplish nothing. So we've purchased a plot of vacant land on the border and retained a law firm specializing in eminent domain to make it as time-consuming and expensive as possible for the wall to get built.
On Day 1, all Cards Against Humanity Saves America Recipients will get an illustrated map of the land, a certificate of our promise to fight the wall, some new cards, and a few other surprises."
People were smitten not only with the idea, but the promotional video associated with the special Black Friday edition of the game.
Fans also were stunned about the amount of planning and thought that went into the company's idea.
Potential buyers who live outside the states came up with a great shipping idea to help Cards Against Humanity get their point across.
And the company might be getting political, but that doesn't mean they've lost their edge, either.
People are already gifting the special edition to their friends.
It's pretty surprising, considering such scathing and righteous political moves are being made by a company that makes a game that's about being as vulgar, gross, and nihilistic as possible.