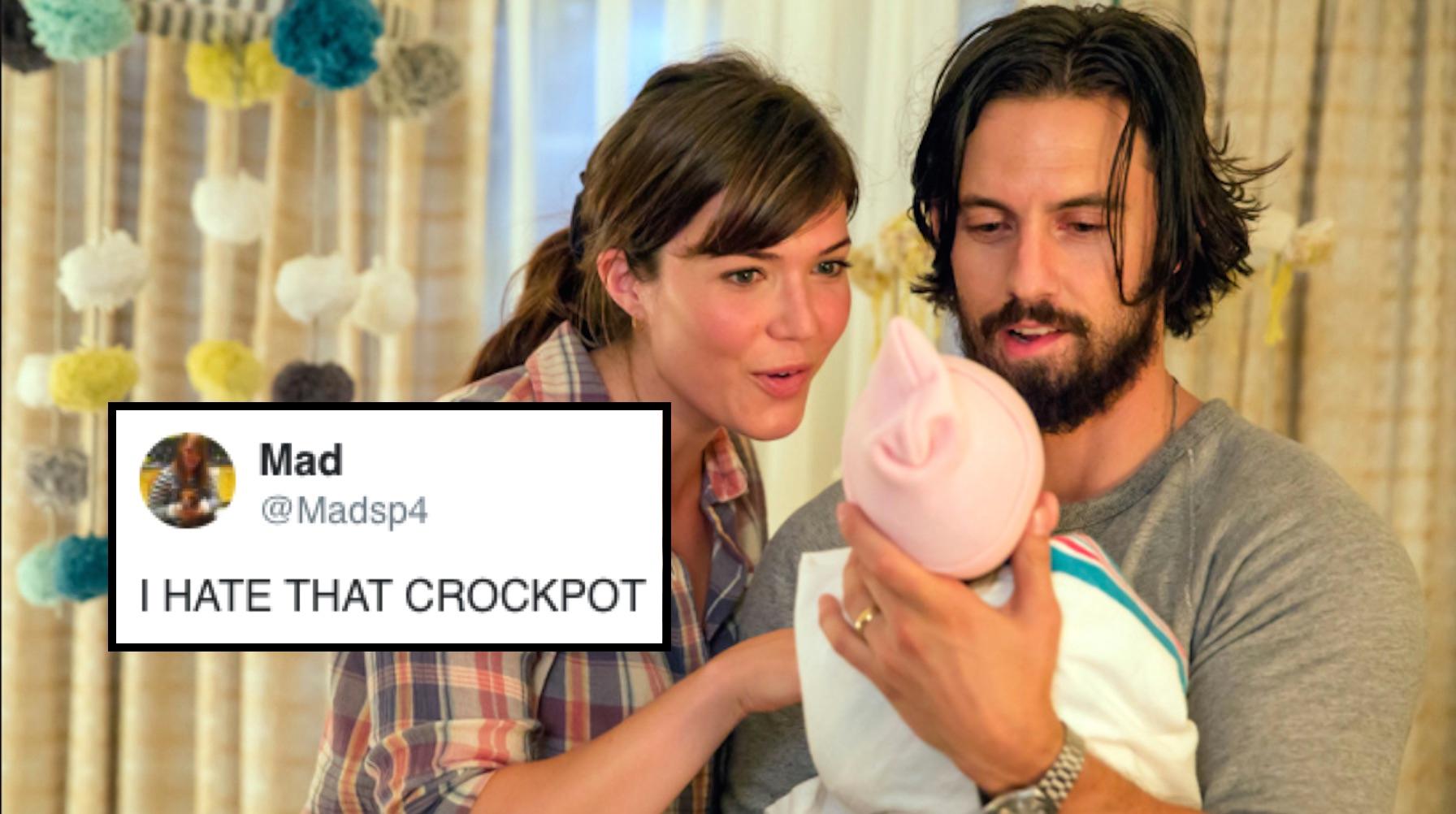 Fans Of 'This Is Us' Are Furious At Crock Pots For A Surprising Reason
By Aimee Lutkin
This post will, by necessity, be a bit spoiler-y if you haven't seen the most recent episode of This Is Us. But honestly? I think it's worth it.
On Tuesday's episode, the series hinted at what may be the cause of death for beloved patriarch, Jack. It's a Crock Pot.
Jack and Rebecca are gifted an old Crock Pot by their neighbor George, who warns it has a faulty button. Towards the end of the episode, Jack turns it off, but the Crock Pot turns itself back on, causing a fire that soon runs rampant through the house.
Though it's not entirely certain that this will be Jack's death moment, fans are enraged at the product, much to the Crock Pot brand's dismay.
This is all wrong. The Crock Pot is an incredibly useful kitchen appliance that cooks chicken and beef perfectly, and makes it easy to cook a giant pot of dried beans in just a few hours. It doesn't deserve this bad press!
Crock Pot doesn't think so either. The company first tried to address it in a funny way in a Facebook comment, interacting with fans who are still distraught: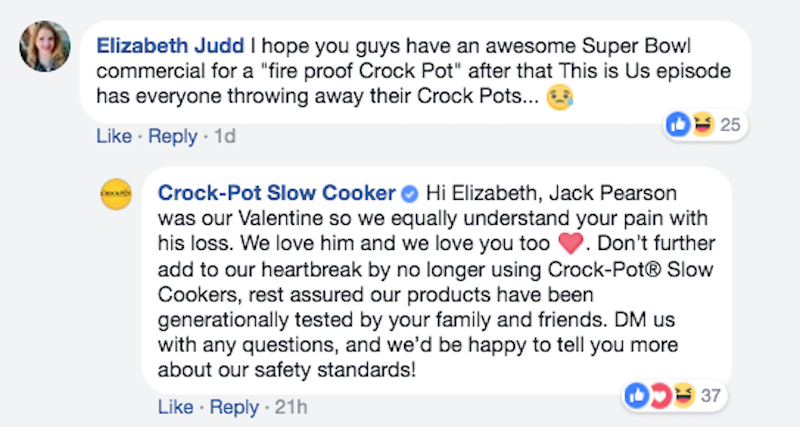 But later released a much more serious and comprehensive statement to TV Line:
"Crock-Pot understands the concerns brought up by last night's episode of This Is Us, and we too are heartbroken by the latest development in Jack's storyline. However, it is important that our consumers understand and have confidence that all Crock-Pot slow cookers exceed all internal testing protocols and all applicable industry safety standards and regulations as verified by independent third-party testing labs. For nearly 50 years, with over 100 million Crock-Pots sold, we have never received any consumer complaints similar to the fictional events portrayed in last night's episode. In fact, the safety and design of our product renders this type of event nearly impossible."
"In addition, and most relevant to the concerns consumers are having after watching the recent This Is Us episode, our Crock-Pot slow cookers are low current, low wattage (typically no more than 200 or 300 watts) appliances with self-regulating, heating elements. The product is designed to cook foods over a longer period of time at low temperatures and the switches connect to only 1 side of the power line voltage, so there is never a high voltage applied directly across our switches. The switches within our slow cookers are subjected to additional internal testing, which includes a Rotary Knob Endurance test, Rotary Knob Force Test and Flame Burning Test and constructed of self-extinguishing, flame resistant material."
"Our hope is that the team at NBC's This Is Us will help us spread factual information regarding our product's safety. While we know their primary mission is to entertain – something they have continued to excel in – we also feel they have a responsibility to inform. Just like many fans, we will be watching next week's episode to see how Jack's story progresses and, regardless of the outcome, we want consumers first and foremost to know they are safe when using their Crock-Pot."
Oh gosh. Poor Crock Pot.
It doesn't seem like their reasonable well-argued points have had any effect.
It seems unlikely that people will change their minds and a lot of good Crock Pots are gonna go to waste over this. Thanks a lot, This Is Us. Why couldn't you have made a vape the cause? Those have got to go, if you ask me.