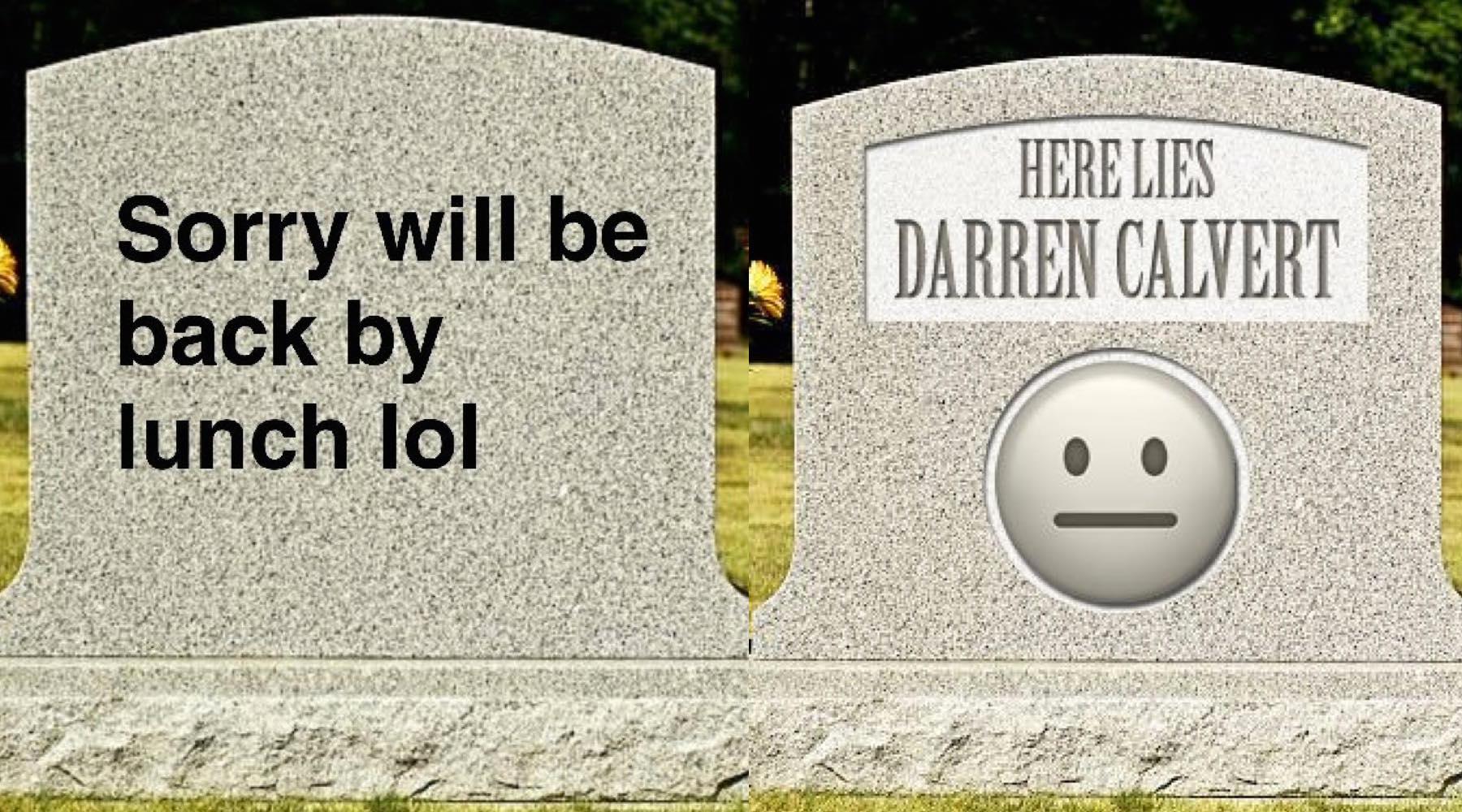 The New Twitter Game Is Turning Your Last Text Into Your Headstone
By Aimee Lutkin
Death is coming for us all, so let's have a little fun with morbid Twitter games along the way. Comic artist Dan McDaid is keeping the Internet occupied with a creepily accurate game: all you do is check your last text sent, and you'll see what's written on your headstone. For some reason, they're all hauntingly meaningful? He even provided a blank gravestone and his own epitaph for inspiration.
He begins, "Bad news: the last text you sent is what's going on your headstone. Mine is '...I'll be up shortly,' which is optimistic to say the least." And he adds a blank headstone for people to go wild.
Everyone, even Chrissy Teigen, was ready with the screenshot. It seems like we all know our lives will not be marked with great philosophical quotes, but rather emojis and mundane requests for toilet paper.
Some of our favorites are shared below. They include but are not limited to:
"Sorry will be back by lunch lol," "Mum is now awake," "I didn't charge my phone last night and it died (+bonus for the use of the coffin emoji, here)," "I ran out of time to watch the rest of the show. Should I go back for it?," "no no no no no no no no," "I'm confused as to what's happening," and "Well, I wasn't expecting that."
So? What will your gravestone day? Mine will read, "So when is the projected exit?"
Spooky.
But there are so many different ways you could arbitrarily decide on a headstone engraving. Or are they called tombstones? Do we really care? We could go through our emails, and find our last sent, or we could also find the last one sent to us. Or we could find the last Facebook status we posted, or the last thing we tweeted.
Either way, whatever arbitrary last words we end up deciding should preside over our remains forever better be a good choice. But even if it's not, does it really matter? It's not like you'll be around to see it anyway.