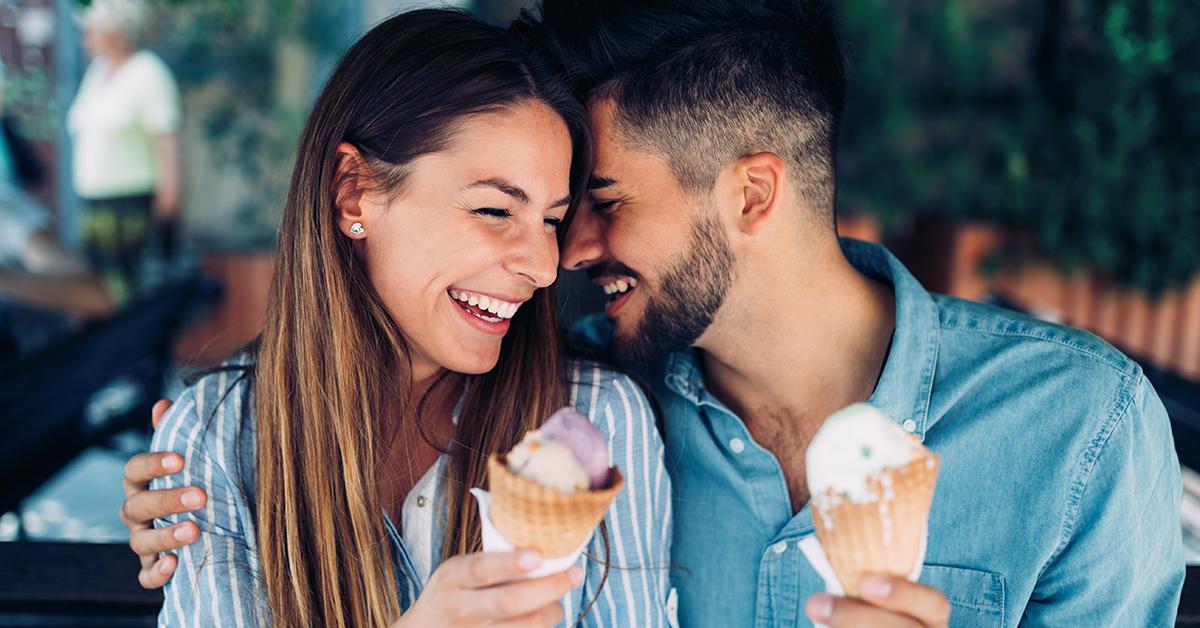 People Are Sharing the Unromantic Ways Their Partners Show Love — and It's Too Pure
By Anna Quintana
If you're single, now is a good time to step away from the computer. Writer and avid Tweeter Hattie Gladwell asked her followers to share the one thing their partner does that's not "romantic" but makes you love them even more — and the responses were low-key depressing.
And by depressing I mean, they had me jumping on Tinder and swiping until I found the one who might run me a bath every night and put the kettle on in the morning, just like Hattie's boo. But honestly, the thread exploded with hundreds of people sharing the tiny ways their significant others express their love on a daily basis.
From a husband braiding his wife's hair before bed (is this real?) to eating slower so they can finish their meals together, these couples are the definition of #relationshipgoals. Ladies and gentlemen, take notes.
1. Stick to sweet nicknames.

What's in a name? This guys knows the secret to keeping the magic alive after over a decade together. And if you're wondering if he has nicknames for all the ladies in his life, @JuilierMrs clarified, "He calls our daughter, nieces, sisters, moms and aunts by their actual names."
2. Braid her hair.

Taking a trick out of Chris Pratt's romance book, this is further proof that guys should never underestimate the power of a well-done braid.
3. Coordinate your meal times.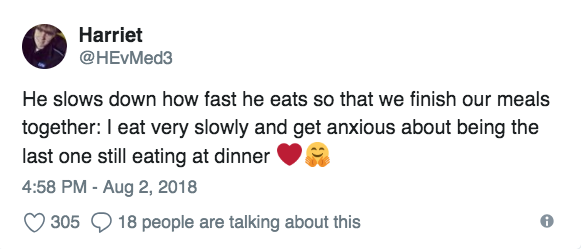 Harriet explained how her S.O. understands and deals with her anxiety at meal time. "I think everyone is different, but I've always just had to stop eating when everyone else is done," she explained. "Anxiety can manifest in different ways for each person depending on their experiences, but, no you're not alone ."
4. Express yourself through art.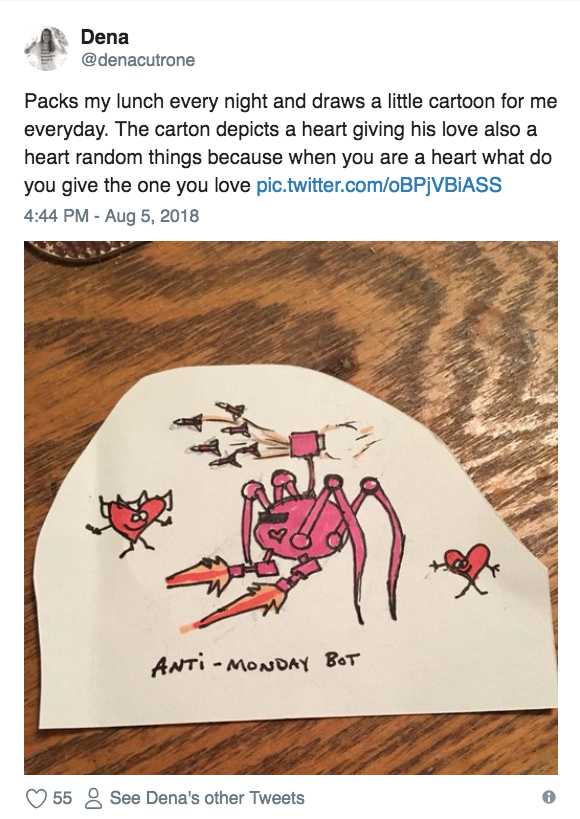 Who said romance is dead? Judging from this photo of this anti-Monday bot, love is alive and well.
5. Improve the morning commute.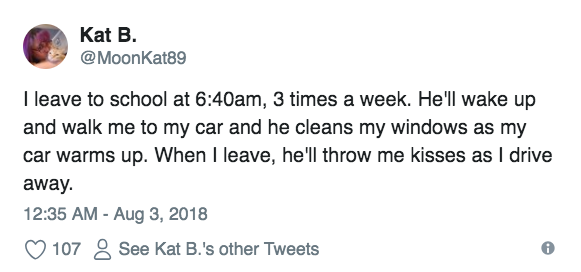 Not only does Kat B.'s partner wake up with her — he also makes sure her commute goes as smooth as possible. What more can you ask for?
6. Be your partner's biggest fan.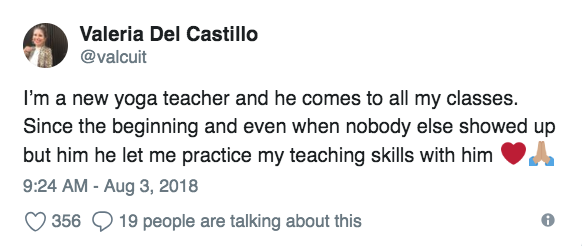 7. Be compassionate.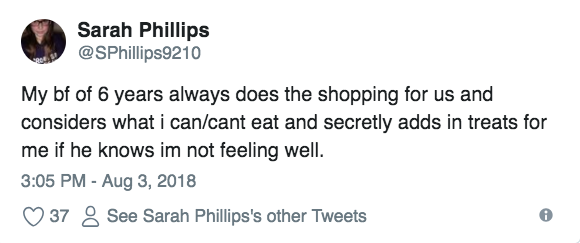 Not only does her boyfriend keep in mind her dietary restrictions when shopping, he surprises her with treats to make her day.
8. Make each other laugh.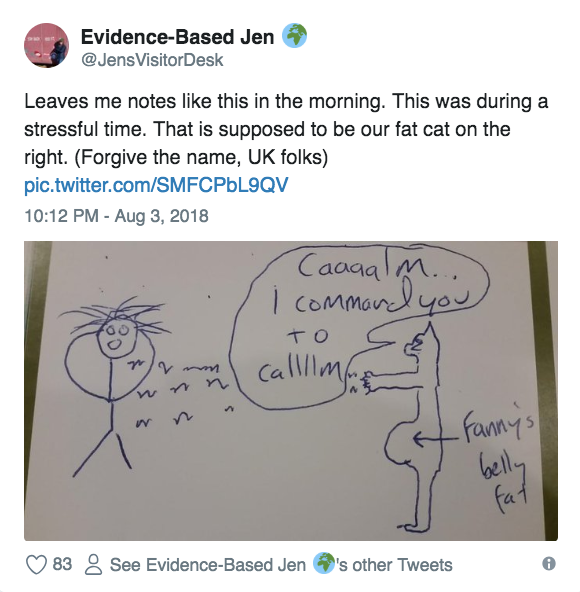 Sometimes, something as small as a note can make your partner's day.
9. Open things.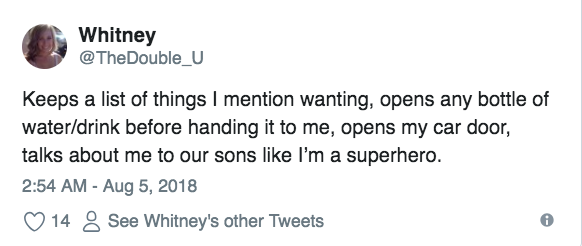 Never underestimate how hard it is to open a water bottle.
10. Surprise each other.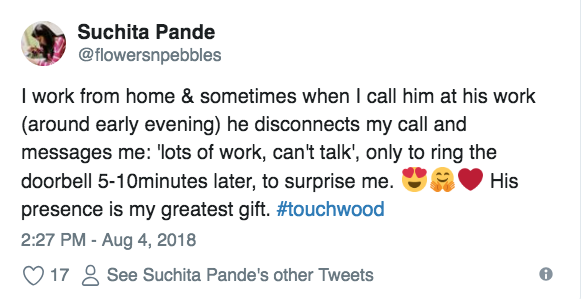 When working late turns into an impromptu movie night.
11. Update their playlist.

Everyone needs their own personal DJ. For someone whose musical tastes hasn't changed since 2003, this is everything.
12. Don't be afraid of that time of the month.

Period sucks. Find someone who understands — and makes that time of the month a little bit better.
13. Back it up.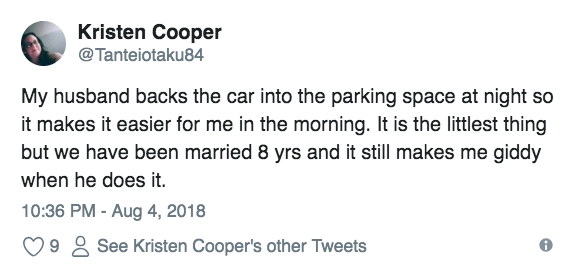 As a terrible driver, anyone who saves me from having to back out of a driveway is a winner in my book.
14. One word: chocolate.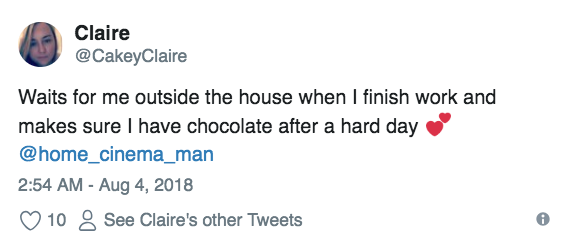 If you want to show your love, do it with chocolate.
15. Watch a rom-com (with a smile on your face).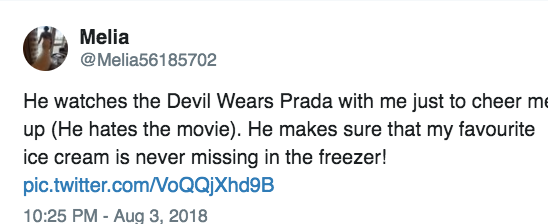 While we think Melia's partner secretly loves The Devil Wears Prada (because who doesn't), they get extra points for supplying the ice cream.
16. Take the blame.

17. Just do it.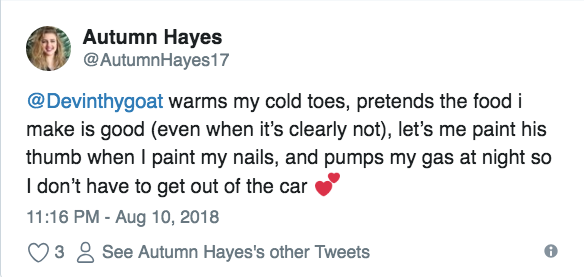 Your partner wants to paint your nails? Let them. They can't cook? Eat it anyways. Cold? Warm them up. It's the little things, people!
18. Remind her to brush.

It might only take five seconds but if that's not love, we don't know what is.
19. Get to popping.

Who needs a dermatologist when you have your own personal Dr. Pimple Popper at home?
20. Be there — for better or for worse.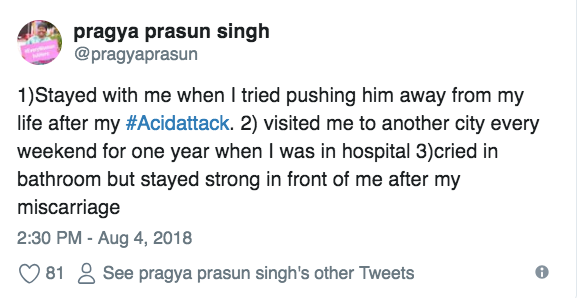 Pragya Singh is an acid attack survivor turned activist — and she credits her partner for being there for her every step of her rehabilitation and beyond.
21. PUPPIES.

Puppies just make everything better.
22. Hold hands.

Holding hands never gets old — just ask Michele.
23. Don't judge.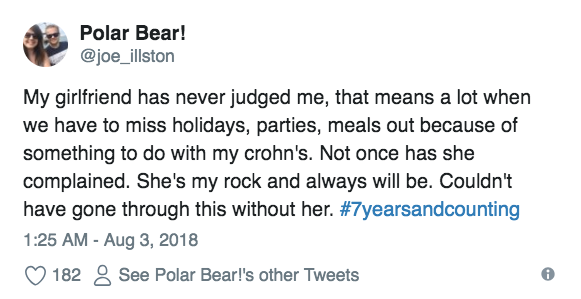 Just understanding what your partner is going through — be it a medical condition or just personal issues — reminds them that you care.
24. Channel your inner barista.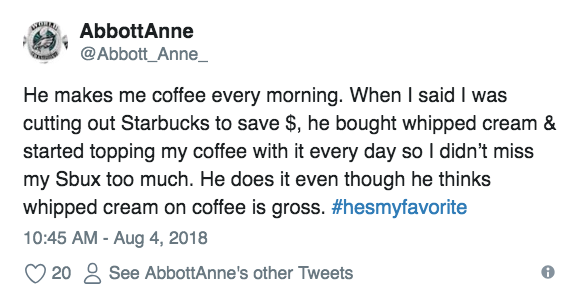 Starbucks is overrated. Get yourself a man who will brew your coffee and top it off with whipped cream from the comfort of your home.
25. Send memes.

You know it's serious when memes remind you of your significant other on a daily (hourly?) basis.
26. Single?