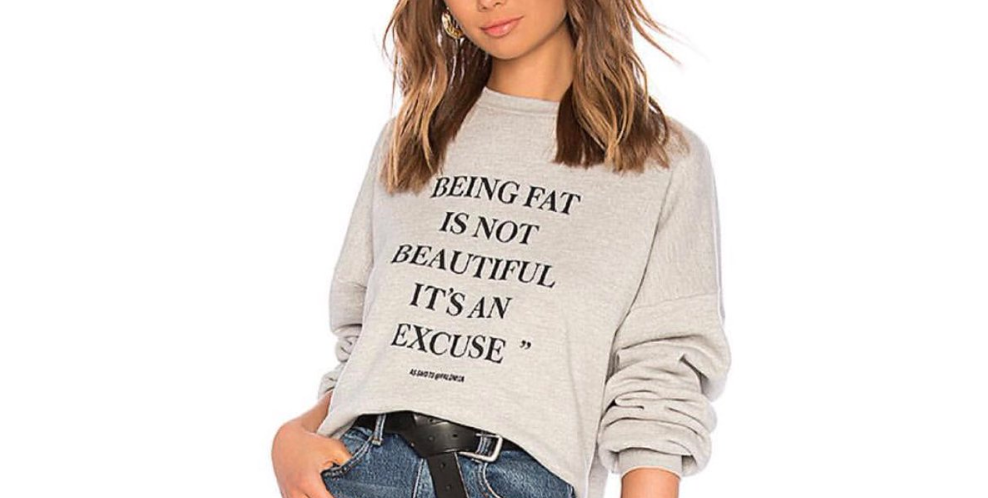 Revolve Just Released a "Fat Is Not Beautiful" T-Shirt and the Internet Isn't Having It
Renowned clothing store Revolve has recently come under fire after they started selling a gray sweatshirt in very questionable taste. The cropped cotton-polyester top reads "BEING FAT IS NOT BEAUTIFUL IT'S AN EXCUSE" and body-positivity activists (and pretty much the internet as a whole) are absolutely not here for it.
Article continues below advertisement
According to Fashionista, the shirts displayed body-shaming quotes reportedly addressed to celebrities like Lena Dunham ("Horrible Result of Modern Feminism") and Cara Delevingne, and the act of repurposing those ugly quotes on these expensive tops was intended to be empowering.
We can't possibly imagine how this idea could backfire.
It wasn't long until the internet caught sight of these problematic clothing items and savagely slammed the brand. Body-positivity model and author Tess Holliday took a screenshot of the sweatshirt, and captioned it with ""LOLLLLL @REVOLVE y'all are a mess" on Twitter.
Article continues below advertisement
If you take a closer look at the sweatshirts, the small-print "as said to" line on the bottom becomes more apparent. This one reads "AS SAID TO @PALOMIJA" and refers to none other than Paloma Elsesser, the most fabulous plus-sized model in all of New York. But it truly begs the question as to whether those horrible words said to Paloma are this brand's to re-use, as the true empowerment only really lies in the model herself reclaiming the language.
Article continues below advertisement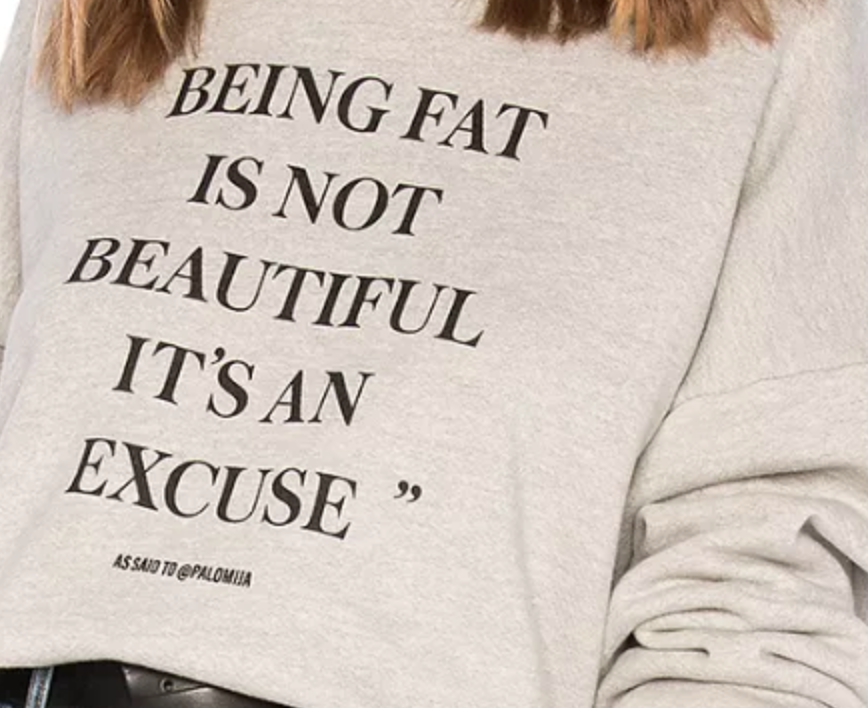 People are horrified by Revolve's recent move, with one tweeter saying, "Lemme guess! This shirt was designed to 'encourage' people to lose weight but not make fun of them. BS! Can't wait for the excuses!" Others are absolutely aghast by the insanity of the price tag attached to this sweatshirt: "$168 for a sweatshirt?? This fat girl can buy 33 $5 boxes from Taco Bell with that money and still wear clothes cuter than this."
Article continues below advertisement
London-based social activist Florence Given — who initially alerted Fashionista of Revolve's release — was able to reach out to both Paloma and LPA, the designers of the shirts for commentary.
Florence stated that Paloma is "horrified" at how her quote is being used and "is asking for her quote to be pulled" from the line.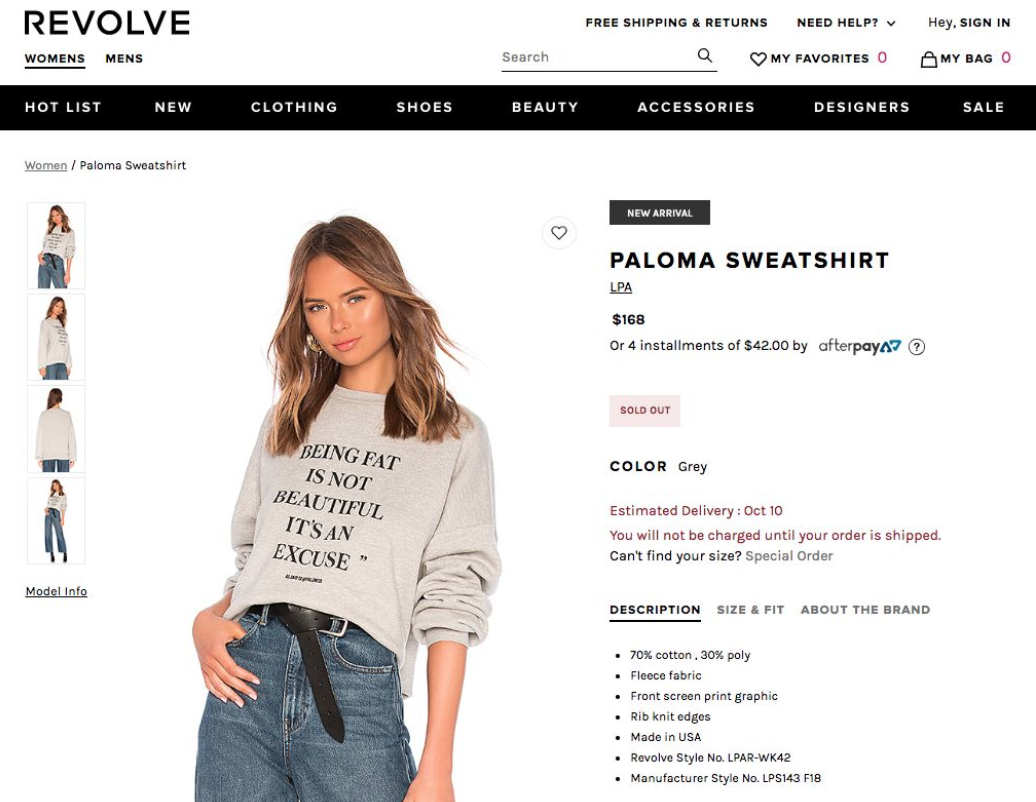 Article continues below advertisement
She also shared a conversation she had with a LPA representative, who, as we expected, tried to explain how good-natured their plan was.
Which — call us naive — but why would they then use a sample-size model? And why is the biggest size available XL?
According to Florence, LPA said, "The sweatshirts went up early on Revolve for some reason, but it's a collaboration with five women with the worst troll quotes. The point was to shine the light on how horrible trolling is. The proceeds benefit charity, so basically it's opposite of what it seems." Yikes.
Article continues below advertisement
Florence then asked them whether the women knew that these "hate messages" were being used on clothing items, saying that "a thin woman in a fat-phobic message" sweatshirt is "inexcusable."
LPA responded saying that the celebrities submitted the quotes to the brand and that they had nothing to do with the way Revolve photographed and marketed them. The representative went on to say: "I'm in NY to launch it with the girls and the charity but it was to come out tomorrow and this is a nightmare. I made Revolve remove them. We have a whole launch for this with the explanation. The whole point was the exact opposite."
Oof! What problematic marketing. Here's hoping LPA's launch goes a bit smoother...