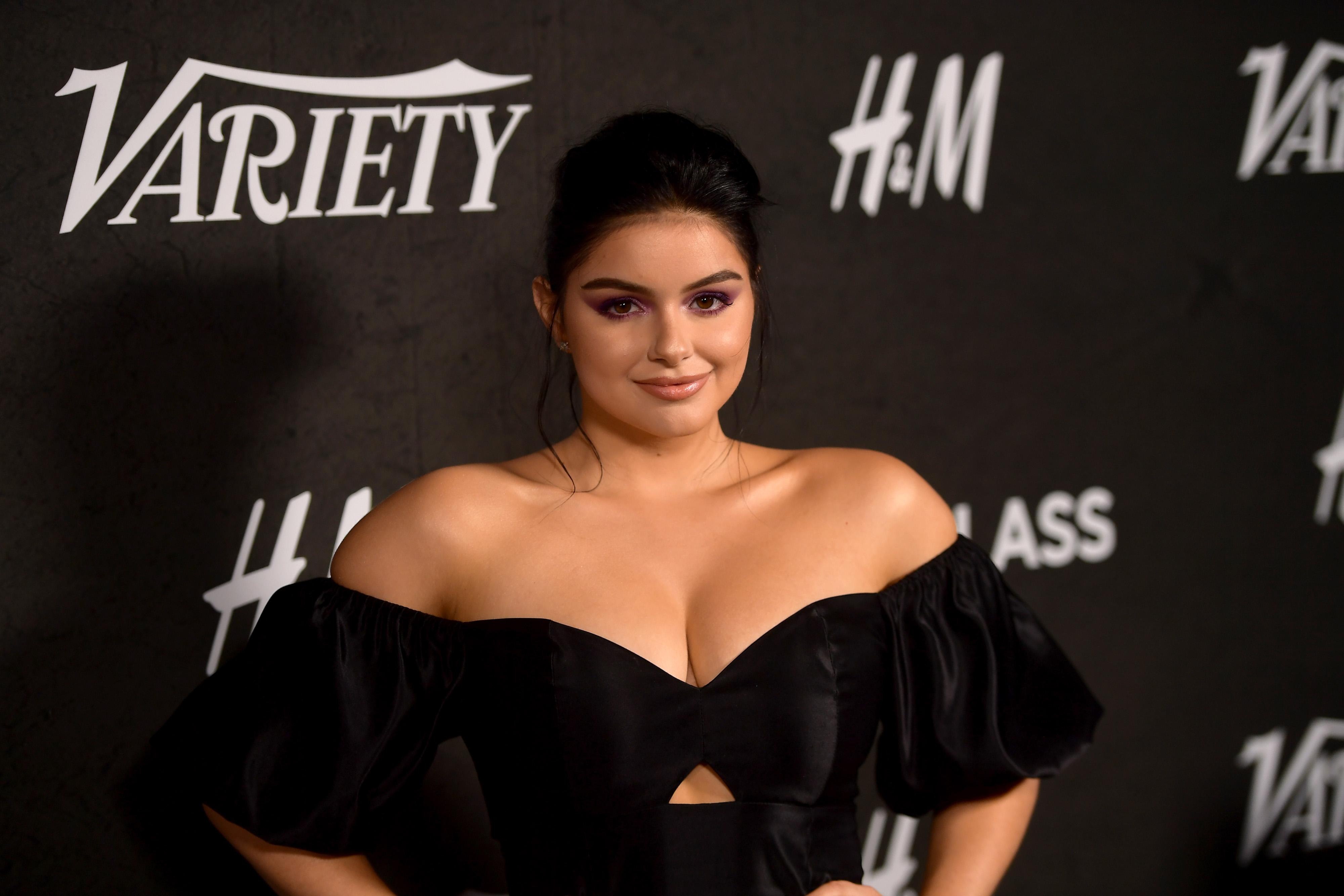 Ariel Winter Shuts Down Troll Who Said She Lost Weight With Cocaine and Meth
Time was on the internet when the most scandalous piece of Ariel Winter news around was that she played a character in Cloudy with a Chance of Meatballs. But those days are long gone. The Modern Family actress has been the target of online trolls after she decided to more openly celebrate her body. She's also been engaged in some bitter, public back-and-forth drama with her mother, Chrystal Workman.
Article continues below advertisement
Although it's jarring for some to see their favorite childhood stars grow up, even more so if they're the parents of said childhood star, we have to remember that adults are capable of making their own decisions. If we have the gall to tell someone what pictures they should post on social media or how they should dress, we should expect a sassy response.
This troll apparently didn't get the memo, though. Instagram user @coque714 thought it'd be a good idea to comment on a New Year's Eve post Ariel put up of her and her boo.
It all started with a comment by @peter_b91, who cheekily reprimanded Ariel for "drinking underage." Ariel cleared that up, saying she was only posing with the glass of champagne to toast others who were celebrating.
Article continues below advertisement

That's when @coque714 chimed in about Ariel's apparent weight loss over the last few months. He trolled the actress by saying her drinking champagne was "not half as bad as all the coke/meth she uses. She literally dropped 30 ponds."
He probably meant to say pounds, but it's not like anyone uses spell check on social media, right?
Article continues below advertisement

It's pretty darn distasteful to publicly accuse a 20-year-old actress with a history of body image issues of being addicted to hardcore drugs. But how often do celebrities respond to people's comments on social media? They're too busy to deal with petulant trolls, right?
Unfortunately for @coque714, Ariel found the time to do so. And she went for the jugular. First, by pointing on his little "ponds" error.
Article continues below advertisement

Note: if you're trying to be a sarcastic troll, maybe double check your grammar. It's a layup for anyone to come back at you.
Then, the actress decided to get real, with a super sarcastic rejoinder that not only explained her recent weight loss, but made @coque714 to look/feel real stupid in the process. At least one can only hope that he felt dumb.
Article continues below advertisement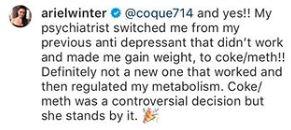 You'd think that'd be the end of the discussion right there, but the IG troll tried to save face by saying:
"Cute. 30 pounds. Adderall does that. Not hating. You're actually gorgeous. But pills and nose candy go hand in hand with Hollywood. Enjoy yourself, but don't get ruined by it."
Ahh yes, the man knows the ins and outs of Hollywood. In fact, he'd probably be a top entertainer himself, he just doesn't want to get caught up in the wicked world of drugs.
Ariel, not content to let it go, sticks the knife in.
Article continues below advertisement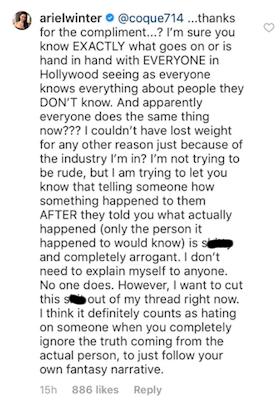 Here's hoping he learns his lesson.
If there's one thing that can be learned about trolls and body shaming, it's that there's really no way to "win." You'll always have someone commenting on your body one way or another, something Ariel opened up about to Marie Claire in a 2016 interview.
She said it was almost "impossible" to escape trolls, and that criticism followed her wherever she went.
Article continues below advertisement
"I got hate when I was 11 and super flat and very skinny, and then when my body changed and I got older, it was a whole new thing. I was called trashy, ugly, fat, and a slut...everything possible."
Ariel also said once she started "speaking out" about the reactions she got to her body at different stages of her life, that while there was a "whole community of negative people that followed and...attack[ed] her" she "also found [an] incredible" amount of supportive people as well.
This seemed to silence the troll, along with the outpouring of support from other users on Ariel's post who came to her defense.
One commenter mentioned that they had similar experiences with changing their antidepressant prescription and experiencing weight loss.