Man Jumps Off Eleventh Floor of a Cruise Liner and Gets Banned for Life
A 27-year-old from Vancouver, Canada, Nick Naydev, was on the Royal Caribbean's Symphony of the Seas when he jumped off the eleventh floor of a cruise liner.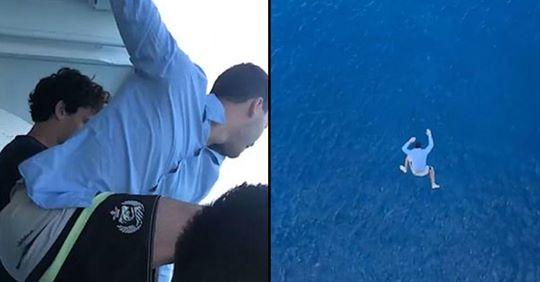 Article continues below advertisement
Twenty-seven-year-old Nick Naydev, from Vancouver, Canada, was on Royal Caribbean's Symphony of the Seas in the Bahamas when he leapt off the eleventh floor balcony and into the sea.
Nick posted the dramatic footage, taken by his friends, on social media. You can watch the video below...
Article continues below advertisement
Unsurprisingly, Royal Caribbean kicked the group off the cruise ship and banned them for life after the incident. In a statement, Royal Caribbean said Nick's behavior was "stupid" and that they were considering legal action against the man.
Article continues below advertisement
Royal Caribbean told USA Today: "This was stupid and reckless behavior and he and his companions have been banned from ever sailing with us again. We are exploring legal action."
Responding in the comments of his Instagram post, Nick said the footage showed him still drunk from the previous night. He said, "When I sobered up, my back started hurting pretty bad. Could barely walk for three days and could barely sleep from the pain."
Article continues below advertisement
Nick was quickly pulled out of the water by a rescue vessel and was told to pack his stuff and leave. Nick revealed in the comments that he had to pay $200 to get back to Miami.
Another member of the group, Konstantin Kryachun told Yahoo, "He's jumped from those kind of heights before, and we didn't really care about the consequences with the cruise company. We just wanted to get a video of it and make it go viral."
Article continues below advertisement
The video has been seen by over 176,000 people, so that definitely seems to have happened. Many had strong words for Naydev, though.
One person wrote, "What a stupid idiot! Now he's banned for life on the cruise line."
A second said, "I'd seriously question your friends for even letting you do this. How did no one not tell you how much trouble you'd get in? Best of luck to you."
"Just so you know, if you were dead, the same people calling you legend would be laughing at you and calling you stupid," an additional comment read. "You did something stupid and are lucky to be alive to laugh at it, you're not a legend."