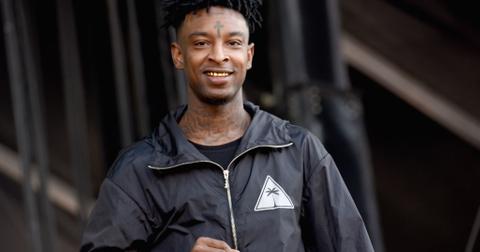 21 Savage Is Getting Roasted After It Was Revealed He's Actually British
By Mark Pygas
If you're unfamiliar with the situation surrounding Atlanta rapper 21 Savage, you're going to need to sit down. The rapper, full name Shayaa Bin Abraham-Joseph, has always claimed that he grew up in Atlanta in previous interviews.
That seems to have been a bit of a white lie however, after 21 Savage was arrested by Immigration and Customs Enforcement (ICE) on Sunday in a "targeted operation." Following the arrest, an ICE spokesman said Abraham-Joseph was in the country illegally and a felon following a drug conviction in 2014. It turns out 21 Savage was actually British this entire time.
According to officials, he came to the US in July 2005 aged 12 and failed to leave when his visa expired a year later. The British Foreign Office has also confirmed to media that: "Our staff are in contact with the lawyer of a British man following his detention in the USA."
Unsurprisingly, Twitter jumped on the opportunity to turn this revelation into memes, and they're absolutely hilarious.