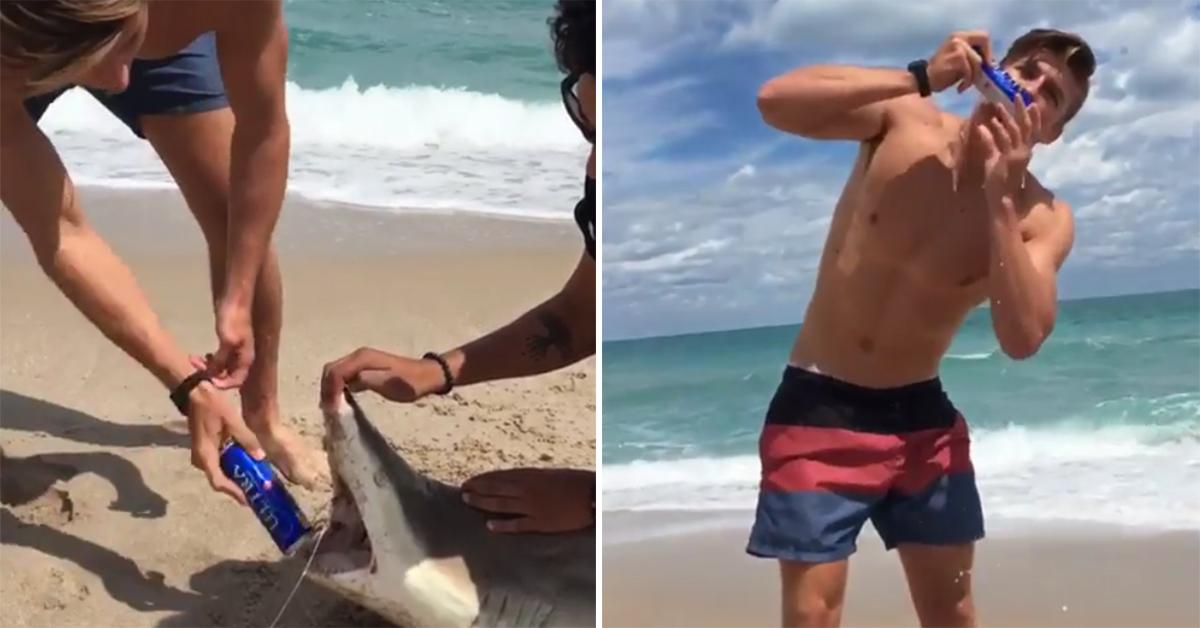 Frat Bros On Spring Break Use Shark To Shotgun Beer In Horrific Video
By Mark Pygas
I'll be honest: In my opinion, "Frat Bros" have ruined Spring Break forever. Sure, college is stressful, and students totally need a week off to let loose on some beach in Florida. But it's when those students get so irresponsible and become so belligerent that their choices are endangering themselves and those around them that makes everyone over the age of 25 cringe at the very mention of Spring Break.
Over the weekend, the Instagram account 'Total Frat Move" posted a video of two students using the teeth of a beached shark to break open a beer can. One of them holds the mouth of the animal open, while another smashes the can against its teeth. It's unclear whether the animal is alive or dead.
The video has been watched over half a million times in only a few days, with commenters condemning the two men.
"Human scum," one commenter wrote. "I hope the everyone involved with this video gets eaten by sharks."
While another added:
"This is ABSOLUTELY DISGUSTING!!!! You ugly little morons should be ashamed of yourselves. There is NO EXCUSE FOR ANIMAL ABUSE!!! So sad to see what the world is turning into. REST IN PEACE HUMANITY!!"
Previous to the posting of this video, another Instagram account associated with 'Total Frat Move" posted a video of a man using a starfish as a beer luge.
Even after the controversy surrounding the shark video, they decided to post a video of a man putting a jellyfish into a punctured beer can and shotgunning it all down. Including, it seems, the jelly fish.
In our society, it's easy to dismiss mistakes people make because they are "young" or "blowing off steam," especially when it comes to vacations like Spring Break, which are considered a rite of passage here in the U.S. Regardless, there is never an excuse for animal abuse or animal cruelty, and the commenters have good reason to be horrified at these videos.
Even if they were aiming for humor, or simply too under the influence to use better judgment, these "frat moves" are totally not okay.