Jeffree Star Is in Another Feud — This Time With YouTuber Michelle Dy
Here is everything you need to know about Jeffree Star's latest feud with YouTuber Michelle Dy.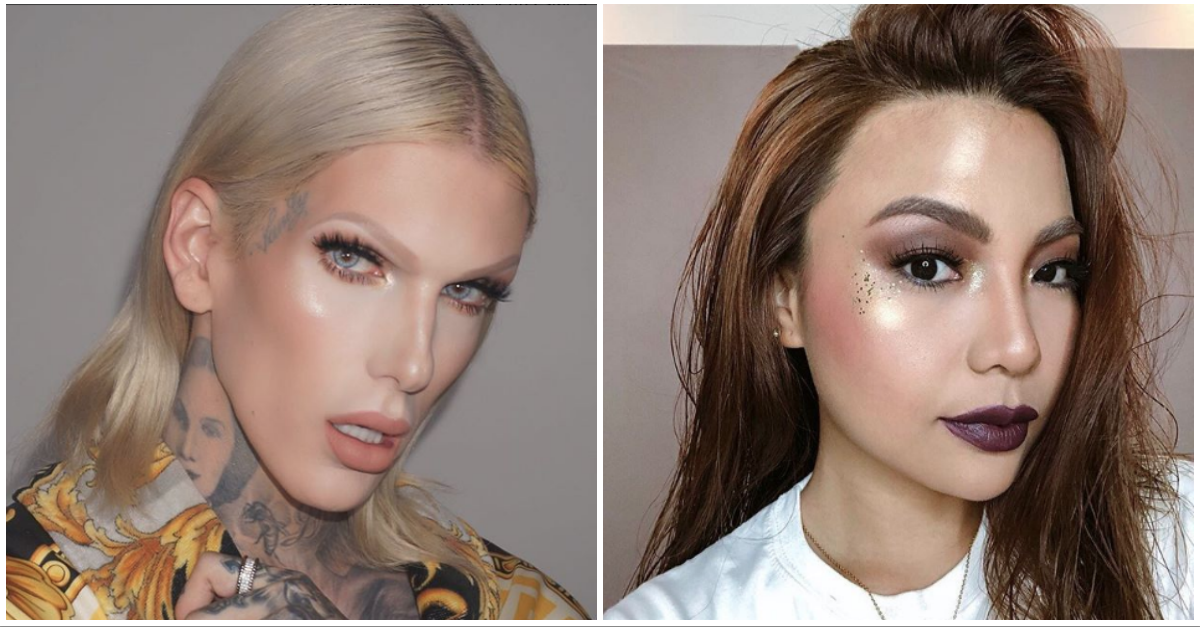 Another day, another feud for cosmetics queen Jeffree Star. This time, the popular makeup artist is coming after fellow YouTuber Michelle Dy for her use of his trademarked slogan "Approved."
Article continues below advertisement
In a series of Snapchat videos, Jeffree calls out Michelle for using the wording on her channel without his permission — and even though he did not mention the Filipino beauty by name, beauty-obsessed followers knew exactly who he was talking about.
"There is a YouTuber, who is not known here in America, but they recently tried to steal my 'approved' trademarked whole entire series and do it on their channel," he says in the video. "I'm like, 'I know I didn't invent the word approved, but girl, that's been my thing for two years now.' It's trademarked. It's on merch. Don't try me."
Article continues below advertisement
Jeffree continued, "Sometimes I feel like people do that stuff on purpose, like, 'Let me use Jeffree's thing and then he'll cause a stir about it and I'll get a lot more views and subscribers.' I'm like, b---h, I'm not even going to mention your name. Don't even bother searching for it after you hear this because we don't want to give no one any clout. Just know, thank god for lawyers... why can't people just come up with their own f--king ideas? You really need to say 'dadada approved'? You really couldn't think of anything else?"
Although online records seemingly show Jeffree does not own a "Jefree Star approved" trademark, Michelle, who currently has 1.3 million YouTube subscribers compared to Jeffree's 8.6 million, responded to the video by apologizing and taking down the video in question.
Article continues below advertisement
She also released a statement on Facebook, writing:
"Recently, I uploaded two new videos in my YouTube channel which was the 'MD Approved New Series' inspired by Jeffree. While it was clearly stated in the description box in the two videos that these new series in my channel were Pinay versions and inspired by international YouTubers, I was unaware that this 'Jeffree Star Approved' series is copyrighted in America.
"I would like to take this opportunity to sincerely apologize to Jeffree Star if in any way or another, I may have violated your rights from the use of your trademark. Videos from my channel has been deleted already and rest-assured that it will not happen again. Again, I am sorry."
Article continues below advertisement
She went on to thank her fans for their support, tweeting, "I am crying not because of what happened but because of the amount of support I am getting from loved ones."
Jeffree has yet to respond to Michelle's apology (and we don't expect him to), but this is just the latest in a long string of feuds involving the beauty guru.
Article continues below advertisement
Jeffree Star vs. Kat Von D 
One of his most well-known feuds has to be his back and forth with friend turned enemy Kat Von D. In 2016, Kat ended her friendship with Jeffree and accused him of "promoting drug use, racism, and bullying," and disassociated herself from his brand. She also said she pulled the shade named after Jeffree from her collection.
However, Jeffree responded to the attack and blamed business for the feud. "Kat and I texted a few days ago after 6 MONTHS of silence," he tweeted. "She never supported me or my brand and got distant when I launched mine."
Article continues below advertisement
Kat went on to accuse Jeffree of stealing artwork from her friend BJ Betts. However, Jeffree recently discovered that you can still buy his shade from her website — despite her claims. Shady!
Jeffree Star vs. Kim Kardashian
Kim Kardashian entered the beauty world with her KKW Beauty brand. However, when it was time to show off the shades of her popular contour kits, many were not impressed — including Jeffree — who took to Twitter to call out her swatching technique.
"Umm... Kim what is going on with those new swatches?? Looks like chalk," he wrote. It wasn't long before fans of the KUWTK star clapped back at Jeffree and brought up racist and misogynistic comments he made in the past. Surprisingly, Kim came to Jeffree's defense, telling her followers on Snapchat, "I see you being so petty bringing up things in his past where he was you know, negative, but he's also apologized for those things." She continued, "I know better than anyone that I hate when people bring up my past or mistakes I've made in the past, so let him live."
Article continues below advertisement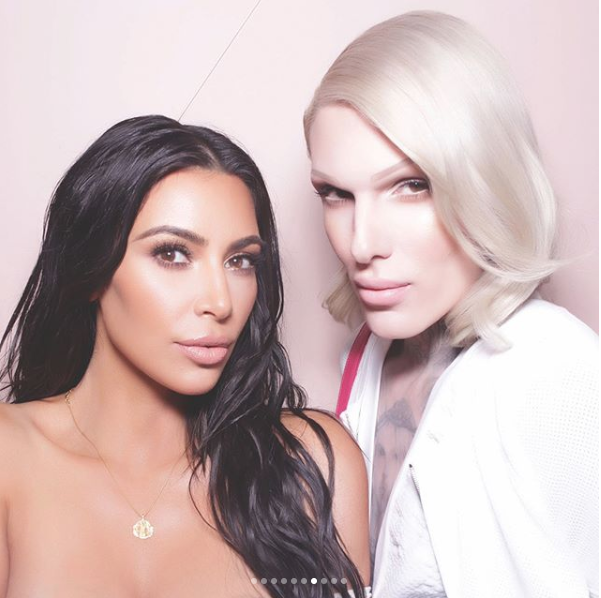 Jeffree responded to all the drama with his signature IDGAF attitude. "Every news and media outlet in the world has emailed and called my office all day asking me for a Kim. K quote.. Please f--k off," he tweeted. "Talking about makeup has turned into a bloodbath since yesterday. WAKE UP. THERE ARE MORE IMPORTANT THINGS 2 WORRY ABOUT."
Article continues below advertisement
Jeffree Star vs. TooFaced
In a recent video on YouTube titled "Full Face of Brands That Hate Me," Jeffree took some time to revisit his years-long feud with TooFaced's founder Jerrod Blandino. Once a fan of the makeup line, Jeffree explained why he refuses to review or feature any TooFaced products on his channel.
"I used to actually live for their brand," he said. "So, if you guys do not know, someone named Jerrod used to be the owner of TooFaced. He sold his brand to Estée Lauder. Now, last year, he and his sister said some horrible things about me because he was degrading the brand Tarte, and I was like, 'Honey, you did not invent unicorns. I know you think you do, and you're very entitled, and you run the world. You don't. Come back to Earth.'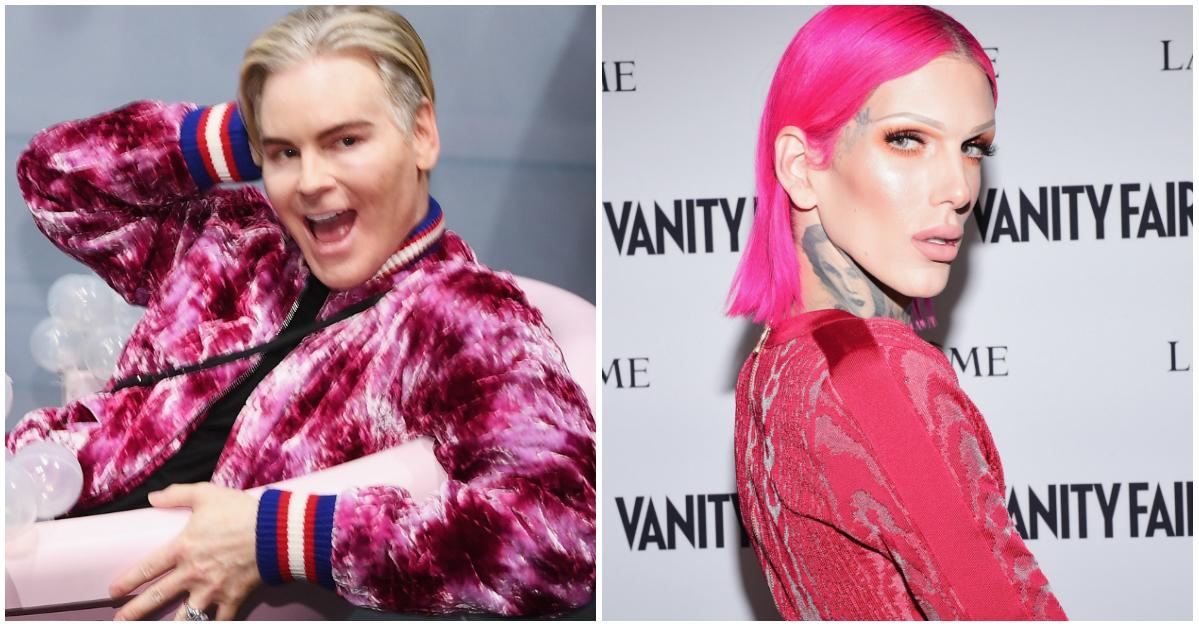 Article continues below advertisement
"So, it started a huge social media fiasco, if you will," he added before showing screenshots of negative comments left by Jerrod's sister. Before that, Jeffree called out the brand for underpaying his friend and fellow YouTuber makeup artist Nikkie de Jager (of Nikkie Tutorials fame) for their collaboration, which earned the company $9 million.
Jeffree Star vs. Kylie Jenner
More specifically, we should say Jeffree feuded with Kylie Cosmetics. Back in 2016, when Kylie launched her lip kits, Jeffree was one of the most outspoken critics of her products. "SO disappointed in this product. That wand is unacceptable."
Article continues below advertisement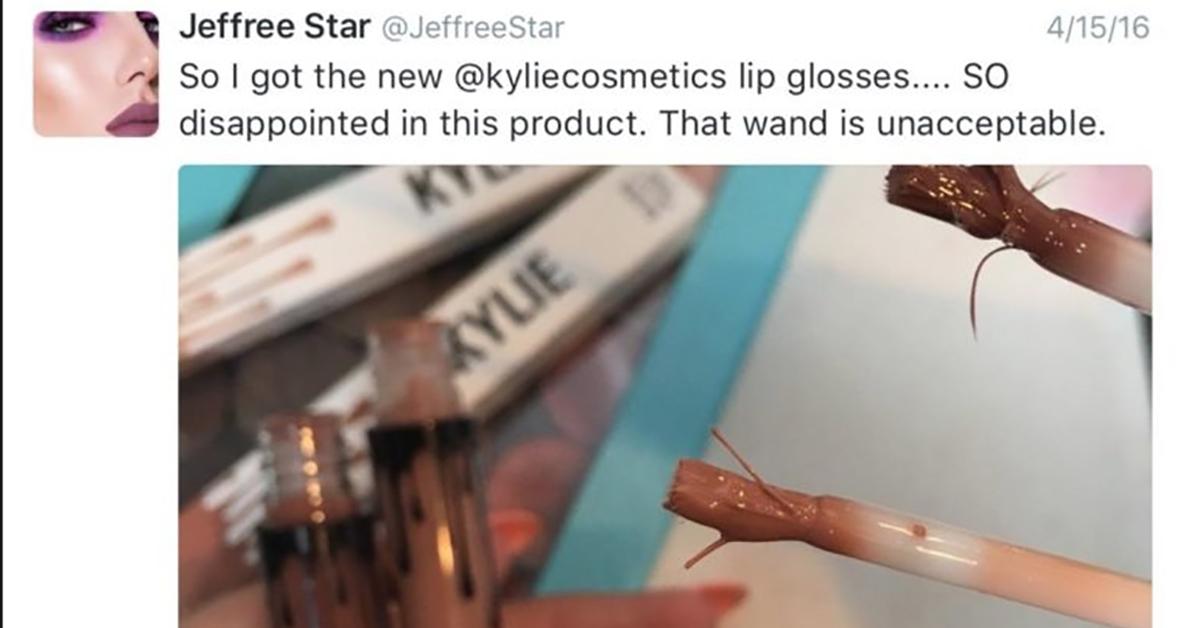 However, some good came out of this feud — as the reality star quickly changed her lip kits to have a better applicator. "How ironic that it took ME giving an honest review, which got worldwide attention, to get @kyliecosmetics to make a statement..." Jeffree added.
And there seem to be no hard feelings, as Jeffree continues to review Kylie's lip kits and palettes on YouTube.
Article continues below advertisement
Jeffree Star vs. Laura Lee 
In a series of subtweets, Jeffree called out an "ex-best friend," prompting followers to do some digging and discover that Jeffree was actually talking about fellow YouTuber, Laura Lee.
Jeffree continued his Twitter feud, writing, "Recently I've grown as a person, been working on myself.. and I've removed a lot of negative people from my life. Just know that I am in a really amazing place mentally and I'm the happiest I've been in months" and "The beauty community has turned into such an ugly place full of evil people… I've learned some really big life lessons lately the hard way and I'm just thankful I have all of you guys, Nate and my family."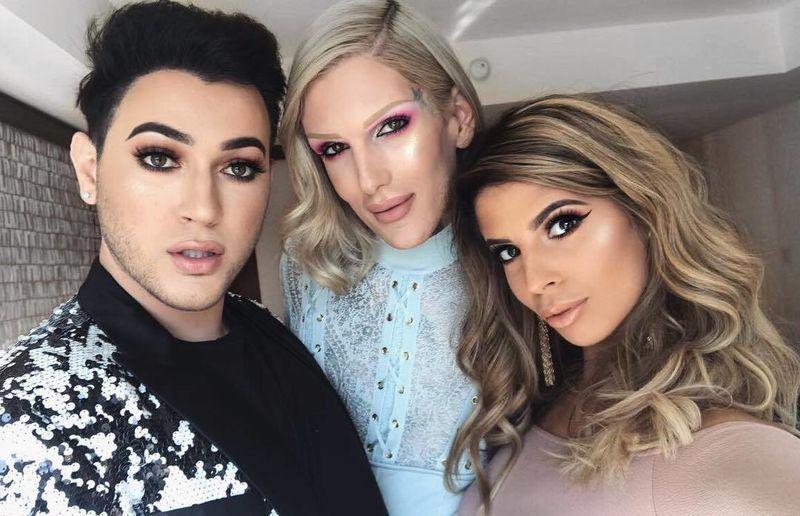 Article continues below advertisement
He also called Laura "pure evil" in a since-deleted tweet. She responded to the drama by subtly liking fans' tweets that showed their support for her. Fellow MUA Manny Gutierrez also got involved and dispelled rumors that Jeffree invested in his or Laura's cosmetics brands.
"The whole fake rumor about Jeffree investing into my brand – that whole 'he stopped investing into my brand and that's why I dropped him' – absolutely false," Manny said on Snapchat. "And he did not invest in Laura's brand either."
More from Distractify: