'Game of Thrones' Star Emilia Clarke Gets Epic Mother of Dragons Tattoo
Emilia Clarke gets a 'Game of Thrones' tattoo — plus more stars share their GoT-inspired ink.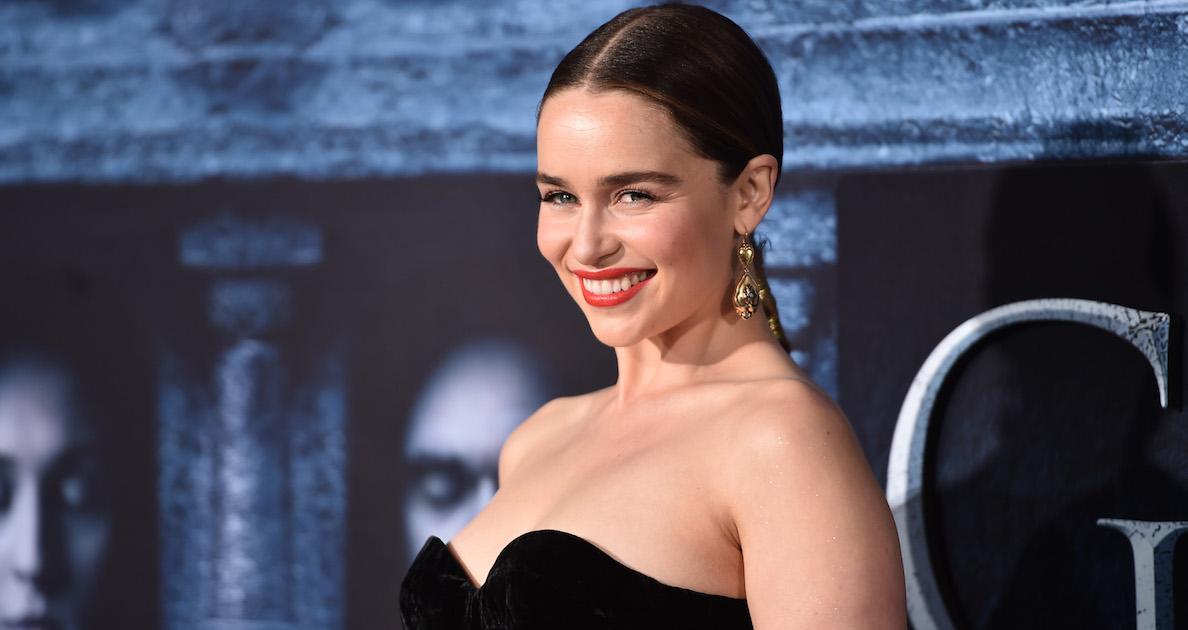 The eighth and final season of Game of Thrones is still months away, but that's not stopping the cast of the HBO series from commemorating their time on the show with some pretty impressive tattoos.
Article continues below advertisement
The latest star to ink themselves in honor of their Westeros character is Emilia Clarke aka Daenerys Stormborn aka the Mother of Dragons.
And just as expected, she chose to get a tattoo of her fire-breathing babies on her wrist.
Article continues below advertisement
"MOD 4 LYFE!!!! @_dr_woo_ made sure this mamma ain't NEVER forgetting her babies... #dontworryionlybrieflypassedout #withfyreandinkbaby #modgothookedupp#couldntbehappierifitried," she captioned the photo of her new ink on Instagram.
Article continues below advertisement
Earlier this year, Emilia filmed her final scenes as Khalessi (and possible usurper of the Iron Throne) and recounted her time on the fantasy series. "Hopped on a boat to an island to say goodbye to the land that has been my home away from home for almost a decade," she wrote. "It's been a trip @gameofthrones thank you for the life I never dreamed I'd be able to live and the family I'll never stop missing."
Unfortunately, the 31-year-old has revealed very little when it comes to finale spoilers — although she did hint that not everyone will be happy with Daenerys' ending. "It f--ked me up…Knowing that is going to be a lasting flavor in someone's mouth of what Daenerys is…" she told Vanity Fair.
Article continues below advertisement
Lasting flavor? What does she mean? Fan theories aside, Emilia is not the only GoT star who has inked their body in honor of their time in Westeros.
Article continues below advertisement
Sophie Turner (better known as Sansa Stark) tattooed the Stark direwolf sigil along with the quote "the pack survives" on her arm.
She explained the meaning behind the (spoiler-free) ink on The Late Late Show With James Corden, saying, "It's just a quote from last season. Everyone figures that the pack really does survive, but it's just a moral that I like to live by."
Her on-screen sister Maisie Williams (Arya Stark) also got some GoT ink recently, tattooing her now iconic phrase, "No One," on the back of her neck in red ink.
Sophie and Maisie also have matching tattoos of the date "07.08.09," which marks the day they were cast as sisters on the show.
Article continues below advertisement
"It's like a divorce, or a death in the family, leaving Sansa behind, and leaving people behind. I think the divorce from the character is the hardest thing for me, because my adolescence has just been 'Sophie and Sansa,'" Sophie told Digital Spy. "Sometimes, you get both worlds mixed up. So leaving Sansa behind is like leaving a big part of my growing up behind. A lot of it was influenced by her. So it's really strange not having that crutch to lean on. But I'll be fine! I'll be fine! I promise!"
Article continues below advertisement
Maisie agreed, telling Jimmy Kimmel of the highly anticipated finale," I know the end of Game Of Thrones. It's just surreal, to be honest. Like being with this show for so long — and then it also having the following that it does — everyone's waiting for this moment and then you read it and it's just like, it's incredible."
Not to be left out is Jamie Lannister (played by Nikolaj Coster-Waldau) who announced he got a tattoo after GoT won the Emmy Award for Best Drama Series.
Article continues below advertisement
"What a wonderful evening ending with an amazing surprise win for our show. Was nominated which meant I finally got to bring my love to the madness. And today I got a tattoo," he wrote, alongside a huge portrait of his TV brother Tyrion Lannister seemingly tattooed on his forearm.
Unfortunately, it looks like it belongs to a fan of the show — not Nikolaj himself. However, that does not mean Jamie Lannister is not a GoT ride-or-die like his inked co-stars.
Article continues below advertisement
"I wrote the writers when I finished reading and just said, 'I don't think you could've done a better job at finishing this story,'" he told Harper's Bazaar of the final season. "To me, it was very satisfying but also very surprising and all the things that I was hoping for. It still made sense. It wasn't like one of those where the killer is suddenly revealed in the last act and you go, 'Oh! I didn't see that coming.' Here, they've done a really, really good job."
Now, all we need is Kit Harington to get a "You know nothing Jon Snow" tattoo and we will be complete.