Netflix's Photo Error in Marie Kondo Promo Launches a Slew of Memes
It's almost always hilarious when Netflix mixes up promo pics for TV shows, but this one is especially gut-busting when you consider how much of a petite sweetheart Marie Kondo is.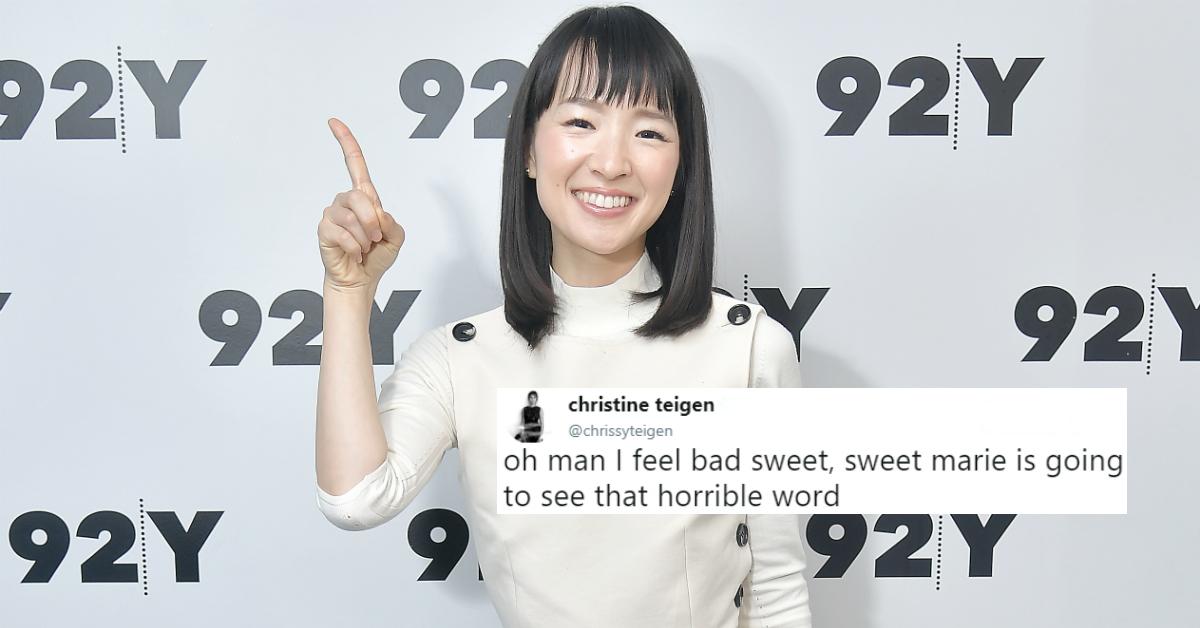 If you've ever watched Netflix's Tidying Up with Marie Kondo, you know the Japanese clutter-destroyer is about as upbeat, positive, and passionate as it comes. Marie really, really, really loves creating positive vibes in one's home. She's like the Mary Poppins of happiness through minimalism and her trademark is only putting things in your home that, as she puts it, "spark joy." I could definitely get down with that.
Article continues below advertisement
There's a lot that's been said about the KonMari method and the cultural roots behind it, but even on a surface level it's evident that Marie's sweet persona is a genuine one and her love for simplicity isn't just attractive and transformative to the people and families she helps out on her show, but also to audiences who watch her go to work.
It's easy to imagine the petite, ebullient Kondo walking into a closet and emerging with tons of clothing on hangers and gently instructing people to choose what to throw out.
What's not so easy to imagine, is her rocking a cloth around her face in a harsh desert landscape, decked out in military fatigues and brandishing an AK-47 in front of her face, ready to throw down. That's why this Netflix glitch is making so many people crack up.
Whoever is in charge of uploading the promo photos for Marie Kondo's self-titled show messed up big time and, thankfully, William Hanson was there to capture the hilarious accident with this screenshot.
Article continues below advertisement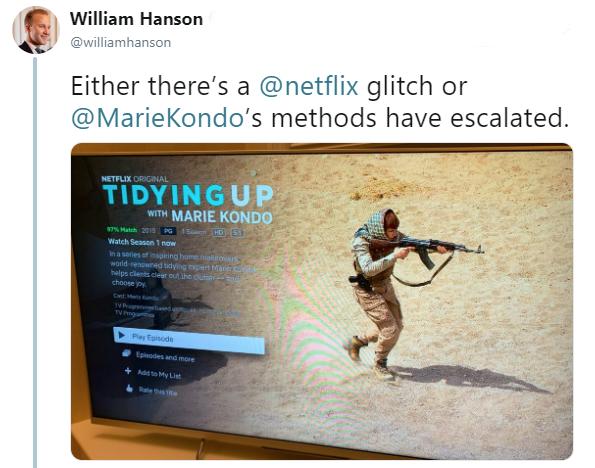 William's tweet and excellent joke went viral, eliciting tons of responses from people all over the web, including another apparent Kondo fan: Chrissy Teigen. Teigen, like many others who responded to the tweet, was quick to imagine Marie escalating her stance in the war on clutter —transforming the organization expert into a gun-wielding, hard-nosed veteran hell-bent on getting your home clean.
Article continues below advertisement


Article continues below advertisement
Just making such a vulgar comment made Teigen feel bad — honestly, reading it kind of made me feel bad, too. I'm sorry Marie, words like that don't exist, remove the clutter of such disgusting phrases from your mind. Unless it sparks joy, then by all means, you keep that word all for yourself.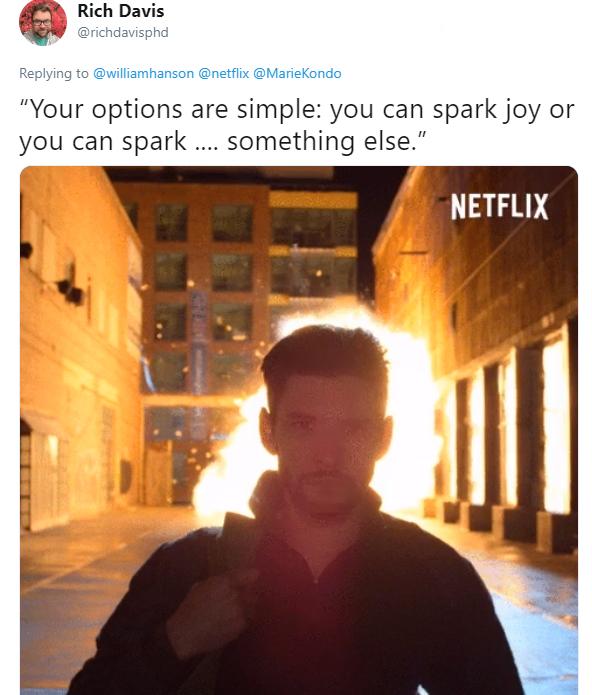 Article continues below advertisement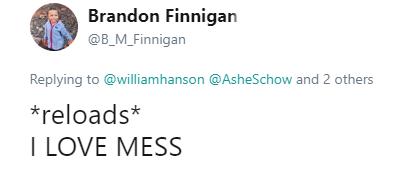 Pretty soon, more references started rolling in. Some people used quotes from the shows, while others shared images of their own favorite Netflix promo pic mistakes. Who knew that Marie Kondo was so memeable?
Article continues below advertisement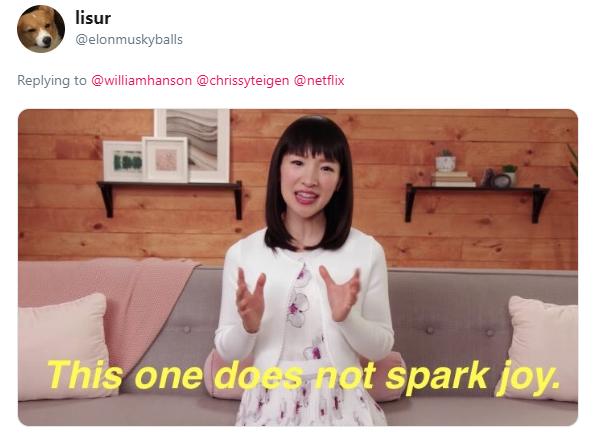 Article continues below advertisement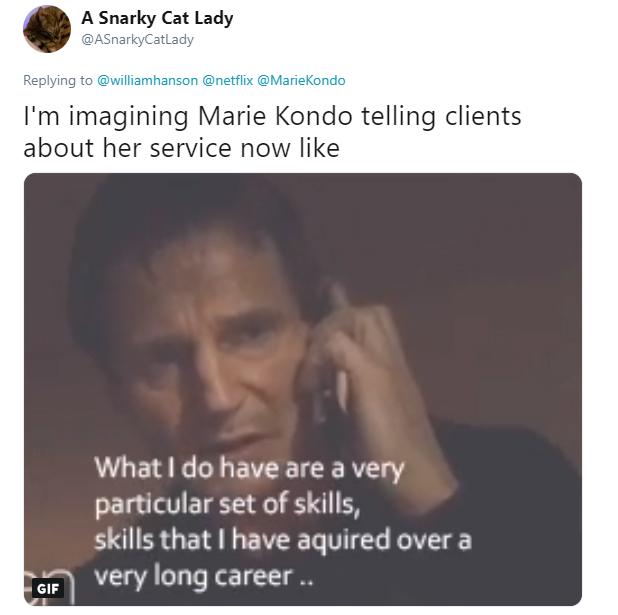 Article continues below advertisement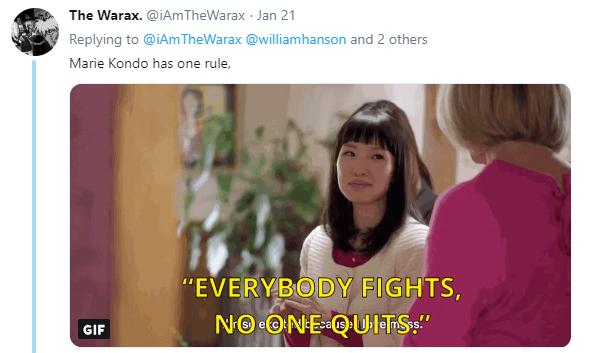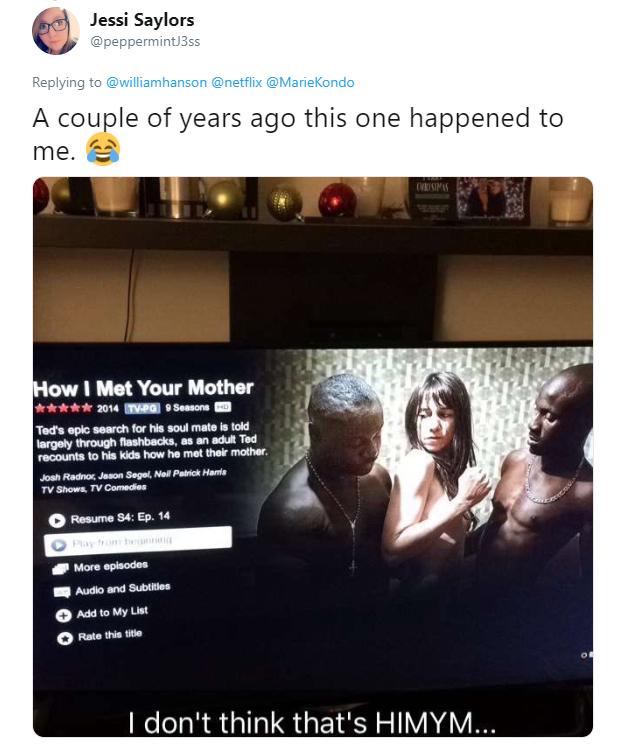 Article continues below advertisement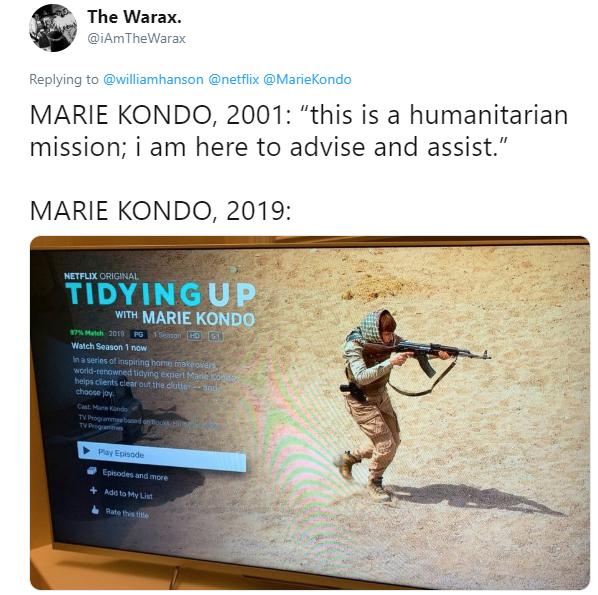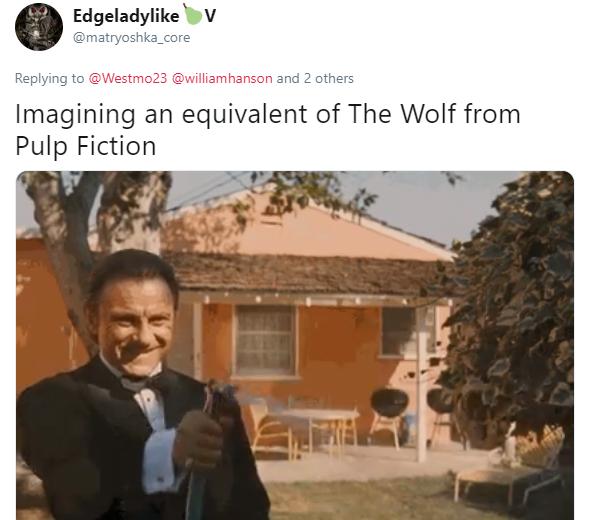 Article continues below advertisement


Article continues below advertisement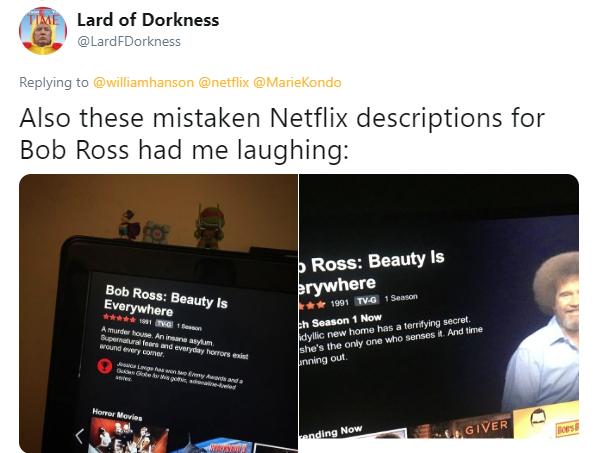 Article continues below advertisement


Article continues below advertisement
Kondo's sweetness and enthusiasm are so widely regarded, people who have criticized her end up feeling bad, like Jennifer Wright, who jokingly called Kondo "a monster" for telling people to keep no more than 30 books in their home at a time.
Marie actually never said this, though; it's a gross misquote of her claim that she herself usually keeps around 30 books in the home at any one time.
A Washington Post op-ed also blasted Kondo for her "war against books" but I'd argue, along with a lot of other people that Kondo doesn't have a problem with literature: just a problem with deluding yourself into thinking you "need" something in your home when you really don't.
I love reading and literature — so much so, I put myself in mounds of debt for an MFA in creative writing, and a bachelor's Degree in literature, along with journalism and theater. I read a ton, but how many physical books are you going to read at once? Are you trying to build a personal library in your home? And, as a good friend of mine says, shouldn't you want to be the kind of person who's written about in books, rather than the person who's reading about great exploits from the comfort of your couch? I'm with Kondo on this one, that's what libraries and 1-cent books from Amazon are for.
That being said, I've probably got over 200 books in my house and I've probably cracked open one of them in the last three years.