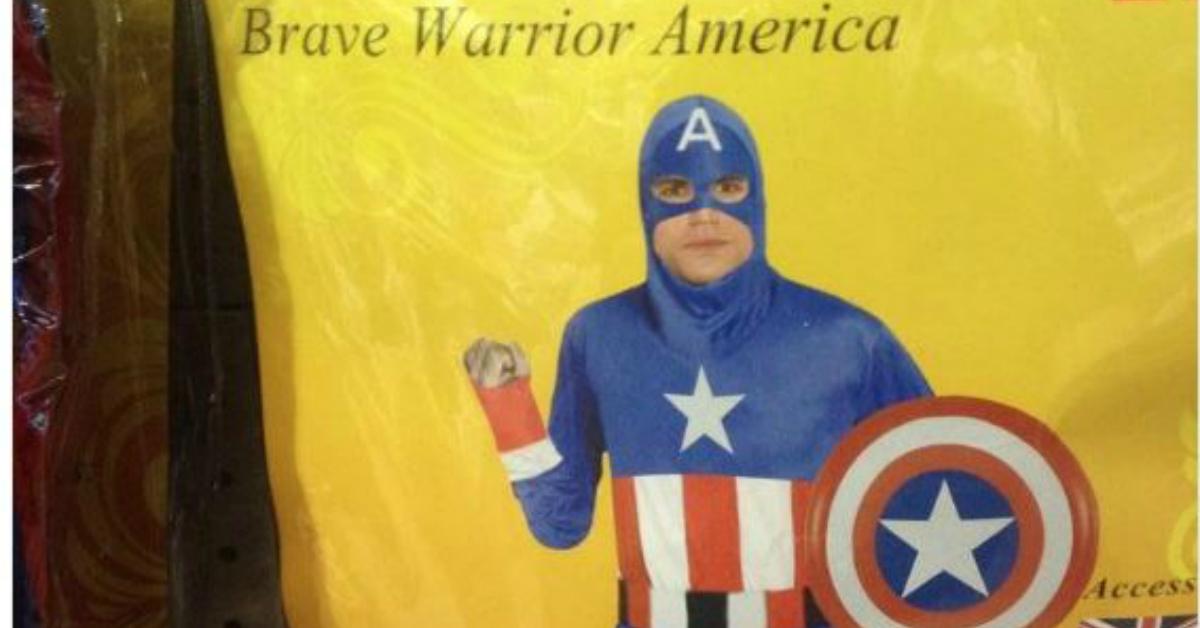 30+ Knock-Off Halloween Costumes That Aren't Even Trying to Hide Their Shamelessness
By Mustafa Gatollari
Shameless rip-offs exist in every industry and that's because branding works. Oftentimes, manufacturers try to capitalize on the marketing dollars of a bigger corporation by offering a product or service that is close enough to what they're selling. Consumers get the benefit of flexing like they've got the name thing for a lower price, and the knock-off brand gets that sweet bottom dollar.
But there's an unintentionally hilarious side-effect of these knock-off brands: the ridiculous names that people come up with in order to avoid getting mercilessly slaughtered by corporate legal teams for copyright infringement.
Because these knock-off companies don't have the kind of coin to cover licensing fees, they often come up with "creative" solutions to signal to their customers or unsuspecting buyers that they're selling them a product from their beloved film, video game, comic book, or movie.
A recent Twitter thread uncovered some of these Halloween gems that are absolutely hilarious. Enjoy.
1. NOTIONLESS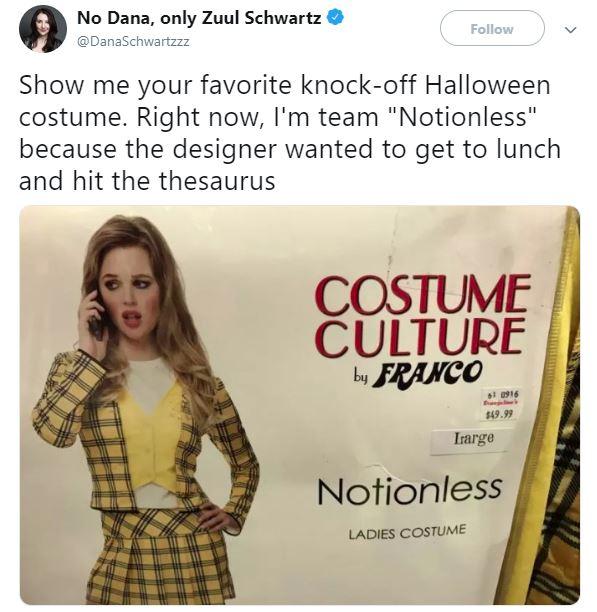 Great way to get around the Clueless copyright squad. Why go and make such an obviously lame attempt? Looks like someone is obsessed with a thesaurus. Was Beverly Hills Teen taken? Or AS IF girl?
2. Two for the price of one.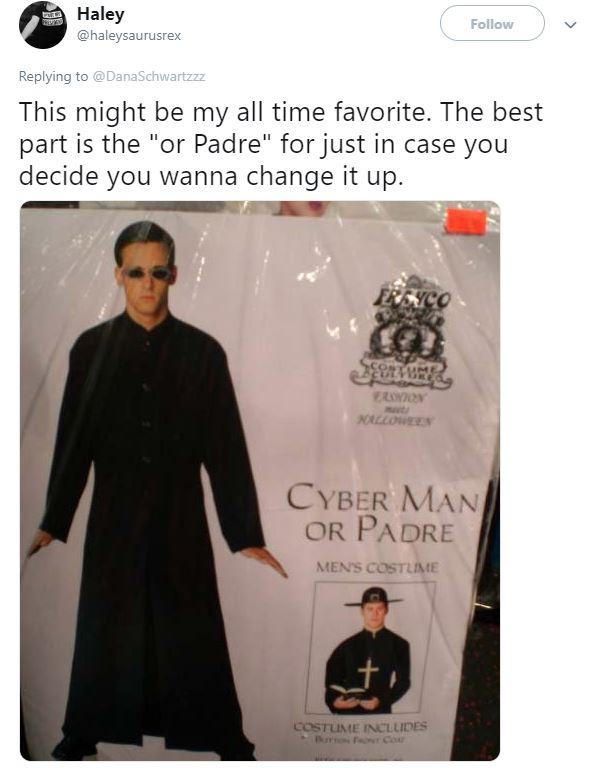 You have to admire the versatility of this costume. You can either go as Keanu from The Matrix or a Spanish-speaking priest.
3. Video Game Guy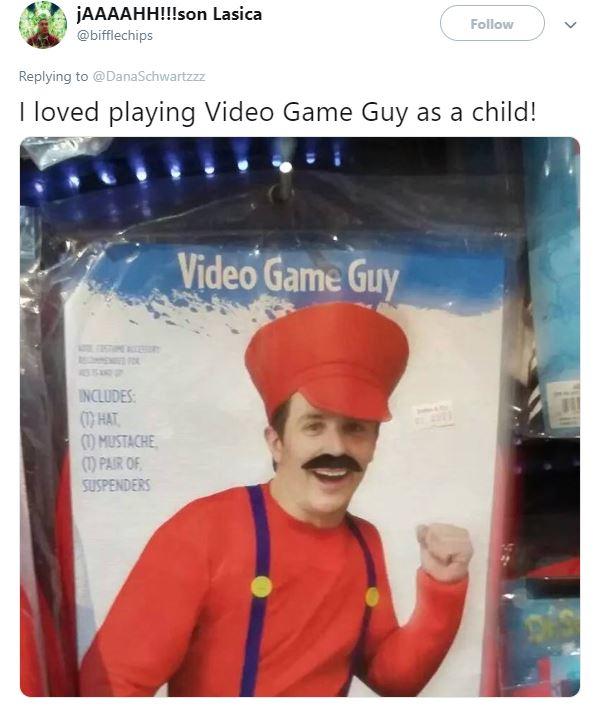 Who doesn't remember waking up on Christmas morning and eagerly tearing off the wrapping paper to reveal a Video Game Guy box waiting for them?
4. Where's the Stripey Dude?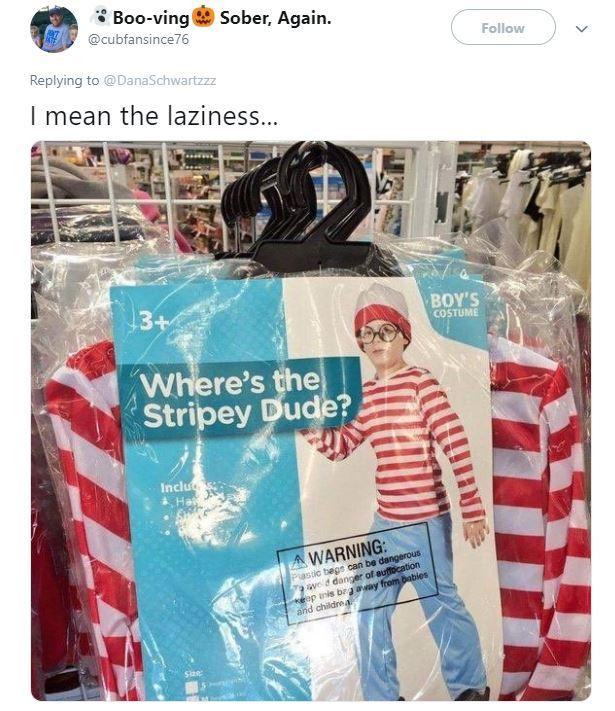 There he is! In small claims court arguing that he *technically* didn't bite off of Where's Waldo!
5. Juice Demon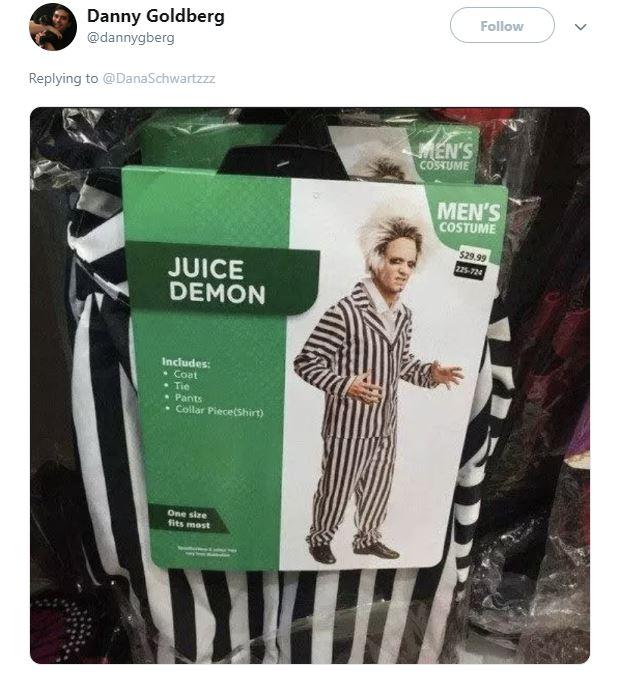 You can't just throw random words from a famous character's name together with other kind of related words and hope that it makes sense. Seriously, they need to get someone who has a slightly better command of English working in these knock-off factories, heck, I'll proofread it for them for no money at all.
6. Ladies Sexy Factory Worker Costume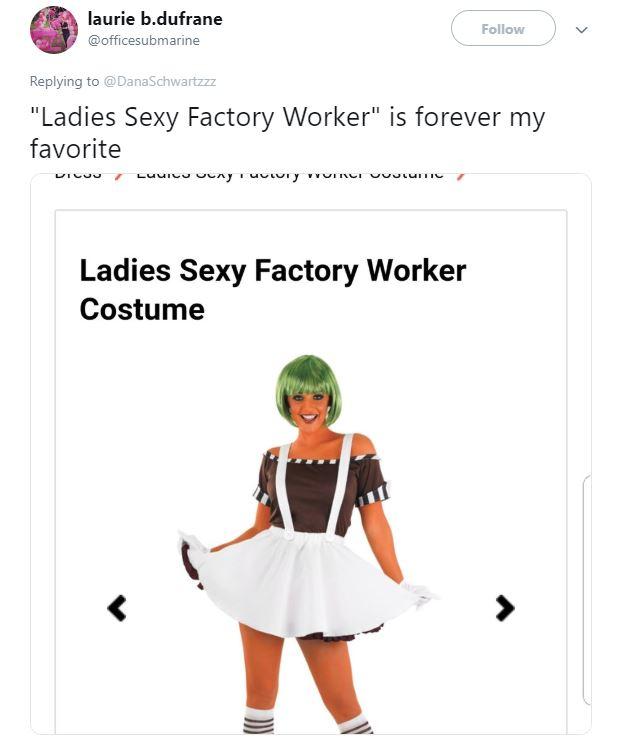 I love that a factory worker is automatically an oompa loompa. If you texted your friend and said you were going as a sexy factory worker and then turned up at the Halloween party in this I'm sure a lot of people would be very confused.
7. Creepy Husband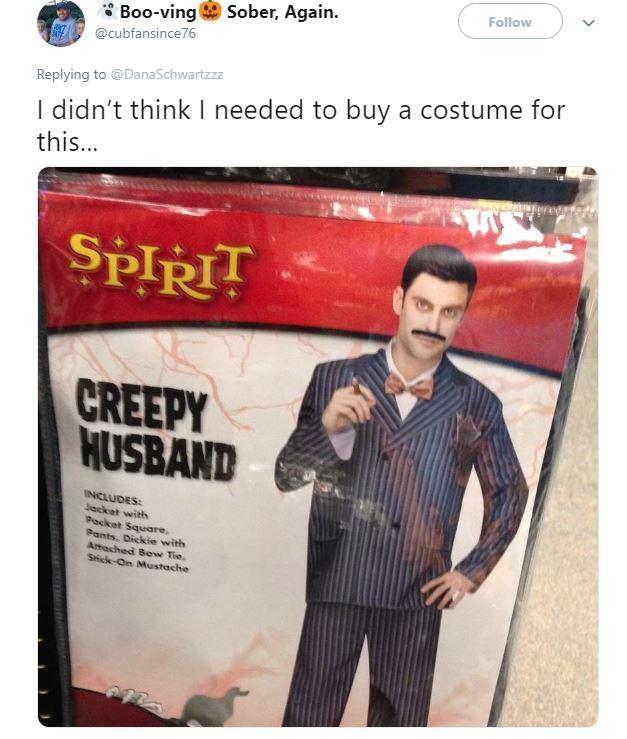 There's a fine line between scary Halloween costumes and scary-in-a-bad way Halloween costumes. Going as a "creepy husband" just means your girl is going to flirt with anything that moves once you head into the bathroom.
8. Hungry Rebel Girl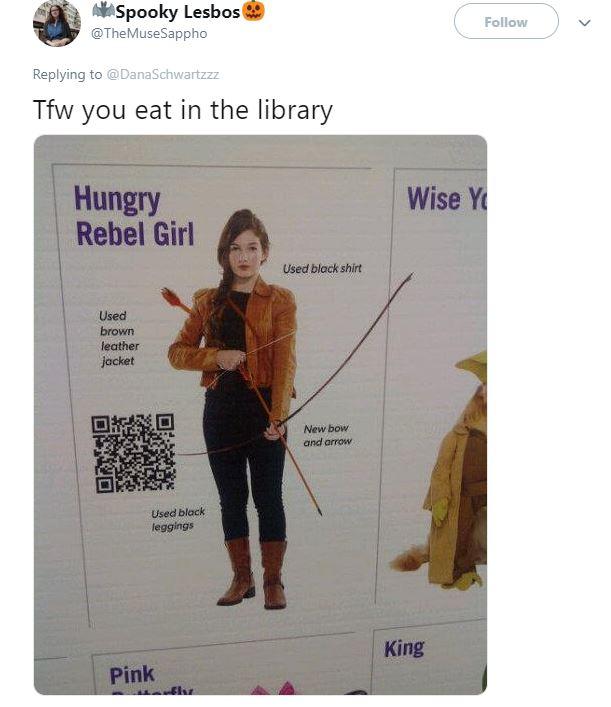 Yes, the second you see someone walking around in that jacket with a bow and arrow, the first thought that pops into your head is to get them a sandwich. She's starving, just look at her face!
9. Mischievous Worker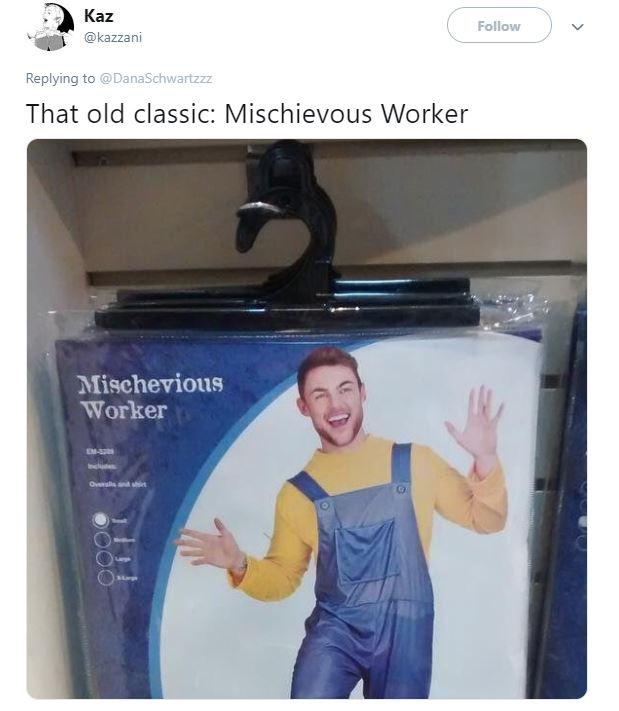 I don't even know who this is supposed to be. Is it supposed to be Wario? If so, get the man a yellow hat, otherwise he just looks like a plumber who's a die-hard Lakers fan.
10. Blue Speed Mouse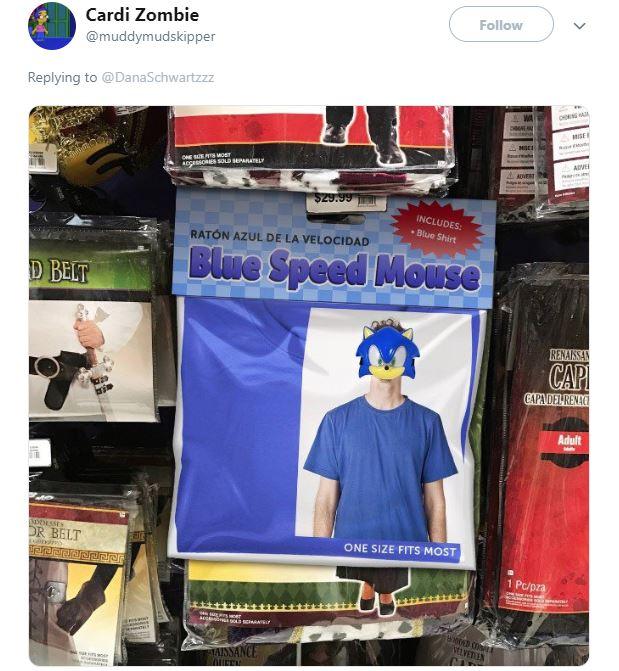 This has to be one of the laziest attempts at a costume I've ever seen. A Sonic the Hedgehog dollar-store mask and a blue t-shirt. I don't know what's funnier though, the horrible attempt at ripping off a beloved video game character or the "one size fits most" claim.
11. Supportive Burger Wife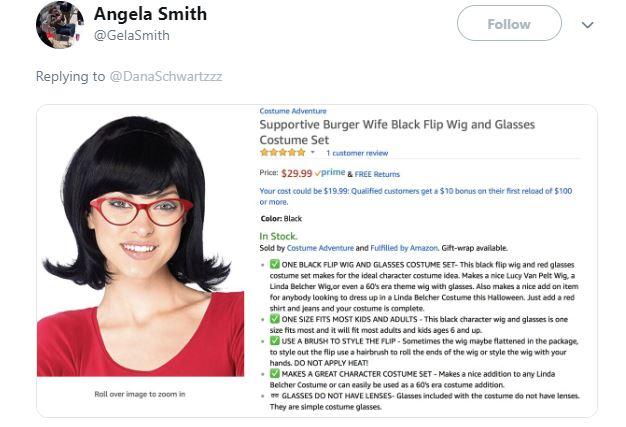 She fully supports her husband's desire to craft burgers. Whoever is married to her is a very lucky man.
12. A-Lad-In A Costume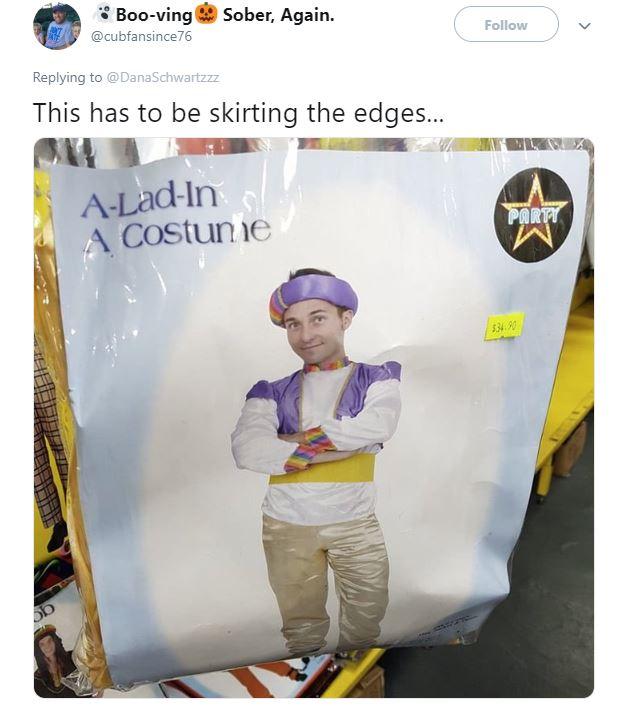 It's tough to be mad at these people. Technically they didn't do anything wrong, I mean it is a lad in a costume. No lawsuit here.
13. Chica Peligrosa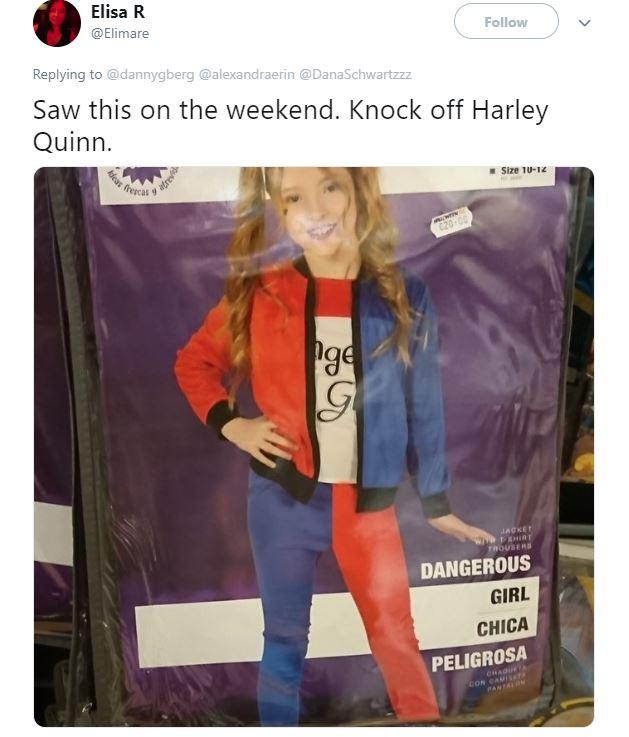 Yeah because nothing says dangerous like a multi-colored jacket and leggings.
14. Kansas Sweetie/Beauty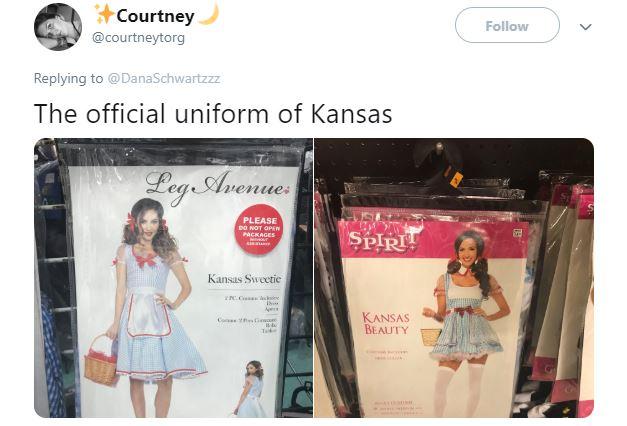 I went to Kansas once and I didn't see a single woman who dressed like this. Maybe I came across one carrying a picnic basket, but that doesn't count.
15. Minegame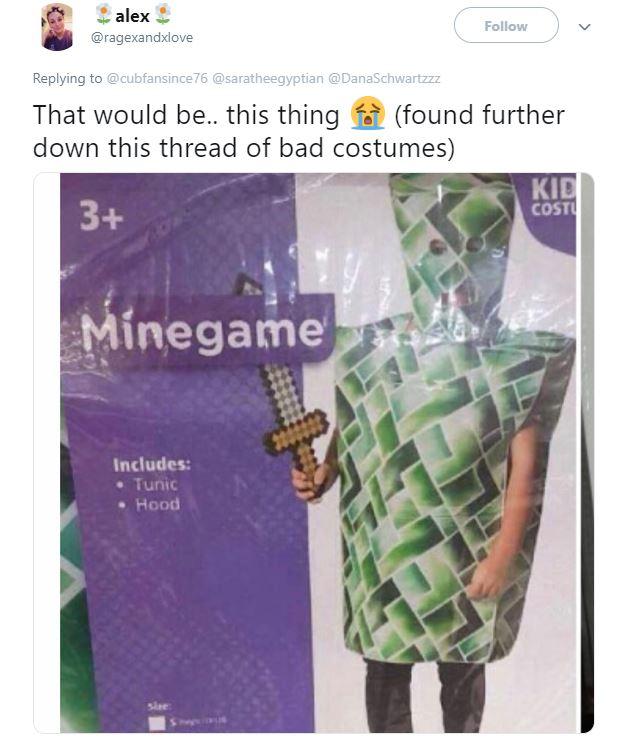 This has to be the most horrifying costume on the list. There's something about the kid's face in that mask that screams, "if only this was a real knife."
16. 80's Purple Musician Costume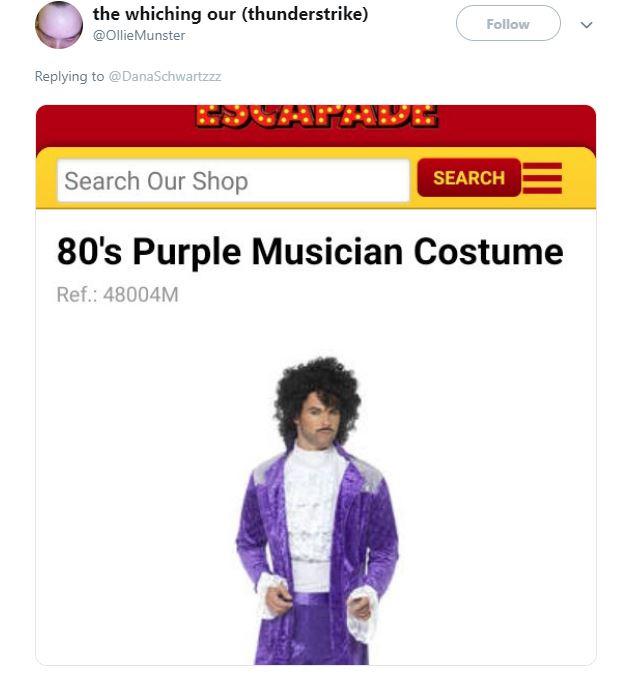 Prince is rolling in his grave at this right now. But this costume looks more like an eccentric pirate than one of the greatest musicians of all time.
17. Mid-Week Honey Costume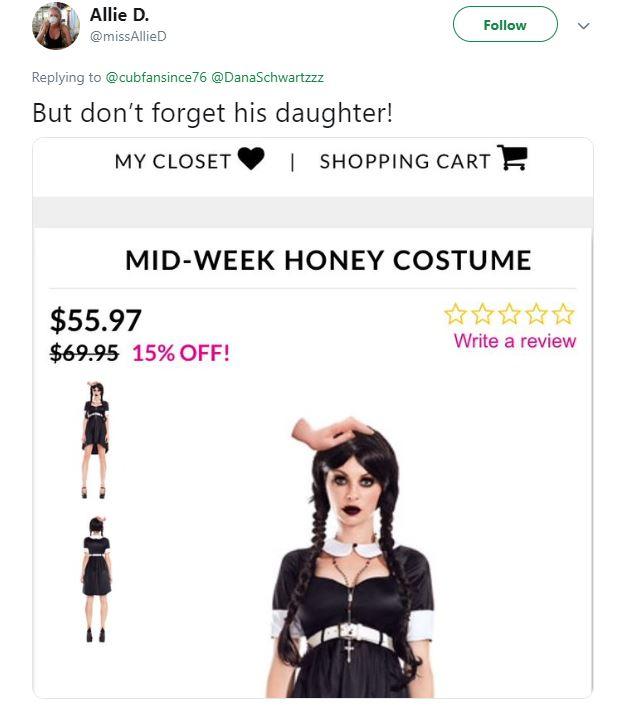 There's nothing "honey" about Wednesday Addams. Props to saying "Mid-Week" because it's obviously dumb on purpose, but still.
18. Dark Northern King Wig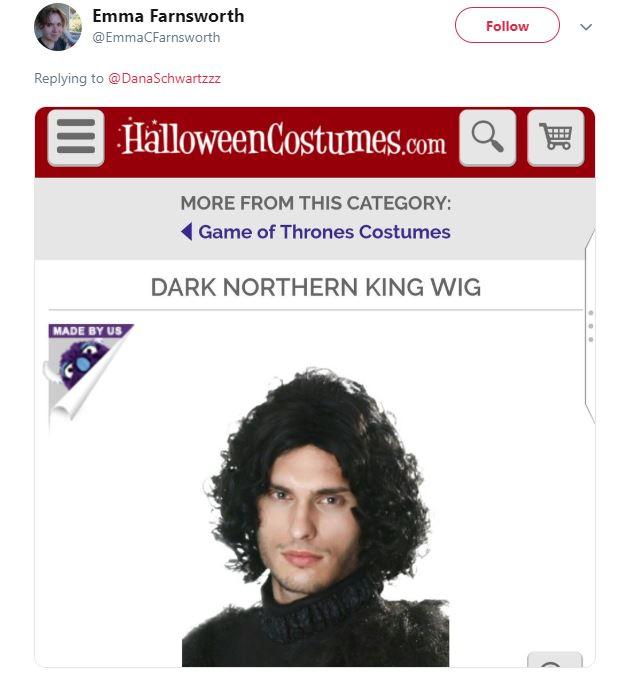 That wig could be from anyone. That could be Brett from Flight of the Conchords, that wig could be Sam Larkin, some kid I knew from the fourth grade's hair. But good try trying to capitalize on Game of Thrones.
19. Brave Warrior America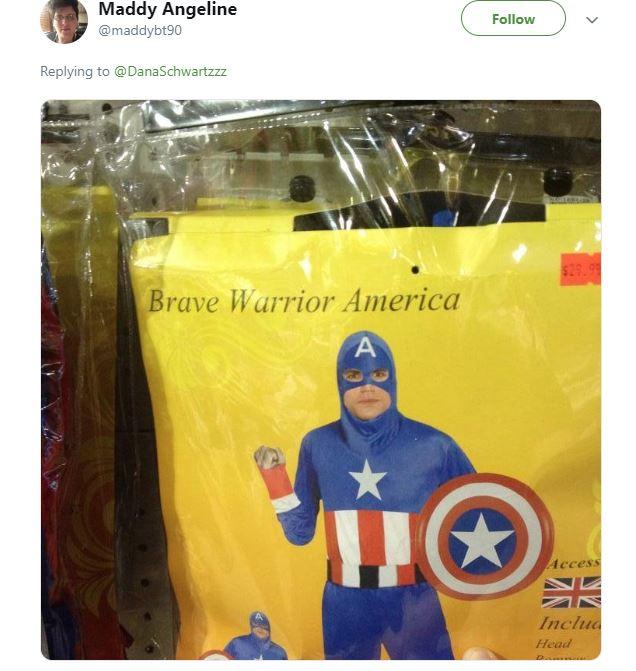 You need to be brave with hands that small. Speaking of his hand, why is his thumb pointing in the opposite direction?
20. Comb-over Candidate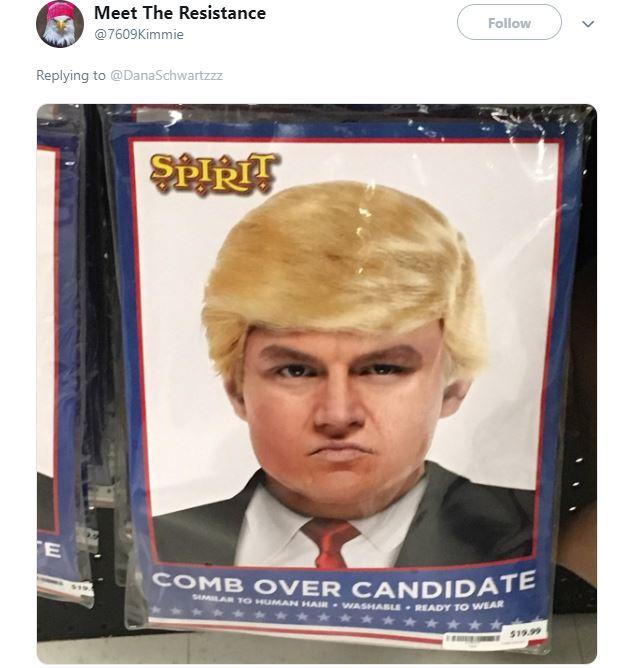 He-who-shall-not-be-named for the sake of avoiding any rage-inducing discourse. Great job at staying vague, team.
21. Pubescent frog of Silent War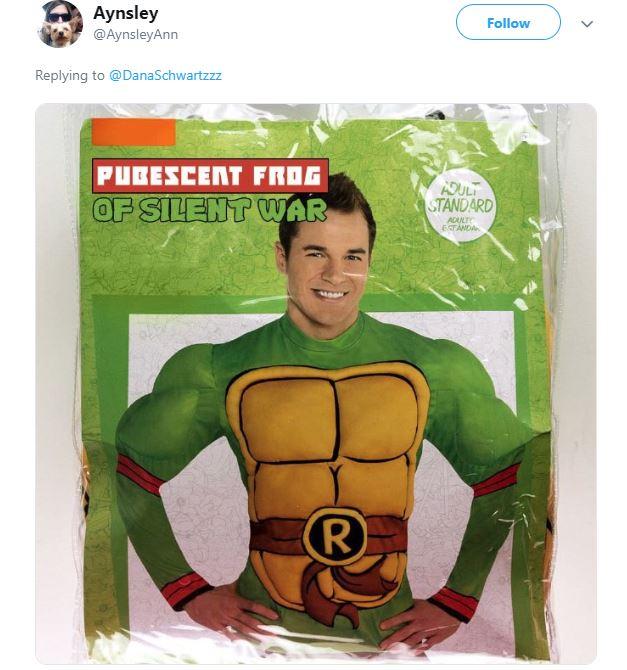 At first, I thought this one was a joke that somebody came up with, but the cover art looks like they're legitimately trying to move costumes.
22. Anonymous Star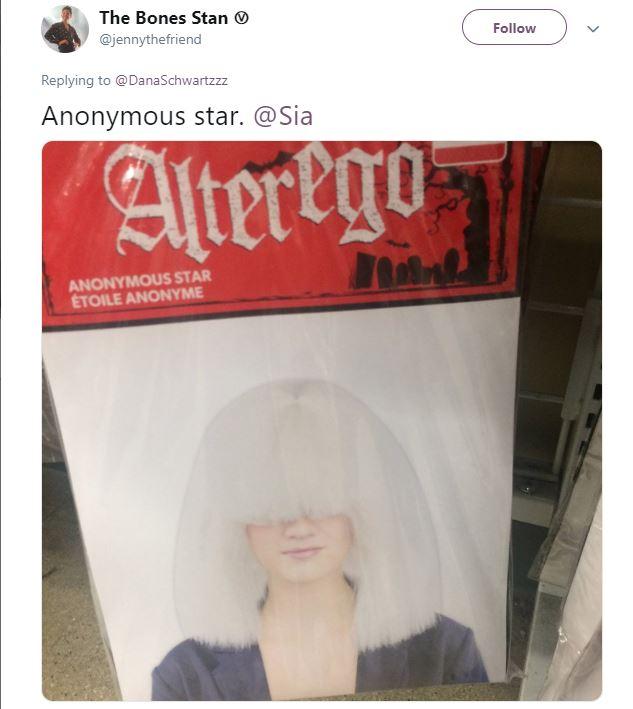 No one tell Sia's PR person, but it look like her famous wig-veil is being repurposed for a Halloween costume. I know it's hard to tell exactly who they're ripping off of, because it's anonymous and all.
23. The rice is strange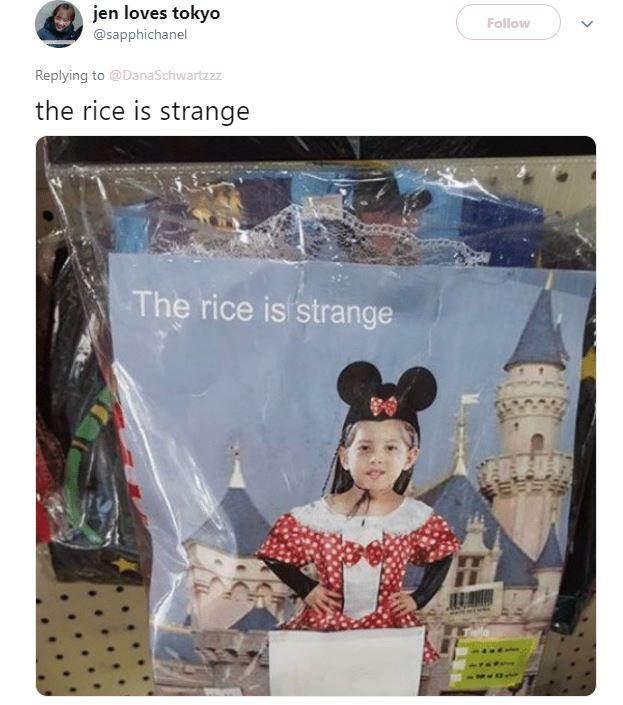 I made sure that you saw this phrase three times because each time you read it it makes less and less sense. What. The. Hell. Does. This. Have. To. Do. With. Disney?
24. Cutthroat Pirate Girl/Man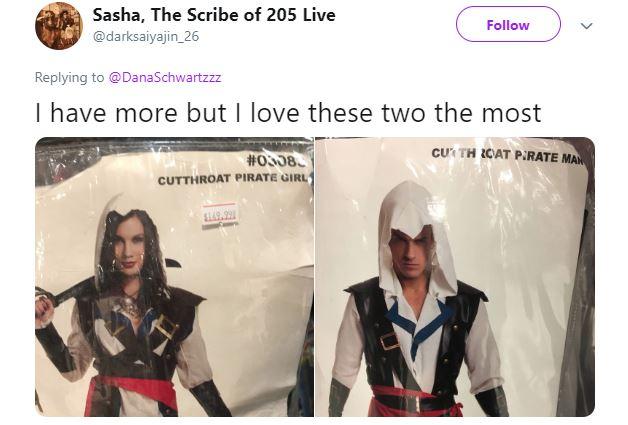 The Assassin's Creed people are probably thrilled about this.
25. Woodland Warrior and Wicked Trickster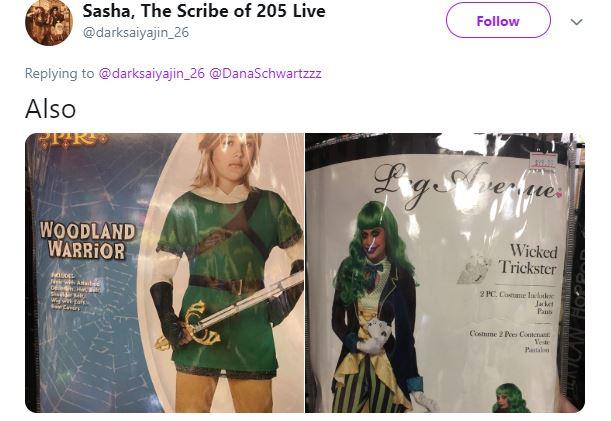 I was never a fan of the Zelda series, but this costume at least looks like Link. As for the Wicked Trickster, I don't know if it's a female Mad Hatter costume or an old-school woman's Joker.
26. Heroic Maria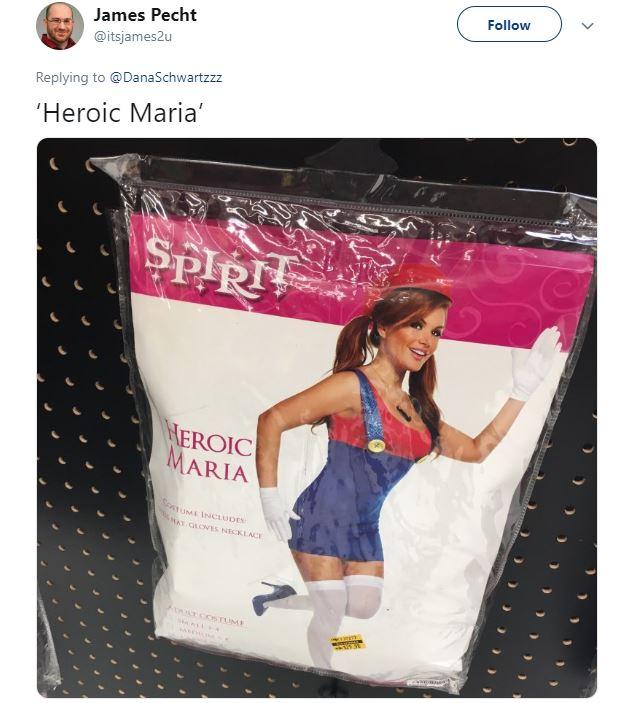 OK I'm a little embarrassed about this but this is the first time I ever considered that Mario is the masculine version of Maria. Wow.
27. Samuria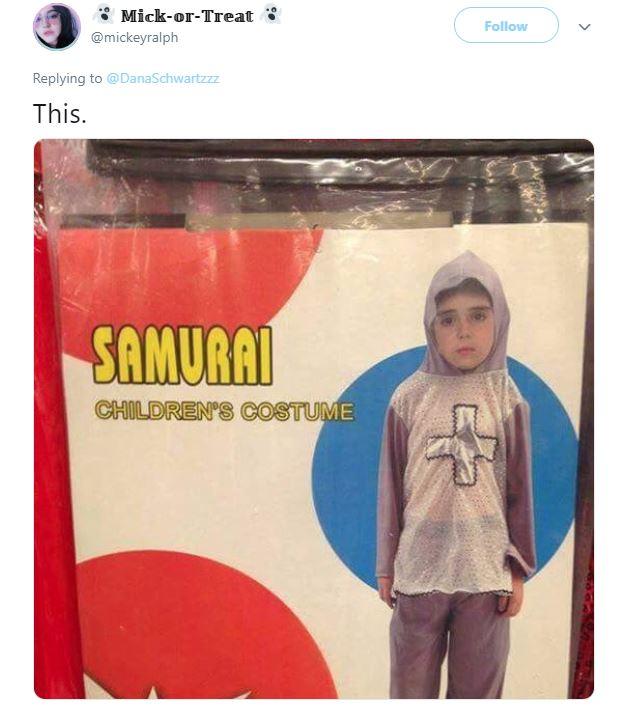 Maybe this is a photo of a kid who wanted to be a Samurai and was forced to be a Crusader by his parents instead?
28. Lost Adult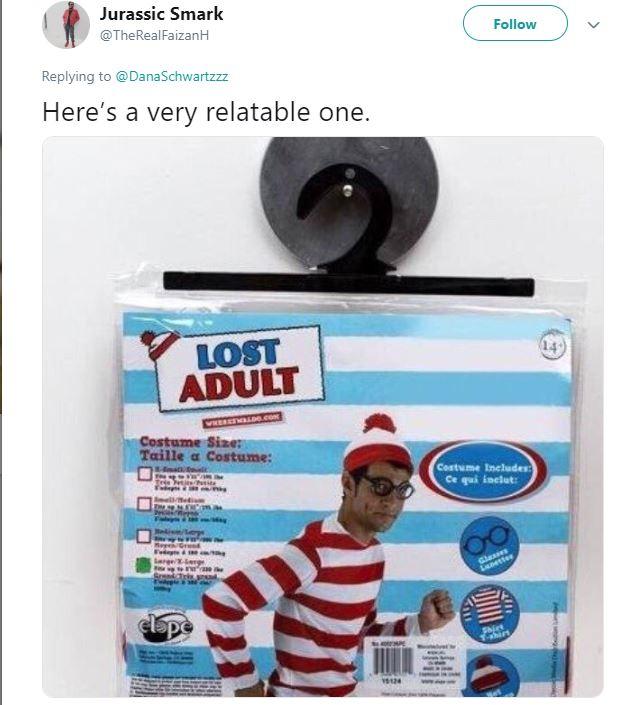 All right so yes it's another Where's Waldo rip-off but technically I think 99% of people could show up to a Halloween party as a "lost adult" and not have to wear anything other than their normal clothing.
29. A TickTock Orange juice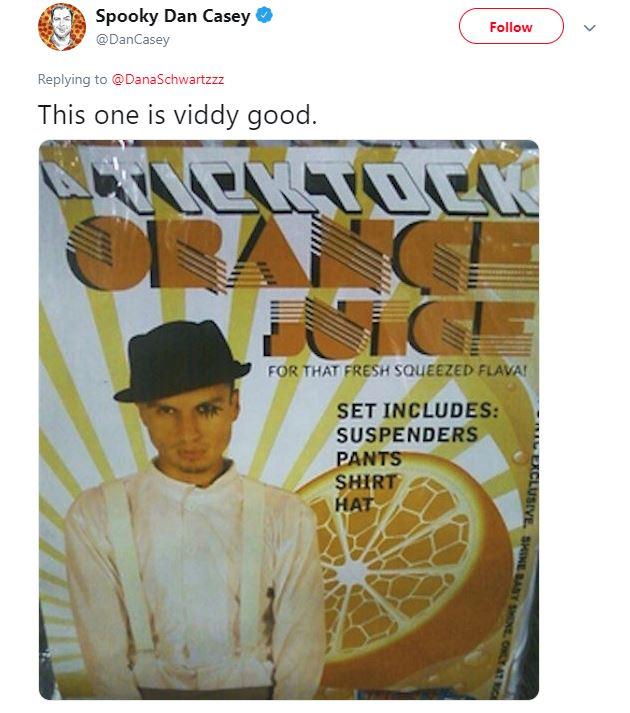 I appreciate the effort. I get what they're going for. They know exactly what they're doing, too. That doesn't mean that I can't hate them for it, though.
30. Galaxy Rebel.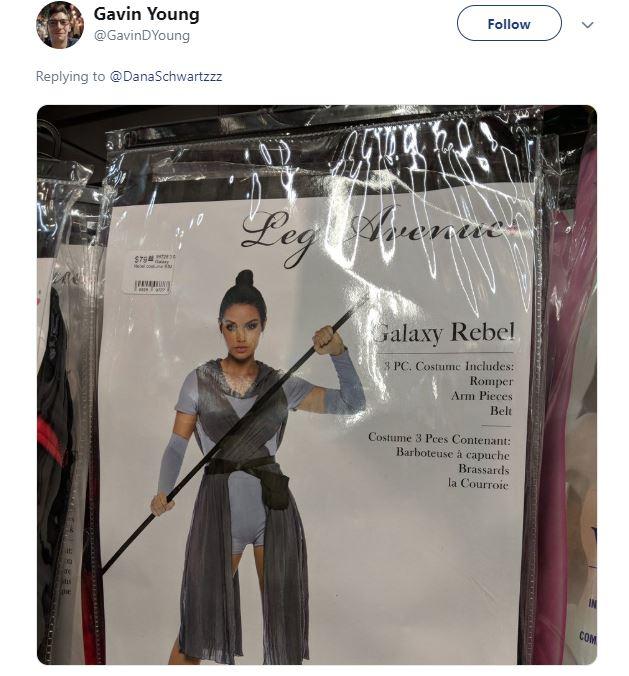 This Galaxy Rebel is busy fighting the empire but not too busy to get her eyeshadow on fleek because girl, I need to see whatever tutorial video you used to get that look.
31. Unusual Events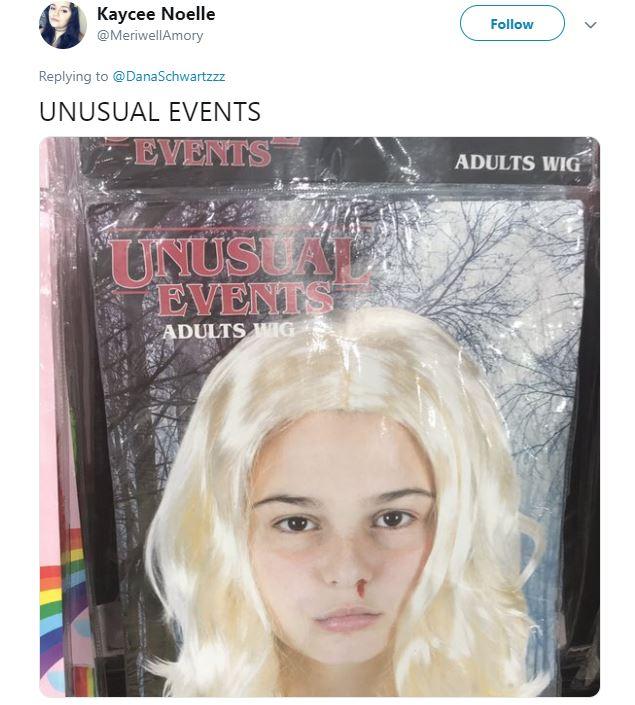 Netflix, whatever you do, don't look at this costume. Please, do not take a look and see what they're doing to our beloved Eleven.
32. Biscuit Beast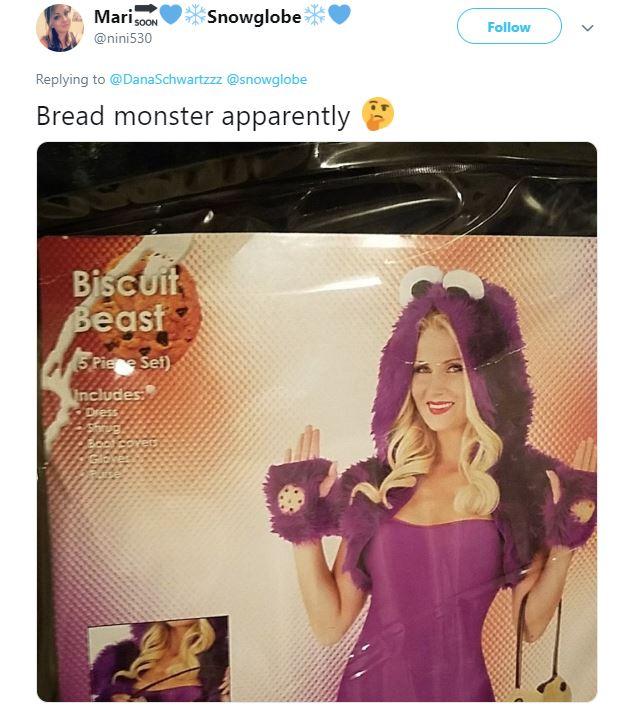 I never knew that Cookie Monster had an English girlfriend. Must be tough doing the whole long distance thing.
33. Men's Out of Space Costume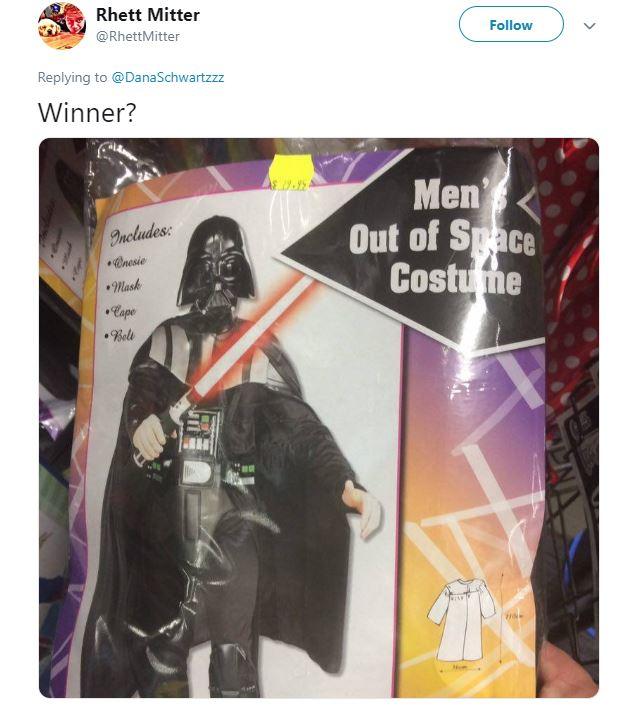 I think they meant "Outer Space," but it could be that Vader is having a hard time finding seating on public transportation due to his unwieldy suit.
34. Sexy Trash Monster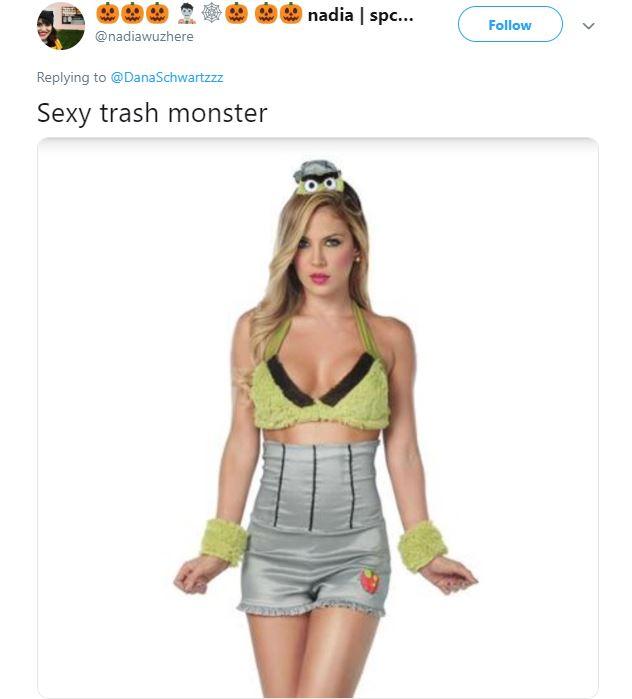 Sexy. Trash. Monster. Look, I know it's uncool to judge people and all but if you call people who turn you on "Trash Monsters," then you might want to look into that.
35. Wizzrd Boy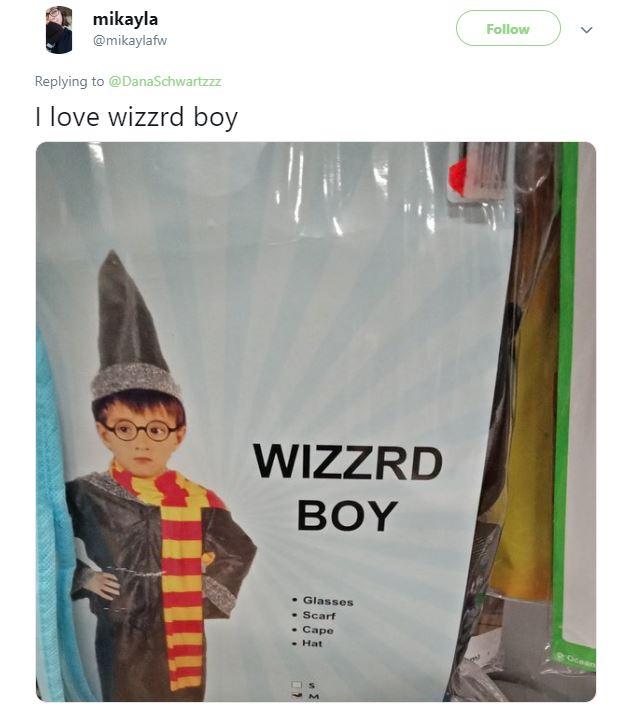 The way this is spelled actually makes it look like some early 2000s rapper name. I can see him now, in the studio doing a feature with the Yin-Yang Twins.
36. Sidekick Bros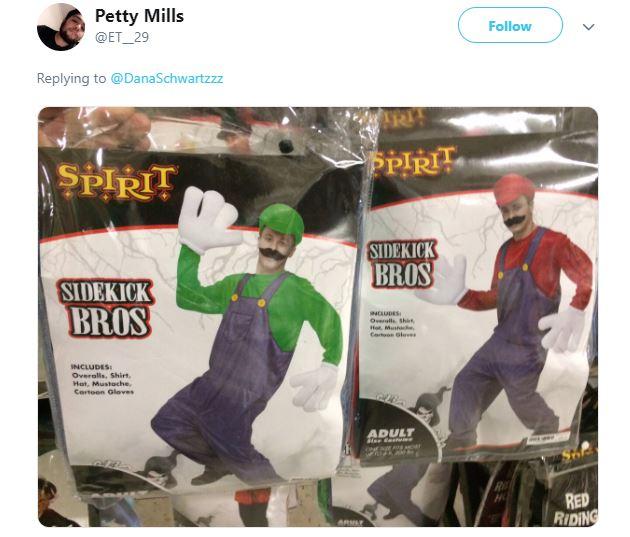 So these guys are Sidekicks to the actual Mario Bros., it's a common mistake. Mario and Luigi use them as decoys while they go and save princesses and steal lizards from eggs to ride around fantasy lands.
37. Bossy Salem Sister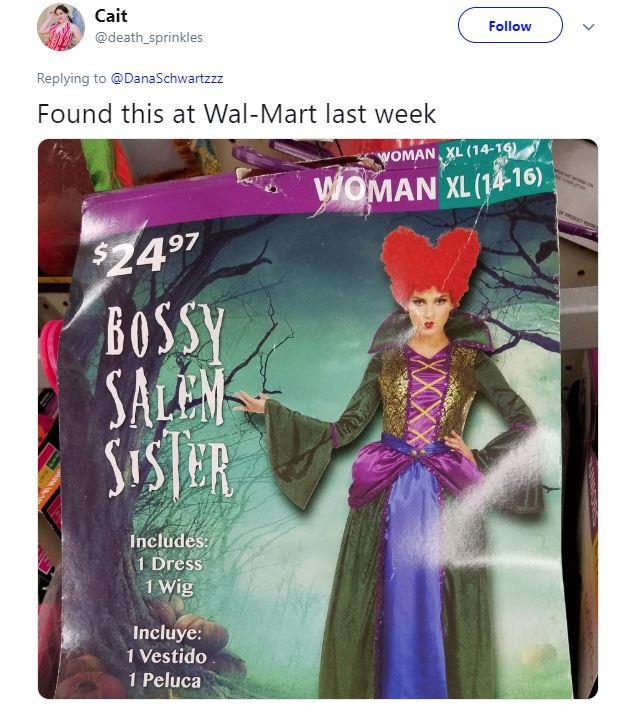 I think the people behind Hocus Pocus would have something to say about this costume. Speaking of which, Hocus Pocus has nothing on Practical Magic, just saying.
38. Dead Parents and Red and Blue Hero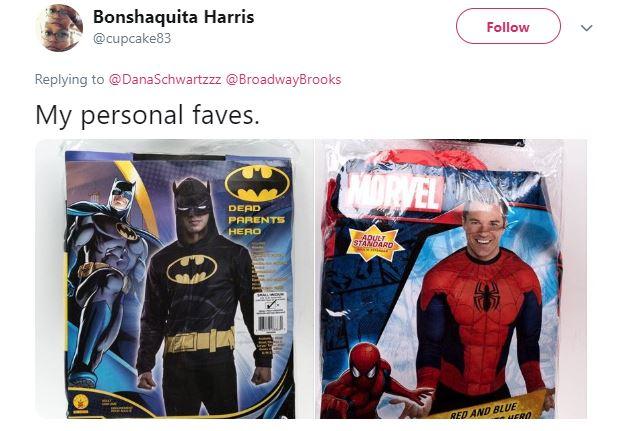 Lazy. Just pure laziness. There's no excuse for this kind of lassitude. Just, wow. The logos are also identical and they're probably still going to get in trouble. Awful. Bad. SAD.
39. Stalker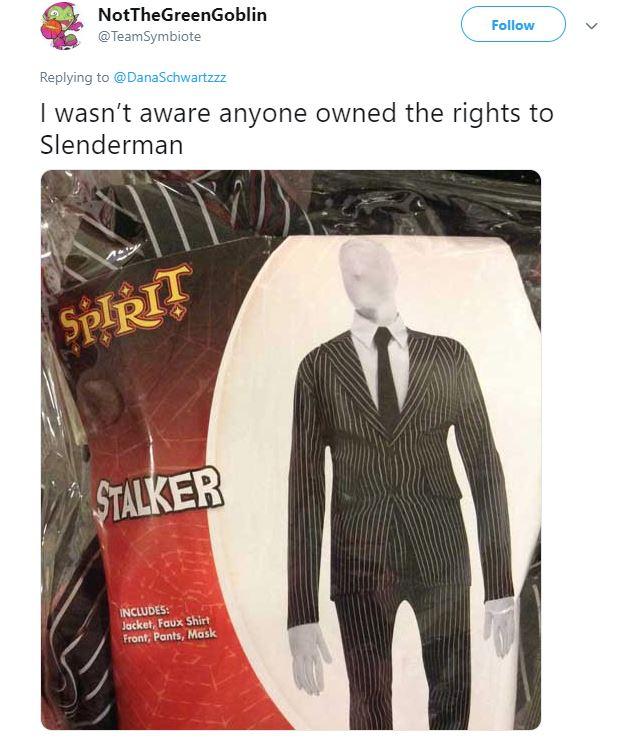 Fact: all stalkers dress like this guy. So if you notice someone in a store buying a pin-stripe suit like this one, immediately call the authorities because they're up to no good.
40. Tomb Looter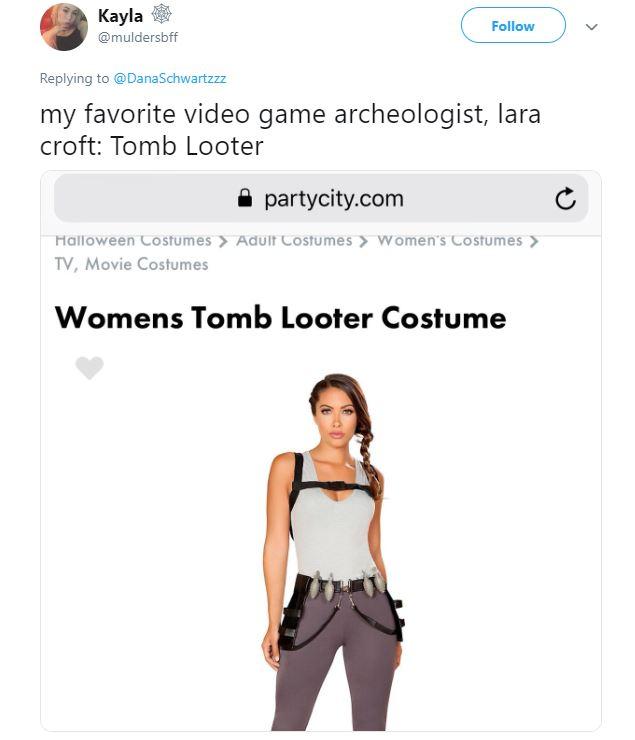 I know there really isn't a difference between a looter and a raider, but for some reason Tomb Looter sounds like a villain, while Tomb Raider doesn't. Why is that?
41. Adult 4chan Man costume deluxe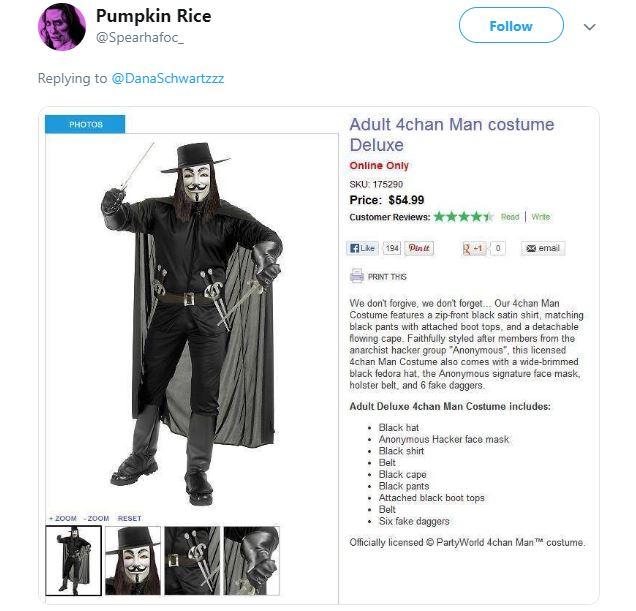 Who is this, 4chan? Look, getting the rights to V for Vendetta isn't a walk in the park, I get it. But honestly, in this case I'd rather have the packaging for this costume than the actual licensed thing.
What're some of your favorite knock-off Halloween costumes?