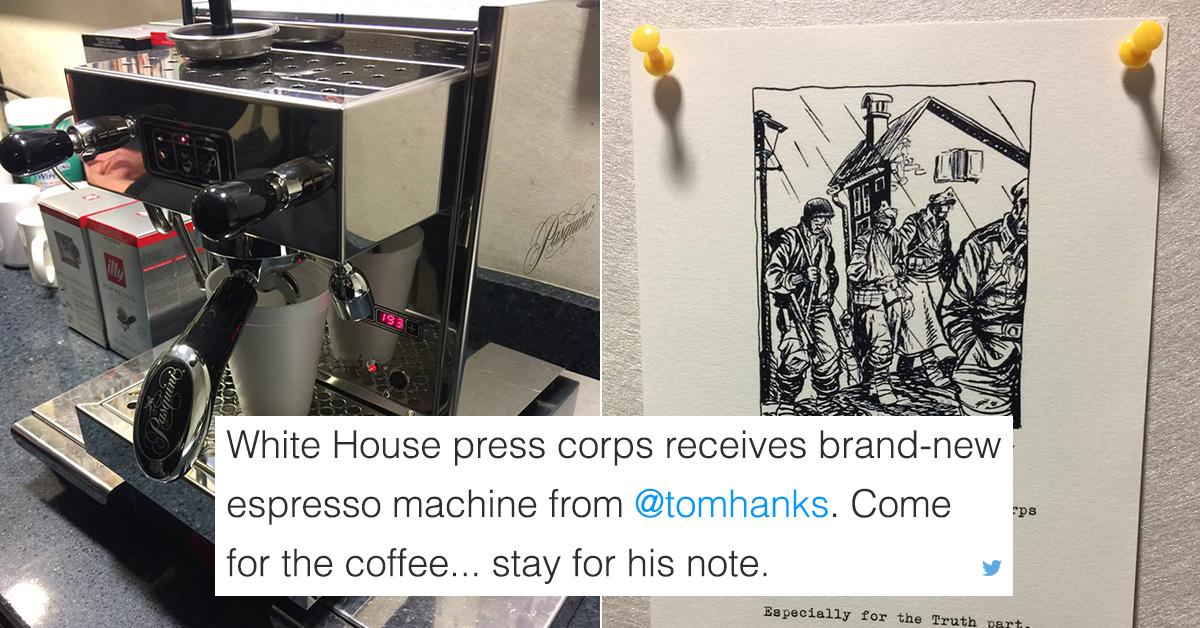 The Gift Tom Hanks Sent The White House Press Corps Will Definitely Warm Your Heart
By Mark Pygas
The White House press corps has had a pretty tough time as of late, having to put up with Sean Spicer yelling at them, being called the enemies of the American people, that kind of thing.
So to boost their spirits, actor Tom Hanks decided to send them a brand-new espresso machine along with a pretty touching note. Peter Alexander of NBC News shared a photo of the gift on Twitter. After seeing it, there shouldn't be a doubt in your mind why he's "America's Dad." The encouraging sentiments in his card are an instant self-esteem boost for tireless journalists operating in a hostile environment.
Perhaps portraying a journalist in The Post helped the actor appreciate how important their work is?
The note starts with a Willie and Joe cartoon that portrays American troops escorting wounded German soldiers along with the caption:
"Fresh, spirited American troops, flushed with victory, are bringing in thousands of hungry, ragged, battle-weary prisoners. (News item)"
The cartoon is by William Mauldin, a World War II cartoonist who won two Pulitzer prizes for his work. His works featured Willie and Joe, two weary and bedraggled infantry soldiers who heroically endured the dangers of war.
The note from Hanks reads:
"To the White House Press Corps
"Keep up the good fight for Truth, Justice, and the American way."
"Especially the truth part."
"Tom Hanks"
Unsurprisingly, people are impressed by his display of support.