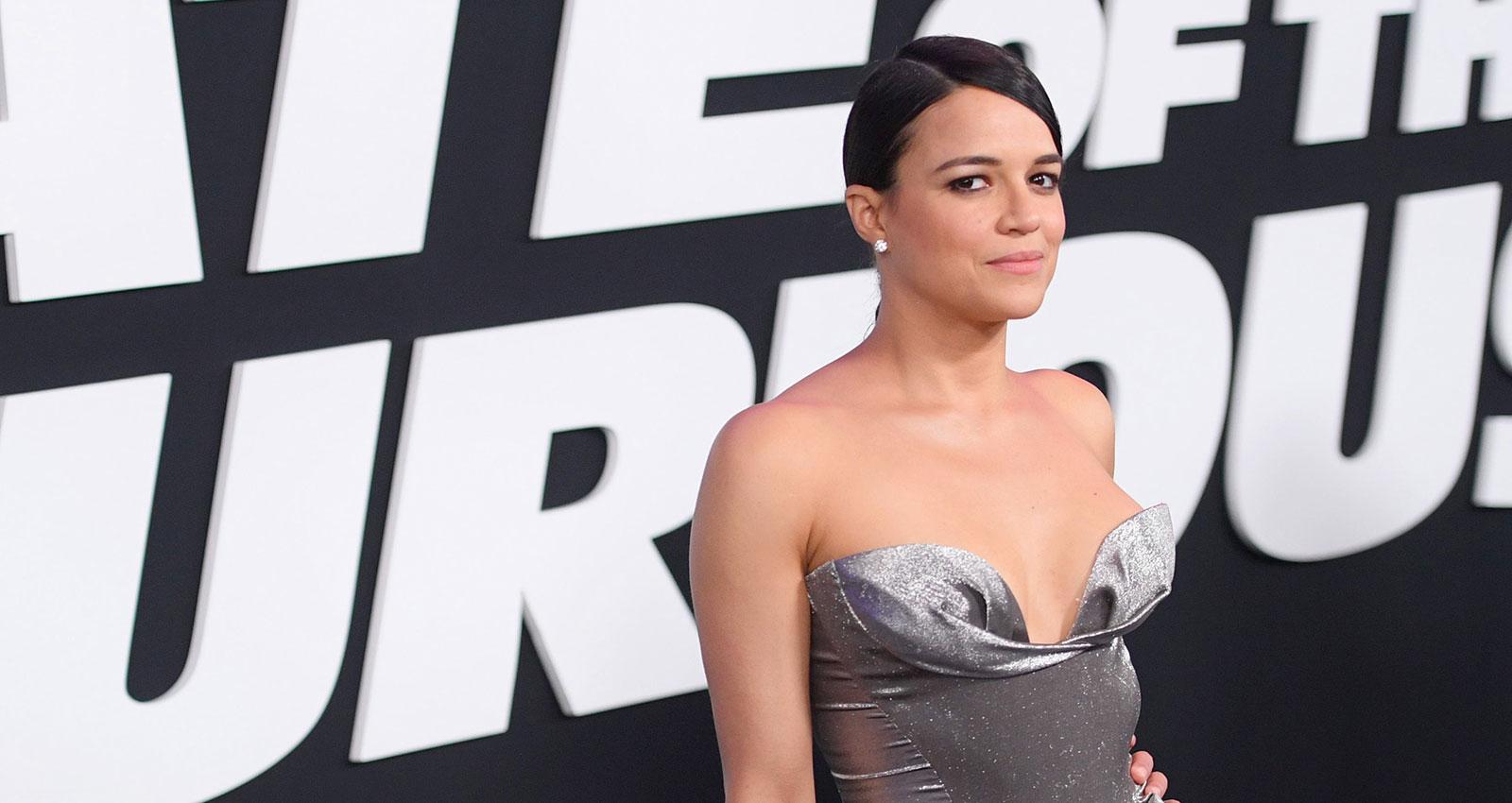 Michelle Rodriguez Threatens To Quit 'Fast & Furious' Franchise Over Women's Roles
By Aimee Lutkin
The Fast and The Furious franchise started out as a silly action movie about cars, but it has exploded into its own world with a seemingly never-ending parade of sequels, each one topping the last when it comes to shooting guns and driving cars into guns, and turning guns into cars, or whatever.
They're fun, they're fast, and they are definitely male dominated. But the movies have featured some awesome women characters, like Michelle Rodriguez in her role as Letty, which she has been recurring in for years. To celebrate the digital release of F8, Rodriguez posted a message to Instagram that has everyone screaming. It's pictures of her on set, and what some read as a subtle threat that she may be leaving the series.
In the caption, she wrote:
F8 is out digitally today, I hope they decide to show some love to the women of the franchise on the next one. Or I just might have to say goodbye to a loved franchise. It's been a good ride & Im grateful for the opportunity the fans & studio have provided over the years... One Love
Of course, everyone is freaking out on Twitter:
Though some people claim not to know what Rodriguez is even talking about:
Rodriguez's comments aren't completely out of left field. In May, she did an interview with Entertainment Weekly, where she seemed to be expressing her frustration with the lack of development for female roles in the series, especially since they've done eight of these things already.
ENTERTAINMENT WEEKLY: How would you characterize your respective characters, and what do you think they mean within the context of women in the series?

MICHELLE RODRIGUEZ: Letty's a strong woman. She's a kid who grew up with a socio-economic background that makes you a little bit rough around the edges, I guess. I knew girls like Letty growing up. They're attracted and loyal to guys like Dominic Toretto because it's the only way to survive in a place that gets violent — Chicago, New York, Los Angeles. When people are poor, there's a lot of crime and when there's lots of crime, you have to watch your back. It gets physical and that's why it seems like we've been stuck in the '90s for the last [however] many years that we've been doing the franchise, because of the macho bravado involved, but that truly is the voice of the urban ghetto. I was hoping that at some point we'd evolve out of that vibe. We made some money — kind of like the rapper who starts reading books and next thing you know, you don't have to worry about survival anymore, so you stop being so physical and start becoming more intelligent — but it seems that just as we start growing up as individuals, you have countries around the world who are still stuck in that mindset.
She continued, talking about the films' success in foreign markets, and says that representation is important to her in other countries, as well:
At some point I do hope — knowing a lot of these countries where this franchise is uber successful and that for the first time in recorded history, there are less women on the planet than men — maybe the studios starts to take a look at what the female voice is, because there are less women than men around the world today. Not in America; America has 51 percent female population, but that's because of violence. It's because of violence against women and it's because of a lack of evolution in men in society. I do feel that heavy weight. I'm a complete, sheer, utter feminist. On day one, I [changed] the character from being something that I could not do in front of millions of people into a character that I'm actually proud of, but at the end of the day, what message are we sending out there for women? It does weigh heavy on my head — especially in the male-dominated environment that I work in.
Could we see a women's strike on the set of The Fast and The Furious 9? Maybe not. After all, The Rock identifies as a feminist, too. He may want more role models for his daughter in his own movies someday.