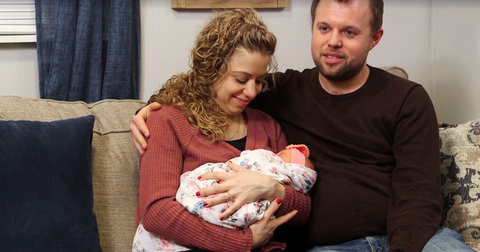 Abbie Duggar's Birth Special Shows She Delivered a Bit Differently Than Her Sisters-In-Law
By Michelle Stein

Updated
Longtime fans of the Duggar family have delighted in seeing Michelle and Jim Bob's adult children, one-by-one, courting, getting married, and having babies of their own. (Thus, why their TLC series is called Counting On.) However, Abbie Duggar's birth special shows she did things a bit differently than her sisters-in-law.
So far, the majority of Duggar daughters have at least attempted a home birth for their babies. Abbie's birth plan, on the other hand, was different from the start. Perhaps it's because Abbie used to be a nurse — or maybe it's just where she and Jon felt most comfortable delivering— but their baby girl was born at a hospital. And with the use of an epidural, to boot.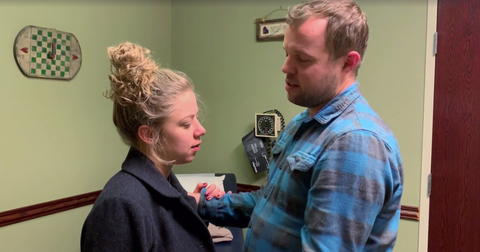 Abbie Duggar's birth special shows she opted for a low-intervention delivery room at a hospital.
Abbie started having contractions the evening of Jan. 5. The birth special shows her laboring at home for several hours until Jon and Abbie decided they would head to the hospital to see where she was at in the process. Frustratingly, her labor ended up stalling and she was sent home.
By the afternoon of Jan. 6, Abbie was again having regular contractions. She saw her doctor at his office at that time, and it was decided that at 3 centimeters dilated, Abbie was ready to be admitted to the hospital.
By the time Abbie was checked in at hospital, she'd been laboring for 24 hours. Doctors ended up administering Pitocin 30 hours in to help the process along. At that time, the mother-to-be also opted for an epidural for pain management.
At 2:30 a.m. on Jan. 7, Abbie was ready to push. Finally — 36 hours after her labor began — baby Grace was born.
Most of the Duggar sisters attempted to have home births.
Still, she's not the only Duggar to deliver at a hospital.
At this point, the Duggar siblings seem to lean toward a home birth while the Duggar sisters-in-law prefer a hospital setting. Neither choice is inherently wrong, of course. The Duggar sisters' upbringing likely influences their tendency to prefer home births. Ultimately, though, how woman gives birth is such a personal decision — one that's best left to a mom-to-be, her partner, and her doctor.
And you know what? I say, good for Abbie and the rest of the Duggar women who have gone "against the grain" with their hospital births. Keep listening to your gut and doing things your own way.