Counting On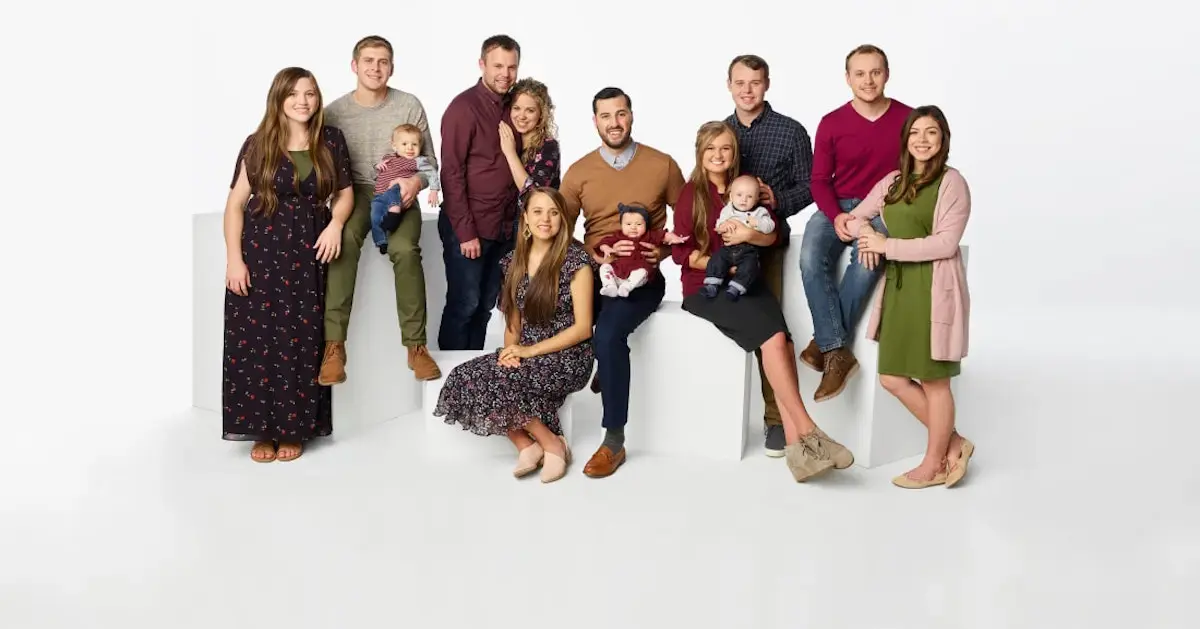 When TLC's 19 Kids & Counting was canceled in 2015, the Duggar family returned to the network later that year with a new show called Counting On. The series focused on the lives of Michelle and Jim Bob's adult kids as they enter into courtships, plan weddings, and grow families of their own.
Based in Tontitown, Ark., the Duggars are a deeply religious and conservative homeschooling family who believe that children are blessings from God — which is why the family is almost always "counting on."
In 2021, Counting On was canceled amid child pornography allegations against Michelle and Jim Bob's eldest child Josh Duggar. Josh was later found guilty on two counts: one of receiving and one of possessing child sexual abuse material (CSAM).
Counting On cast:
Michelle is the Duggar family matriarch and Jim Bob is the patriarch. Together, they have 19 biological children and one adopted child — and of course, there's the ever-growing list of grandchildren. Here's a run-down of their biological kids, their kids' spouses, and grandkids:
Josh Duggar is married to Anna (Keller) Duggar. They have seven children: Mackynzie, Michael, Marcus, Meredith, Mason, Maryella, and Madyson.
Jana Duggar is currently single and still lives at home with her parents.
John David (Jana's twin) is married to Abbie (Burnett) Duggar. John and Abbie have one child, a daughter named Grace, and a son on the way.
Jill Duggar is married to Derick Dillard. They have two children, Israel and Samuel, and are expecting a third son.
Jessa Duggar is married to Ben Seewald. They have four children: Spurgeon, Henry, Ivy, and Fern.
Jinger Duggar is married to Jeremy Vuolo. They have two daughters, Felicity and Evangeline.
Joseph Duggar is married to Kendra (Caldwell) Duggar. They have three children, Garrett, Addison, and Brooklyn.
Josiah Duggar is married to Lauren (Swanson) Duggar. They have one daughter, Bella.
Joy-Anna Duggar is married to Austin Forsyth. They have a son Gideon and a daughter Evelyn.
Jedidiah Duggar is married to Katey (Nakatsu) Duggar, and they have one son, Truett.
Jeremiah Duggar (Jedidiah's twin) is married to Hannah (Wissmann) Duggar.
Justin Duggar is married to Claire (Spivey) Duggar.
The rest of the younger Duggar kids still live at home with their parents. They include: Jason, James, Jackson, Johannah, Jennifer, Jordyn-Grace, and Josie.
Who is Tyler Duggar?
Tyler Duggar is the adopted son of Michelle and Jim Bob. He's the biological son of Michelle's niece, Rachel Hutchins — but in 2016, Michelle and Jim Bob obtained temporary guardianship of Tyler when Rachel gave up custody of him. She was unemployed and homeless at the time, and she had a significant criminal history. By November 2016, the Duggars had officially adopted Tyler.
Why was Jill not on Counting On?
Jill and her husband Derick Dillard weren't featured on Counting On from Season 6 onward. That's because TLC cut ties with them in 2017 following Derick's offensive tweets aimed at fellow TLC star, Jazz Jennings, who is a transgender teen.
Derick's tweets sparked outrage, prompting TLC to clarify, "We want to let our viewers know that Derick Dillard has not participated in Counting On for months and the network has no plans to feature him in the future." Although Derick hasn't appeared on the show at all since then, Jill has popped on a handful of times.
What is the Duggars' religion?
Although Michelle and Jim Bob have been careful not to associate themselves with a specific ideology, the Duggars' religion as shown via TLC is fundamental Christianity. The Duggars have widely been linked to the Quiverfull movement, a sect that compares children to "arrows" (per an Old Testament psalm) and says, "Blessed is the man whose quiver is full of them."
Michelle and Jim Bob raised their kids with strict rules about modesty and gender roles because of their religion. Growing up, the Duggar siblings' access to the internet and mainstream media was severely limited. Courtships are the family's version of dating — except they call it "dating with a purpose" because the goal is marriage. While courting, couples are required to have chaperones at all times, to save their first kiss/sex for their wedding day, and to only side-hug. The majority of Michelle and Jim Bob's adult children have opted to leave their family size "in the hands of God" following marriage.
What is the Duggars' net worth?
It's difficult to say, for sure, what the Duggars' net worth currently is. However, CelebrityNetWorth.com estimates Jim Bob's net worth to be $3.5 million.
Latest Counting On News and Updates