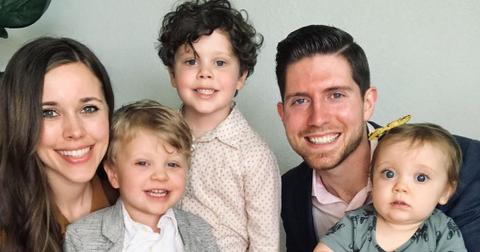 Jessa Duggar Might Not Have 19 Kids, but She Could Come Close
By Chrissy Bobic

Updated
The Duggar family is growing by at least one every year it seems, and now some fans think Jessa Duggar is the next pregnant Duggar daughter. After she posted a video celebrating daughter Ivy Seewald's first birthday, Counting On fans were quick to theorize that she's pregnant.
In the YouTube comments on the video, some fans speculated, while redditors flew to the message boards to wonder out loud, through their computer keyboards, if Jessa is expecting again.
Article continues below advertisement
The evidence people have laid out is that Jessa simply looks like she might be hiding a baby bump under slightly baggy clothes. And her recent Instagram post in which she is wearing a loose-fitting dress only helped fuel the new rumors. Really, it wouldn't be out of the ordinary for Jessa to already be pregnant so soon after her youngest turned one.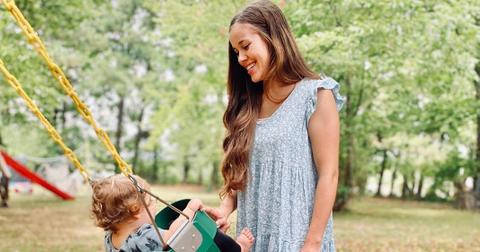 Article continues below advertisement
So, is Jessa Duggar pregnant?
Although you should never say never when it comes to a Duggar pregnancy announcement, Jessa hasn't announced a fourth one just yet. If she is pregnant, she could be saving the announcement to boost Counting On viewership later in the season, but for now, she is one Duggar daughter who isn't gearing up for another elaborate gender reveal spectacular. It hasn't stopped her social media followers from speculating, though.
On an image of her wearing a loose-fitting dress while pushing Ivy on a swing, someone commented to call it "one of those keep them guessing dresses." The user explained the dress is designed to hide a growing belly. And Jessa wrote in the caption of the photo to "cherish the moments" with babies. Could she be feeling sentimental because Ivy is growing up or because she has another one on the way?
Article continues below advertisement
Jessa Duggar and her husband already have three kids.
In 2020, Jessa will be 28 years old. While her mom, Michelle Duggar, already had five kids by the time she was 28, Jessa is close behind, especially if she's pregnant again. She and husband Ben Seewald started having babies in 2015 and every two years after, her other kids were born. If she welcomes a fourth child in 2020 or early 2021, she could be on track to have almost as many kids as her mom.
Article continues below advertisement
It's a frightening thought for most families, but the Duggars pride themselves on procreating and welcoming *precious* new bundles of joy to the world. It's the Duggar way. Fans have seen plenty of pregnancy announcements throughout the life of Counting On. And if Jessa isn't pregnant now, she could still very well get pregnant soon.
Article continues below advertisement
How many Duggar grandchildren are there so far?
In 2020, Michelle and Jim Bob Duggar have 17 grandchildren with another one on the way, courtesy of Jinger Duggar. They literally have enough grandchildren for a couple of solid kickball teams at the big family house. Jim Bob did once say on 19 Kids and Counting that he hoped to have 100 grandkids someday.
It's unclear if he will reach that goal or if Jessa will try to contribute more to the pool of grandkids littering the main Duggar house on weekends, holidays, and every special occasion in between. But none of the adult Duggar kids have come out to say they plan to take things slow in regards to growing their respective families. And now that Jessa's youngest is more than a year old, she might be ready for another.
Watch Counting On on Tuesdays at 9 p.m. ET on TLC.