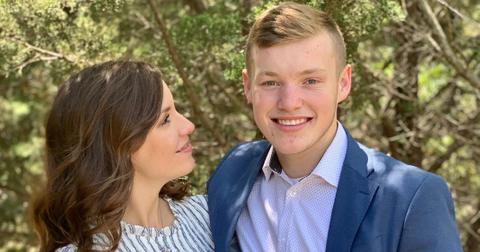 Justin Duggar's Girlfriend Has Been on His Radar for a Long Time
By Chrissy Bobic

Updated
When a new Duggar courtship was teased on Counting On, plenty of fans' money / hopes / dreams were on Jana Duggar. Instead, it was revealed to be one of the older Duggar sons, Justin Duggar, who is old enough to get engaged in the next year or so. He's dating, or courting, a girl by the name of Claire Spivey who was introduced first on TLC Me and teased to be a part of the Sept. 22, 2020 episode, titled "A Quarantine Courtship."
Article continues below advertisement
Just like the time Josh Duggar courted his now-wife, Anna Duggar, fans and those who snark on the show alike are curious about this Duggar outsider who will soon be a major part of the family. It's normal for the adult Duggar children to announce a courtship or new baby on the way more than once each year, but every time there's a new relationship, fans are equally as curious about future Duggar spouses.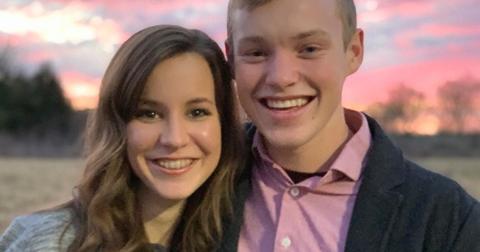 Article continues below advertisement
Who is Justin Duggar's girlfriend, Claire Spivey?
Although Claire doesn't come from a family with reality TV experience, her family was close to the Duggars long before she and Justin became a thing. In fact, she revealed in a TLC Me video that her family knew the Duggars for 20 years before she and Justin started courting. So it should come as no big shock that Claire's family shares similar religious beliefs and values and that she comes from a family with six kids.
It's certainly a lot by normal standards, even if it still pales in comparison to the Duggar brood. Before their courtship, Claire didn't have an Instagram, but shortly after the announcement came, she started one, which is already being followed by a handful of Justin's older sisters. And in Claire's first post, she shared pictures of her and Justin together with a lengthy caption as a testament to their love.
Article continues below advertisement
"He is the most tenderhearted person, and every moment spent with him is treasured. I'm so thankful for the man of God that he is," Claire wrote. "Whether we are in person, or long distance, he cherishes and loves me unconditionally. His example to me and all he meets, is unlike any other. I am the most blessed woman on earth to be in a relationship [with] you. I'll love you forever."
Article continues below advertisement
Claire Spivey's age has been a hot topic.
Of course, with any new relationship in a highly publicized family, there are going to be criticisms. In this case, it's Claire's age. Because almost as soon as photos of Claire and Justin were being shared across the internet, people began speculating about Claire's age.
Although she's only 19 years old, she looks to some like she is several years older than Justin. Maybe that's because Justin looks young for his own 17 years, but it sparked plenty of speculation about the new couple.
Yet another reminder that I'm old. Justin Duggar is courting. He is one of the little kids. How is he 17 already. 🙈🙈

— Jamie ✌🏻 (@silentnpale) September 21, 2020
Article continues below advertisement
She's also a Jana Duggar clone, according to those who follow the Duggars.
Another topic of conversation for those who love to snark on the Duggars is Claire's likeness to Justin's older sister, Jana. There's no denying that she shares striking physical characteristics with the eldest Duggar daughter. Of course, Claire isn't related to the Duggars in any way, but there have already been memes and jokes about her being Jana's doppelganger.
As Justin begins his new *season of life* the TLC cameras will likely capture all they can. And, regardless of when Counting On returns, there's little doubt that he too will get a Duggar-sized televised wedding to give viewers an even closer look at his girlfriend.
Watch Counting On Tuesdays at 9 p.m. ET on TLC.