Aesha Scott's Boyfriend Hails From Her Tiny Hometown, and We're Melting
Bravo's Below Deck Med welcomed back a fan-favorite stew on Monday, Aug. 24's episode. Following Chief Stew Hannah Ferrier's unceremonious firing after Captain Sandy found she had prescription meds aboard The Wellington that she had not reported, apparently a key tenant of maritime law, South African star stew Bugsy Drake ascended to the ranks of Chief Stew. "That's a weird way to get promoted, I guess," she said.
Article continues below advertisement
Being one stew down proved a struggle for the interior team during their latest charter, but thankfully, Captain Sandy called up an incredible replacement for the second stew, one who's just as loved by her coworkers as she is by Bravo fans: Aesha Scott.
The New Zealand native has recently gone Instagram public about her relationship with her boyfriend, who to the disappointment of many fans, is not her season's boat-mance, Jack Stirrup.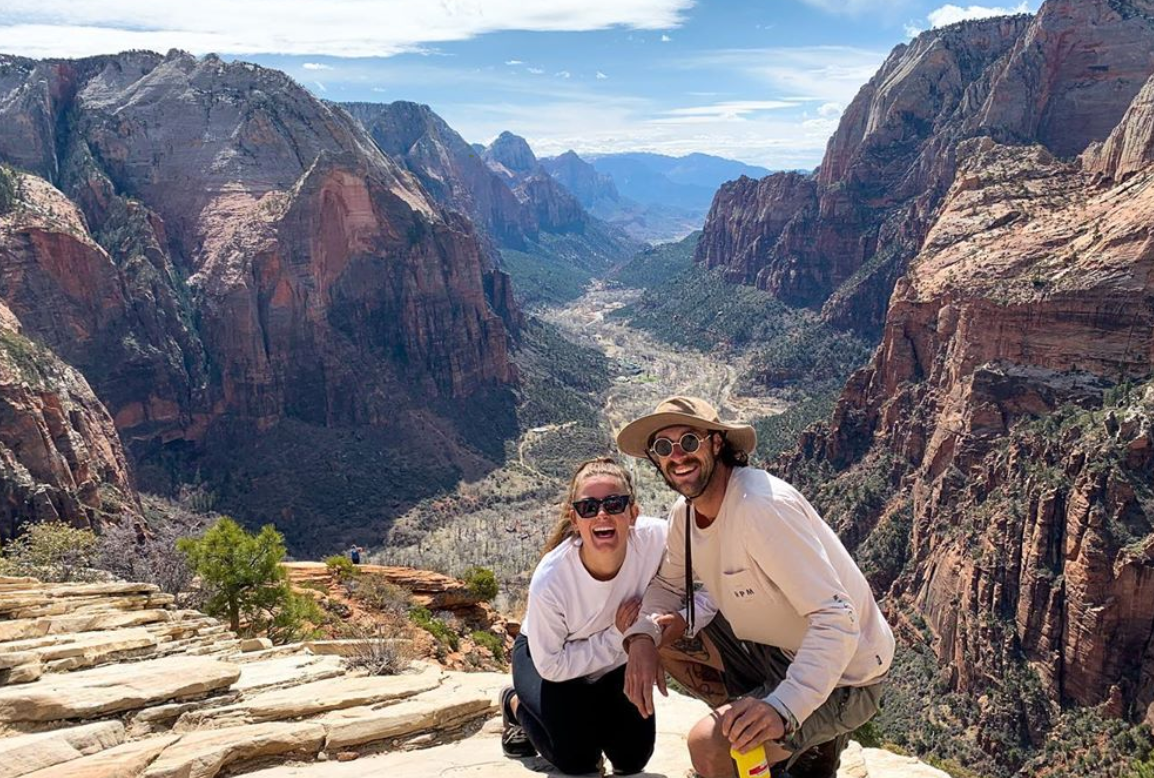 Article continues below advertisement
Who is Aesha Scott's boyfriend, Scotty Dobbo?
Way before she was announced as the new second stew on The Wellington, Aesha took to social media to make her new relationship Instagram-official. "This guy though," Aesha captioned a photo of the two of them in Colorado along with a heart emoji.
"I'll go ahead and address the elephant in the room. Yes he is the blatantly more attractive/photogenic/talentedatEVERYTHING side of this duo, but I feel like what I bring is a certain mysterious spice, especially when I do things like cry over two-minute noodles for no reason when I'm on my period. So basically a power couple," she added, with her signature humor.
Article continues below advertisement
Scotty Dobbo is the name of Aesha's new man, and the two make for quite the adventurous couple. Recently, Aesha and Scotty traveled across the United States, hiking, rock climbing, horseback riding, canoeing, biking, and even driving an old ambulance around.
Article continues below advertisement
"The best, best time with the best, best company," Aesha commented on her boo's Instagram post, which is location-tagged in Page, Ariz. "Fantastic little roady around Utah and Arizona," Scotty had captioned the series of photos. "There's something about the Southwest Desert that gets me super stoked on life. Good company helps too!"
On Aug. 18, Aesha updated fans to say that she had was "back in Breck[enridge, Colorado]" with Scotty, and made it sound like the two were staying put in Colorado for the time being. "So excited for this next adventure!," she wrote. "Hoping we open our eyes soon so we can take it all in. Apologies in advance to @breckenridge_taphouse for hanging around way too much and harassing staff members. But I won't stop," she continued, adding an emoji of a monkey covering its mouth.
Article continues below advertisement
If our research doesn't fail us, it appears that Scotty's real last name is Dobson, though he's been using the nicknames Dobbo and Scotty D at least since college. The website for Dominican College lists Scotty as a soccer player in the 2011 season, and lists his hometown as Tauranga, New Zealand, the same small town Aesha hails from. A match made in heaven? Possibly!
Article continues below advertisement
These days, in addition to "Sailing the Storm through Life and Loving every Capsized Moment of it" (capitalization his, per Scotty's Instagram bio), the adventurer is also a brand ambassador for Mountain Culture Co., as well as for their Breckenridge location.
What happened between Aesha and Jack?
Over the course of Season 4, our first introduction to the stewardess, Aesha struck up a relationship with British deckhand Jack Stirrup. The two were adorable throughout the season and seemed to leave the boat with the intention of staying together, though that is decidedly not what happened.
Article continues below advertisement
Jack and Aesha went their separate ways following the charter season and it appears that Jack went back to England, where he got back together with his ex... without breaking up with Aesha first!
According to The Cinemaholic, Aesha only found out about Jack's girlfriend, Kelly Hidge, when Kelly DMed Aesha to stop calling Jack her boyfriend!!! Apparently they broke up over the phone and didn't talk for a while, but now are back to being friends. How awkward!
For his part, Jack is now a new father. While he deleted his Instagram account following Below Deck (and likely as a result of his tumultuous love life at the time), Kelly announced the birth of their baby boy, Phoenix Sidney Stirrup, on April 15, 2020.