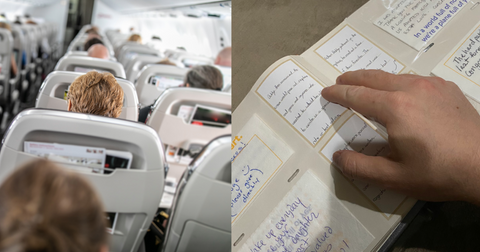 An Entire Airplane Threw a Mid-Flight Baby Shower for New Parents Flying With Their Adopted Daughter
By Robin Zlotnick

Feb. 21 2020, Published 12:10 p.m. ET
There are all sorts of horror stories about what goes down on airplanes. Most recently, a woman who'd reclined her seat video-taped the man in the seat behind her repeatedly punching her seat as some sort of psychotic protest. The video sparked an outrageous debate about who was wrong, with some people apparently siding with the monster who was punching the seat in front of him.
Article continues below advertisement
But this isn't one of those airplane stories that will make you want to tear your hair out. This is quite the opposite. In a recent Twitter thread, Dustin Moore explains how the entire airplane came together to celebrate when he revealed he and his wife were flying home with their adopted daughter for the first time.