An Entire Airplane Threw a Mid-Flight Baby Shower for New Parents Flying With Their Adopted Daughter
They were on their way home with their adopted daughter for the first time and feeling very emotional. The whole plane came together to celebrate their new baby.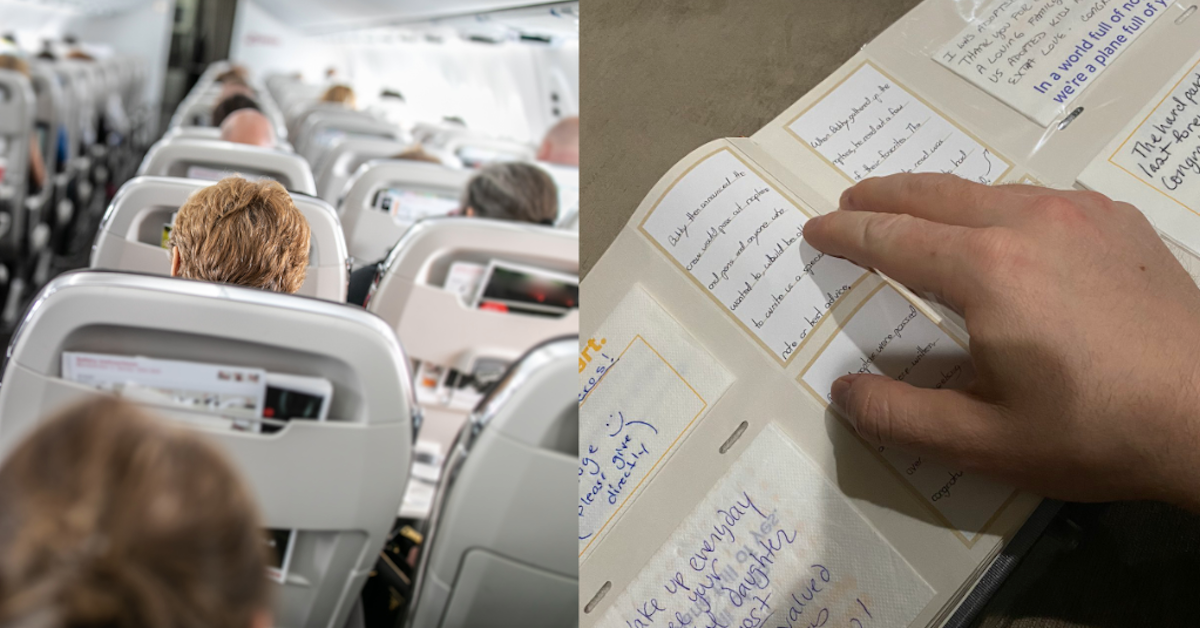 There are all sorts of horror stories about what goes down on airplanes. Most recently, a woman who'd reclined her seat video-taped the man in the seat behind her repeatedly punching her seat as some sort of psychotic protest. The video sparked an outrageous debate about who was wrong, with some people apparently siding with the monster who was punching the seat in front of him.
Article continues below advertisement
But this isn't one of those airplane stories that will make you want to tear your hair out. This is quite the opposite. In a recent Twitter thread, Dustin Moore explains how the entire airplane came together to celebrate when he revealed he and his wife were flying home with their adopted daughter for the first time.
Have you ever tried to travel with a baby? When I see parents in airports, I just feel tremendously sympathetic. It's so hard. There are so many things to carry, so much space you must claim, and so many tired people who don't have the patience you need them to have for you and your situation.
Now, add all that to the day you're bringing your daughter home for the first time, and that's a feeling unlike any other.
Article continues below advertisement
Jenny the flight attendant is the real hero of this story. She made space for clearly overwhelmed parents and made the flight as comfortable as possible for everyone on board.
Dustin writes that, 10 minutes after this exchange, another attendant named Bobby came up to them and asked about their daughter. "We repeated the story w/ a few details, and he congratulated us before walking away," Dustin writes. "My wife and I exchanged curious looks but thought nothing more about it."
Article continues below advertisement
How adorable is that? Not only did the flight attendants try to make this new family's first flight as comfortable as possible, but they got the whole plane to celebrate what was happening. That's not all, though!
Article continues below advertisement
Is this just the cutest thing you've ever heard in your life? Side note: Airplanes really should keep pads of paper on hand for situations like this, but I actually happen to think the napkins are a nice touch. A reminder of the spontaneity of this whole thing!
Article continues below advertisement
This is some good advice. Especially that last one *wink wink.* Dustin then writes that there was "one more round of cheers." After that, he writes, "Bobby and Jenny approached us with the napkins bundled up (about 60 of them), w/ a set of pilot wings for our daughter. We learned they were married and that someone had done a similar act for then on their honeymoon flight."
They thought this was the perfect opportunity to pay it forward. I didn't think this story could get any cuter! As they disembarked the plane, people kept coming up to them and wishing them well. "Our hearts were full," Dustin writes.
Article continues below advertisement
Adoption is not a simple or easy process, and I can't even imagine what Dustin and Caren were thinking when they finally got on that plane to bring their daughter home. The support from Jenny, Bobby, and all the plane passengers meant the world.
Article continues below advertisement
Dustin ended his thread by sharing this picture of the album they created using all the napkin notes. He writes, "This website is used oft as a means to share what's wrong. I hope you'll take time to share what is good. In a world of turmoil, don't forget to showcase the Bobby's and Jenny's, the kind strangers out there. And if they don't cross your path, be one. Seek good, or create it."