Plane Passenger Gets Revenge on Woman Who Kept Putting "Smelly" Feet Beneath His Seat
A plane passenger combated another flier's intrusively stinky feet by pouring some of their beverage on their toes, sending them back to their area.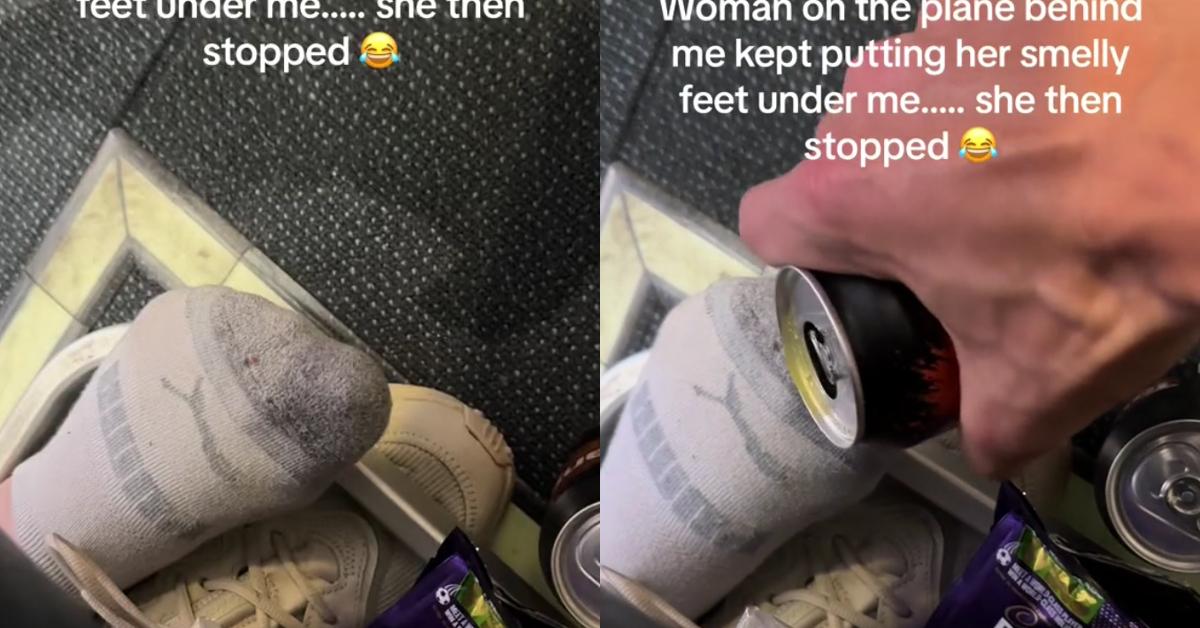 There's something about airline travel that seems to just bring out the worst in people. Of course, the same could be said for the way most folks conduct themselves in high-stress, pressurized situations.
Article continues below advertisement
From rushing to the airport, making sure you've got all of your bags, weighing them, getting them checked in, waiting in line and praying that you aren't molested by the TSA, rushing your gate while collectively picking up your jaw off the floor after seeing what the Hudson Market thinks is a fair price for a pack of peanut M&M's, can get a lot of folks freaking out.
It's no wonder that so many people are drinking a 24-ounce, $18 beer at 9 am, and why they also tend to get a bit unhinged while on the airplane. Of course, there are folks who freak out once they're in their seats (more than likely because they're under the influence of several of the aforementioned beers) but there are other behaviors folks display that they probably wouldn't otherwise in different public scenarios.
Article continues below advertisement
Like taking off your shoes and pushing your bare/socked feet all up in a stranger's business, which is something that TikToker @danielgreen2426 found a passenger behind them doing during a flight.
Article continues below advertisement
In the video, Daniel hovers a can of what looks like a cold beverage over the foot of the person behind him. They appear to spill a drop on the foot, which wiggles around a bit but doesn't retreat back into its own section.
Daniel pours even more soda on the foot, finally sending it back from whence it came. He writes in a text overlay of the video: "Woman on the plane behind me kept putting her smelly feet under me..... she then stopped."
Article continues below advertisement
According to Travel + Leisure, taking your shoes off while aboard an airplane is generally a bad idea for several reasons that extend beyond the fact that it might give your fellow fliers the ick.
Article continues below advertisement
Namely, the cleaning protocols implemented by the majority of airlines, in between flights. Usually, there's only a certain amount of time that flight crews have to sanitize airplanes, which means that for the most part, only visible debris/stains are cleaned out.
The outlet goes on to state that for the most part, airlines only perform a "deep cleaning" every four to six weeks, usually. And while spills and stains are cleaned on the spot and if there's time for a place to be vacuumed, that doesn't necessarily mean there's a lot of time for the affected area to be properly disinfected.
Article continues below advertisement
This means that your feet could very well be chilling over a place where a toddler, or a guy who has a lot of things he wants to keep in Vegas, puked.
Article continues below advertisement
The same goes for airline restrooms, and if you've been on a few flights, you may have seen people walk into these areas without their shoes on, or even open-toed sandals.
The Points Guy makes an argument, in some instances, like longer flights for example, that it's fine for people to remove their shoes while aboard an airplane.
Article continues below advertisement
The outlet highlights that there may be some cultural touchstones some travelers are abiding by when they remove their shoes on an airplane, so if you're getting peeved the person sitting next to you is taking off your shoes, the outlet suggests that they may just try to be respectful.
Article continues below advertisement
There have been several viral instances where passengers have been called out for going barefoot in the skies. Like this one woman who had a proclivity for putting their feet on a flier's armrest.