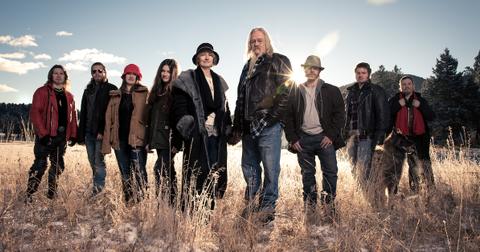 Who Are the Girlfriends of 'Alaskan Bush People'? The Brown Brothers Are Taken
By Michelle Stein
As stars of Alaskan Bush People, the Brown brothers are a highly entertaining bunch. Their way of life among the harsh elements of Alaska isn't suited for just anyone. But considering most of the Brown brothers are either married or dating, they serve as proof that there's someone out there for everyone.
So who are the girlfriends of Alaskan Bush People?
For starters, let's take roll of the Brown family. Billy and Ami share a total of seven children — five sons and two daughters. In birth order, there's: Matt, Joshua "Bam Bam," Bear, Gabe, Noah, Snowbird, and Rain. They're a hard-working family living an off-beat life. Which is why viewers simply cannot look away when Alaskan Bush People comes on the Discovery Channel.
Let's take a look at the current leading ladies in the lives of Matt, Bam, Bear, Gabe, and Noah. Because there have actually been some recent changes in their relationships statuses.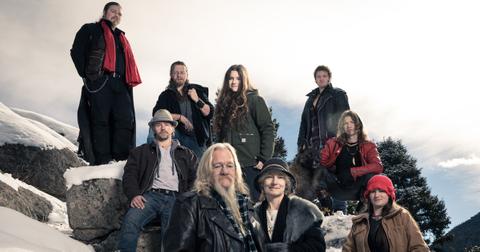 Noah Brown is married to Rhain Alisha.
Noah Brown is married to Rhain Alisha Brown. Their first child — a baby boy named Elijah — was born on Feb. 26, 2019.
"Rhain and I are thrilled to announce the arrival of our son Elijah Connor Brown," Noah told People following his son's birth. "Mom and son are healthy and happy — he's already working on his howl!"
Noah added, "Rhain is a wonderful mother already, I am truly in awe of her and we are both very grateful and excited to welcome him to our family."
Bam Brown is still dating his long-term girlfriend, Alli.
Bam and his longtime girlfriend reality TV producer Allison Kagen, started dating back in November 2016 — and as far as fans know, they're still going strong today. Unlike some of his other brothers, though, Bam prefers to keep details surrounding his relationship private and off-screen.
These days, Allison and Bam Brown are reportedly refurbishing a ferry boat into a houseboat — presumably for the couple to live in together. So things are definitely serious; there's just no ring in the mix yet, as far as Bam and Alli have publicly shared.
Gabe and Raquell Brown welcomed their first child.
Gabe and Raquell Brown had a momentous 2019, that's for sure. In January 2019, they officially tied the knot. However they opted for a second wedding celebration in June that included the entire Brown family.
Bear Brown split with Raiven Adams — but they will be co-parenting.
Bear Brown introduced his girlfriend Raiven Adams on Alaskan Bush People in August 2019. Two weeks later, he popped the question. The couple ultimately decided not to marry following a separation, getting back together, and then calling it quits for good.
That doesn't mean they're not going to be part of each other's lives, though. Bear and Raiven are expecting their first child — a baby boy, in April 2020 — and they do plan to co-parent him "as friends."
"Raiven and I are excited to share we're expecting a baby this spring!" Bear told People in September 2019. "Even though we're no longer together, we're still friends and dedicated to raising a healthy and happy child. Raiven will be an amazing mom and I will work my hardest to be the best dad I can be! Family is everything to me, and we appreciate everyone's support as we figure out our new normal."
Matt Brown's girlfriend's identity is unknown.
Matt Brown reportedly has a long-time girlfriend as well. Not that fans know her name or have ever seen her. But who knows? Considering he's returning to the series, perhaps she'll eventually make an appearance on Alaskan Bush People — and her identify will at last be revealed.