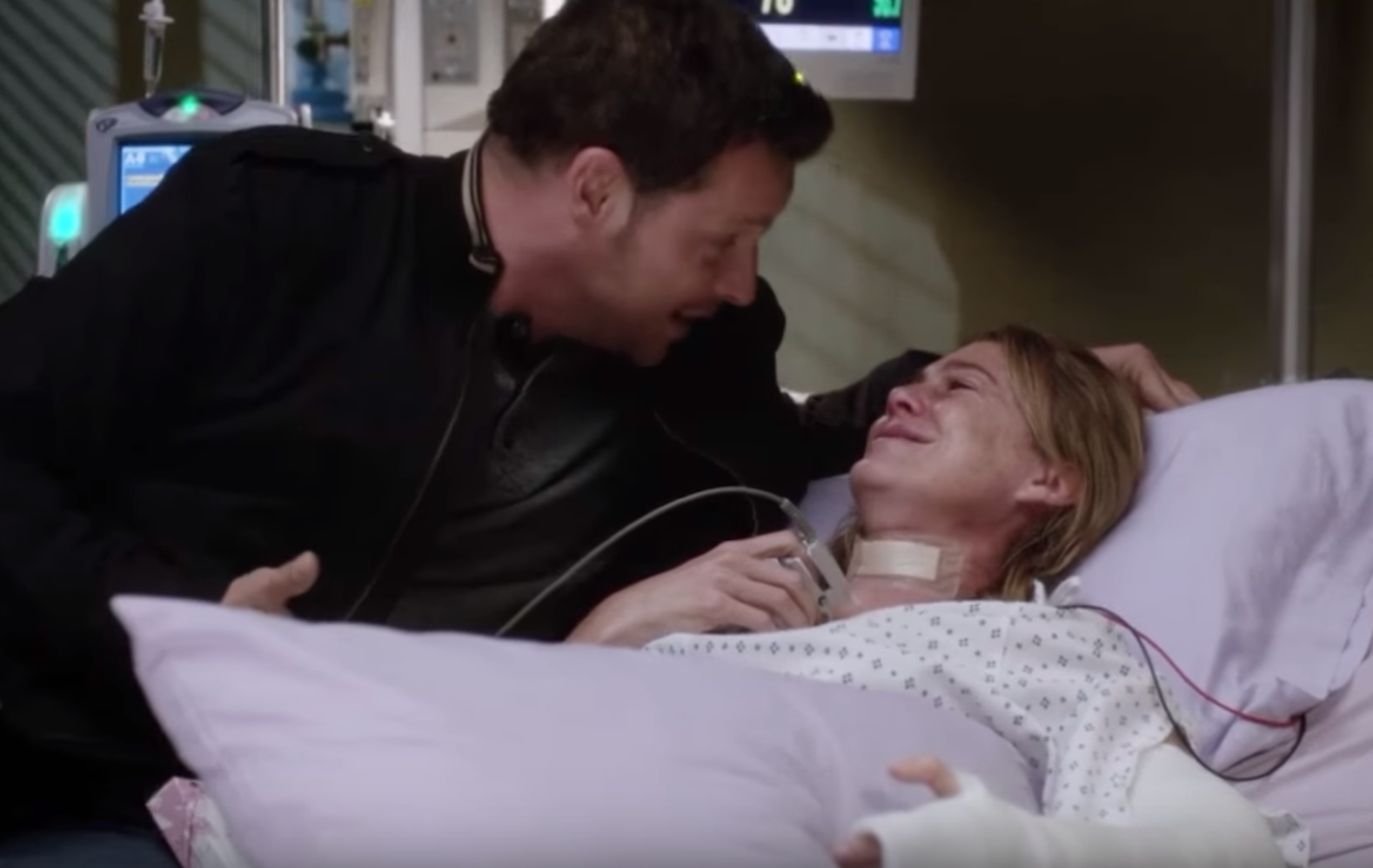 Are Alex and Meredith Destined to Be a Couple in 'Grey's Anatomy'?
Grey's Anatomy is one of the longest-running dramas currently airing on TV right now. ABC's sexy soap, rife with more than its fair share of drama just entered its 16th season as of Sept. 26, and it's still going strong.
But despite how many times the show has served some exciting events (like a musical episode) and forced us to pull out the tissues, there's one thing that hasn't happened yet: Meredith Grey (Ellen Pompeo) and Alex Karev (Justin Chambers) officially becoming an item.
Article continues below advertisement
So, do Meredith and Alex end up together on Grey's Anatomy? 
Early on in the series, Meredith is very close with Sandra Oh's Cristina Yang, who she calls her "person." However, Alex eventually transforms into Meredith's "person" and the two grow incredibly close over the course of the series. However, they become much more like close siblings than lovers, even though it seems like a natural fit for them to finally get together. Right now, at least with Season 16, that apparently isn't in the cards so much.
Article continues below advertisement
As far as relationships go, "love" as we know it has yet to officially blossom between Meredith and Alex. As things currently stand, Alex is actually in a relationship with girlfriend Jo Wilson. The pair were married in Season 15, and things have seemed relatively quiet and positive for them thus far – save for the fact that, apparently, at first, they didn't send in their paperwork to make their marriage official. It seems that this could be the catalyst for their break-up, but so far it hasn't been.
Article continues below advertisement
With that in mind and with Jo undergoing treatment for depression, she offers Alex an "out" so he doesn't have to "deal with her," noting that their marriage isn't technically legal. Alex informs her that he isn't interested in leaving, and instead he gets on one knee and proposes to her all over again to make it "real" this time around. That kind of throws a wrench in the whole seeing Meredith and Alex together thing, at least for now.
Article continues below advertisement
What does the future hold for the couple, then? It's honestly hard to say at this point. The writers almost seem determined to keep them apart, or, perhaps there's some sort of heartbreaking event about to unfold that could tear Alex and Jo away for good. Not that we're hoping for the worst, but as far as Alex and Meredith stans go, that might be the only way their relationship can boost them out of each other's friend zones... if they can at all.
With the next new episode of Grey's Anatomy scheduled to air soon, we'll have to wait and see what ends up transpiring between the couple, who appear to be in this for the long haul. But with a "real" marriage in the cards, that basically means Meredith and Alex shippers will be left waiting quite a while to see their favorite "couple" actually dating and pursuing marriage themselves.