This Man Got His Amazon-Loving Wife a Package Cake for Her Birthday
Emily has a habit of ordering a lot of things from Amazon, so her husband got her a cake shaped like an Amazon package for her birthday.
Listen, yes, Amazon is an evil giant corporation. But that hasn't stopped people from obsessively ordering anything you can imagine from Amazon. It's just so dang convenient. And one of those people who loves ordering Amazon packages loves it so much that her husband had an Amazon cake made for her birthday.
Article continues below advertisement
Photographer Emily McGuire recently shared photos of her incredible birthday cake, which looks exactly like an Amazon package. The cake was a surprise from her husband Mac. Emily told Bored Panda that the couple has been together for 19 years and got married 12 years ago.
Article continues below advertisement
While Mac isn't usually one for surprises, he kind of nailed it with this one. Emily has a habit of ordering a lot from Amazon, so when she first saw the cake, she legit thought it was a real Amazon package. And I don't blame her! The bakery totally nailed it. "At first I thought it was a box," she said, "then when I realized it wasn't I laughed so hard. I really felt like he finally gets me!"
When I say this cake looks exactly like a package that would be thrown onto your doorstep from Amazon, I mean it. It was made complete with a shipping label and that signature blue and black Amazon Prime tape.
Article continues below advertisement
Look at it! If I saw this on my kitchen table, I would definitely try to pick this up and just stick my hands through the side of it. I'm sure of it. Only if I took a closer look at the label would I understand that it was a joke. It's addressed to Emily McGuire at "1234 Birthday Lane, Happy Birthday, 2U." I'm assuming that's not her real address.
Article continues below advertisement
The cake even nails the "Happy Birthday!" written on the top in what looks exactly like black Sharpie. And yes, it's all edible. Of course, Emily loved her birthday cake so much that she had to share it online, where it went totally viral. "Now it's a running joke in our house about how many packages we receive in the mail," she said.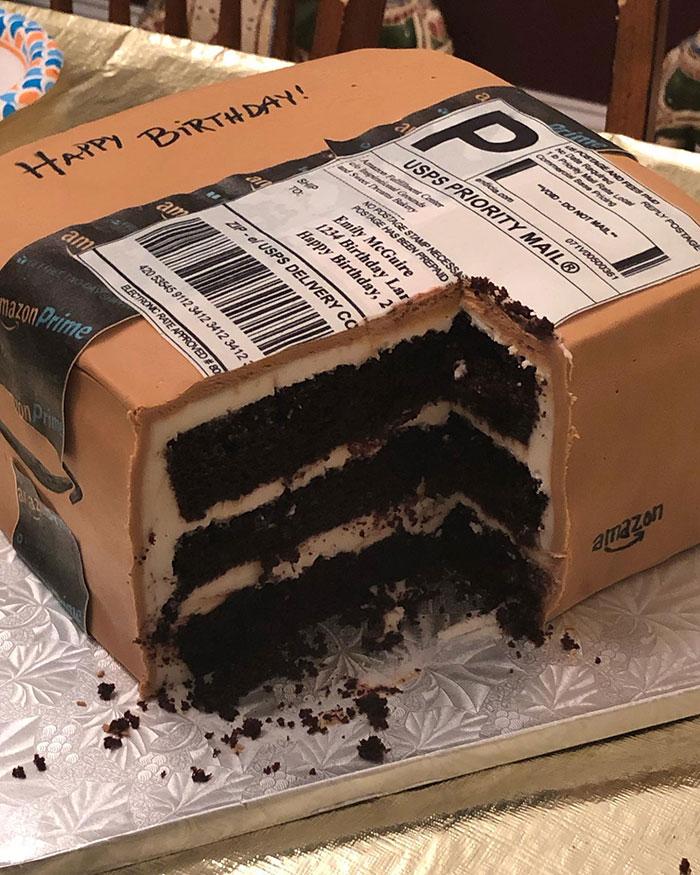 Article continues below advertisement
The cake was such a hit in Emily's household and on the internet that she had to pay a visit to the amazing baker who made it for her. The cake came from Sweet Dreams Bakery of Dunn in Dunn, North Carolina. Emily went to the shop and snapped a pic with Trena, the incredible cake artist behind the now-legendary Amazon box cake.
Article continues below advertisement
Trena and the rest of the team at Sweet Dreams Bakery totally killed it with this cake. I doubt that Emily is the only one out there who has a penchant for Prime ordering, and anyone with an Amazon habit would be lucky to have such a weirdly accurate and frankly delicious-looking cake for their next birthday.
Of course, Emily isn't the only one with an Amazon story for the ages. Some, like Japanese artist Monami Ohno, turn all their old Amazon boxes into incredible works of cardboard art. You have to check out her amazing Instagram account. When most people order packages from Amazon, they see a recyclable cardboard box. Monami sees a world of possibility.
Article continues below advertisement
Ordering from Amazon is too easy to do. They make it too simple to click a button and then have whatever in the world you need arrive at your door in two days. The Howell family learned this the hard way when 6-year-old Ashlyn ordered $250 worth of toys from Amazon using her mom's thumbprint... while her mom slept.
All she had to do was sneak her mom's phone under her thumb to unlock it, then open up the Amazon app and order everything she wanted for Christmas. She was, apparently, "really proud of herself," and you know what? So am I.
So many people have an obsession with Amazon, for better or worse. Sometimes, that results in cakes that look like cardboard boxes, cardboard boxes that are turned into art, or little kids sneakily being their very own Santas.