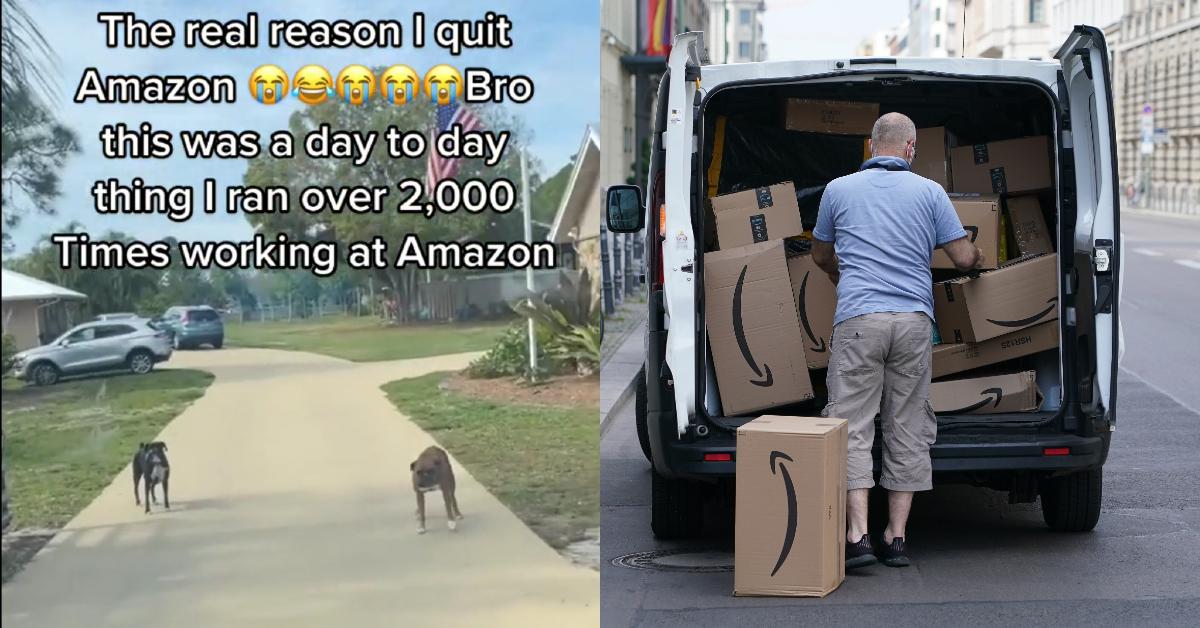 Amazon Driver Refuses to Get Out of Car After Being Stared Down by 2 Dogs
An Amazon delivery driver remarked that the "real reason" he quit making deliveries for the company was to avoid getting attacked by dogs.
The dog-hating mailman is a trope that's existed in media for decades, because, like many jokes and gags, there's a level of truth to it. This is something that this Amazon delivery driver got a taste of while he was on his way to drop off some packages.
Article continues below advertisement
A TikToker who goes by Dripppy (@3dripppy) uploaded a video to the platform that provided a glimpse into the terror he experienced on a daily basis: being stared down by strangers' dogs.
Dripppy quips in the clip that "the real reason" he ultimately decided to quit delivering packages for the only retail giant was because he constantly felt the need to sprint away in fear of getting attacked by people's pooches.
Article continues below advertisement
He writes in a text overlay of the TikTok: "The real reason I quit Amazon...Bro this was a day-to-day thing I ran over 2,000 Times working at Amazon."
Article continues below advertisement
Judging from the location tag in the clip, it appears that Dripppy was making deliveries in the San Diego area. He's recording the clip from inside of a delivery van, which is at the cusp of a sunny, residential neighborhood.
It looks like the perfect day to get out of your car and deliver some packages, that is, unless you were worried about two fully grown Boxers potentially chasing you down and tearing you to shreds.
Article continues below advertisement

Drippy can be heard saying in the video: "Man Amazon y'all don't f***ing pay me enough for this s**t!" he says as the dogs continue to stare him down in his vehicle.
Article continues below advertisement
He continues to exclaim in the car: "Two big a** dogs can't even get out the f***ing car."
Seeing the dogs standing there was enough to get him to change his mind about completing his delivery, "S*** man f*** y'all y'all ain't getting y'all package. Try again tomorrow.""
Article continues below advertisement

Article continues below advertisement
CNET also highlighted multiple dog attack incidents against Amazon drivers, as well. A New York based employee of the online retailer, David Taylor, says that he was chased down and bitten by two dogs while dropping off a package.
He had to get stitches, along with tetanus and rabies shots to fight off any infections he contracted as a result of a bite. Taylor also highlighted another tragic incident that occurred in Missouri, where a fellow driver was purportedly killed by two dogs at a home he delivered a package to.
Article continues below advertisement

Delivery drivers who saw Dripppy's post remarked that they too have had issues in delivering packages to homes that have dogs: "I don't understand why ppl don't put they dogs up," one commenter wrote.
Article continues below advertisement
Another remarked, "Same bro, I just leave the package where they at"
"these type of customers get on my nerves"
Even folks who said they aren't particularly afraid of dogs said they don't understand why folks don't either bring their pets indoors or lock them up.
"Smh I'm not afraid of dogs but I do find it ridiculous that people leave their dogs out unleashed knowing that they will have a package delivered."