Dad Hilariously Trolls Amazon After They Asked for "Proof That Order Wasn't Delivered"
Amazon asked a dad on TikTok for "proof" that an item he ordered didn't get delivered, and he provided the most dad response ever.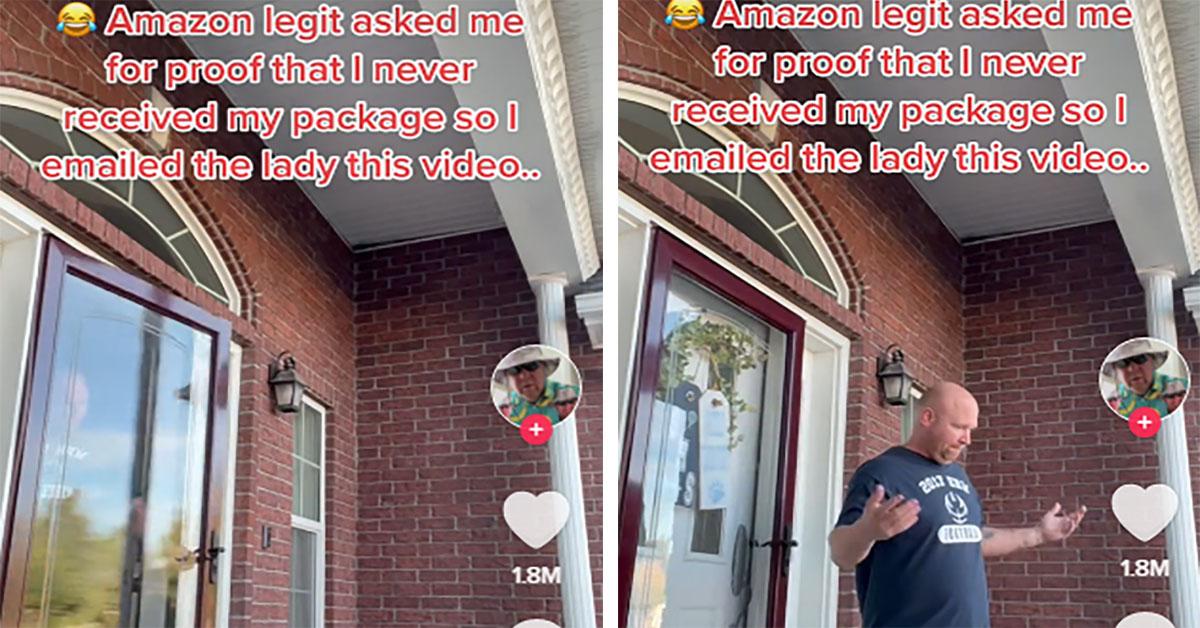 Unless you're a big window shopper or you're buying something that really necessitates a physical inspection prior to a purchase, online shopping is ridiculously convenient. It helps you save time so you can focus on other pursuits that are way more worthwhile than blowing an hour or two buying a pack of underwear and some HDMI cables.
Article continues below advertisement
Plus, if you're the type of person who only orders what they need online, as long as you aren't too easily swayed by ads or those sneaky "customers also purchased" suggestions on whatever you're buying on Amazon, you could actually save some money by shopping online.
However it isn't a perfect process. You have to wait for your order to arrive at your doorstep, which doesn't always happen quickly... or at all. You run the risks of shipping delays and porch pirates who go out of their way to nab boxes off people's doorsteps.
Aside from the disappointment of not receiving the product you really needed or wanted, missing packages also raise the hassle of report the lost shipment to the merchant. That's how this TikToker found himself facing a predicament.
Article continues below advertisement
@DadOfDrama says that when he reached out to Amazon about never having received an order, the customer service agent asked him to provide proof that the package wasn't delivered.
Article continues below advertisement

Which is kind of a difficult thing to do. Imagine having to prove in a court of law that you're not in physical possession of something.
Understandably, @DadOfDrama was befuddled by this absurd request, so he decided to respond to it in kind.
Article continues below advertisement

He posted a 9-second clip to his TikTok account with a text overlay that reads: "Amazon legit asked me for proof that I never received my package so I emailed the lady this video.."
Article continues below advertisement

The video show him walking outside his house, looking around for a box, and appearing stunned to find it isn't there.
Commenters shared their own experiences dealing with Amazon over lost packages. Some straight up blamed Amazon drivers for stealing the items they purchased, with delivery drivers being careless enough to leave evidence of their theft behind.
Article continues below advertisement

Another said that they ordered a bed frame that never arrived, and when Amazon asked them to prove they never received it, the TikToker simply sent a photo of their mattress on the floor.
Article continues below advertisement

"Once a company asked if I had checked my mailbox… like. Yeah. That's why we are talking [right now]," commented one.
Another frustrated customer said, "they put my package in front of the wrong [apartment] door. They proceed to ask how did I realize. Because THATS NOT MY DAMN DOOR IN THE PIC THE DRIVER SENT!!"
Someone who claims a driver stole the contents of their order said they "had the driver legit take my stuff out of the envelope then take a picture of the empty one at my doorstep lmao."
Article continues below advertisement

Some areas in the U.S. present higher occurrences of stolen packages than the national average.
The New York Times reported in 2019 that up to 15 percent of all delivered packages in major cities like Washington D.C., New York City, and Denver were never received by the purchaser.
Article continues below advertisement

These numbers dip significantly, however, in less densely populated parts of the country.
Have you ever had a package you ordered from Amazon stolen? Did the company ever give you trouble when you requested a refund?