TikTokers Are Using Cats to Mock Amber Heard's Testimony but Not Everyone Is Laughing
Folks are divided over a series of meme posts that make light of Amber Heard's claims she was abused by Johnny Depp.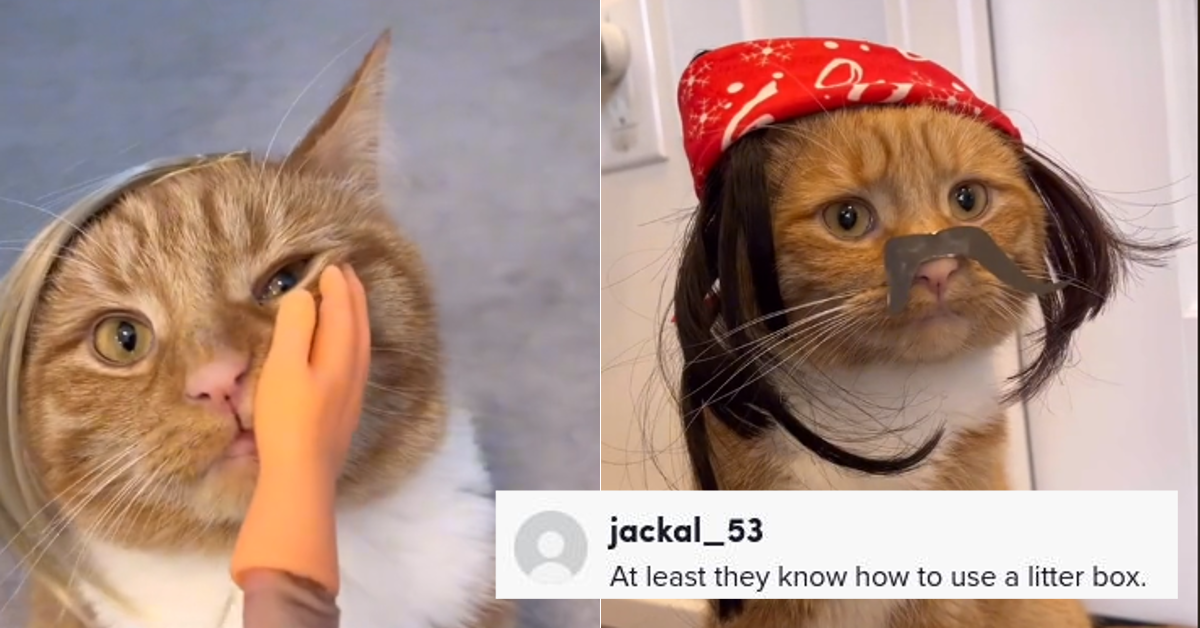 The #MeToo movement encouraged tons of people to speak out against their abusers and not be silent about the pain that they were forced to endure. While there are tons of domestic abuse cases that are never reported, or fly under the radar because the individuals involved are not famous, the #MeToo movement became such a heavily discussed phenomenon because of the high-profile names that came up in the case.
Article continues below advertisement
Namely, producer Harvey Weinstein who was convicted of sexual assault and rape. The accusations against the former Hollywood mogul, who was early on named as an abuser by Asia Argento (who ended up being accused of sexually assaulting a minor herself and settled a claim with the young man who played her son in a movie once) ended up causing a chain reaction of different folks coming forward, and not just against Weinstein.
Article continues below advertisement
Fast forward to 2022 and Heard is now being ridiculed in a series of memes after the internet has decided there is no way Johnny Depp could've beaten his ex-wife, that she was the instigator in his relationship, and that nearly every claim of abuse or assault she's made on the stand is a downright lie.
And they're doing it via TikTok videos and memes like the one up above.
Article continues below advertisement

In the clip, a re-enactment of Heard's claim Depp smacked in the face is played in the video. One cat is dolled up to look like Depp, the other is rocking a small Karen-haircut-esque wig, which is supposed to be Heard. The TikToker, @heyitsgingerandpepper takes a small plastic doll hand to "smack" the Heard kitty. And while there are some who are arguing that this video and others like it are demeaning to survivors of abuse, it seems that the majority of folks on the web have zero sympathy for Amber.
Article continues below advertisement

That's mainly because there's a large group of people who believe that Heard co-opted the #MeToo movement in an attempt to discredit Depp and line her own pockets with cash. Her divorce settlement money, which she said would be donated to the ACLU, still hasn't been paid out as of this writing since their separation and her vow of $3.5 million. The organization said Heard paid less than half of it.
Article continues below advertisement
The legal drama between the couple began when Heard claimed in an op-ed that she was a victim of abuse and this was soon after her divorce from Depp was finalized. This op-ed, Depp's legal team claims was geared towards defaming Depp and ultimately harmed his career. Depp then sued Heard for defamation and the former spouses got wrapped up in a nasty legal battle.

Article continues below advertisement
Since the start of the trial, there are a few inconsistencies in Heard's allegations that have been singled out, along with specific tactics that her legal team employed that have shocked viewers who've been watching the proceedings unfold.
Like the fact that Heard's lawyers presented an edited version of the op-ed piece in court, which many speculate was an attempt to distort the facts of the case. And then there was the fact that Heard said Depp had reportedly struck her on the face, but the photos of the abuse she claimed to have sustained at the hands of the Pirates actor were on her arms. Milani Cosmetics also countered Heard's claim that she used one of the company's concealers to hide her bruises.
Article continues below advertisement

That's because the particular product that Heard was referring to wasn't even available at the time she said she used it to cover up the alleged markings caused by Depp's physical assaults against her.
However Heard, who is an actress by profession, has been repeatedly ridiculed on social media for what many are calling "maudlin" and "faked" histrionics in an attempt to garner sympathy from the jury and viewers at home.
Article continues below advertisement

Some have pointed out that Heard will intentionally hold specific anguished looks when photographers are snapping pictures of her and that she will also act as if she's crying despite her eyes being dry during testimony, something that throngs of fans on social media accept as proof that the actress is lying.
Article continues below advertisement

There are throngs of videos folks have uploaded that provide "proof" Heard is lying: from referencing video footage of her giving interviews where she later claimed she sustained damage to her face, even though there was none to be found. And then there are those who've officially changed the actress' name to "Amber Turd" online via related search results and the actress' IMDB and Wikipedia pages.
Article continues below advertisement

And while the internet is pretty much convinced Johnny Depp is the victor in the trial, it's up to the jurors as to who will be the victor and who, if anyone, will be awarded damages. Depp's suing Heard for $50 million and she's counter-suing him for $100 million.
There are still plenty of other re-enactment videos mocking Heard's abuse claims popping up online, along with folks selling merchandise labeling the actress as a liar while others profess support for Depp.