Amber Rose's Relationship History May Have Its Happy Ending
Amber Rose has dated a lot of famous guys, but it seems like she may have found her forever man. Here's a timeline of Amber Rose's exes.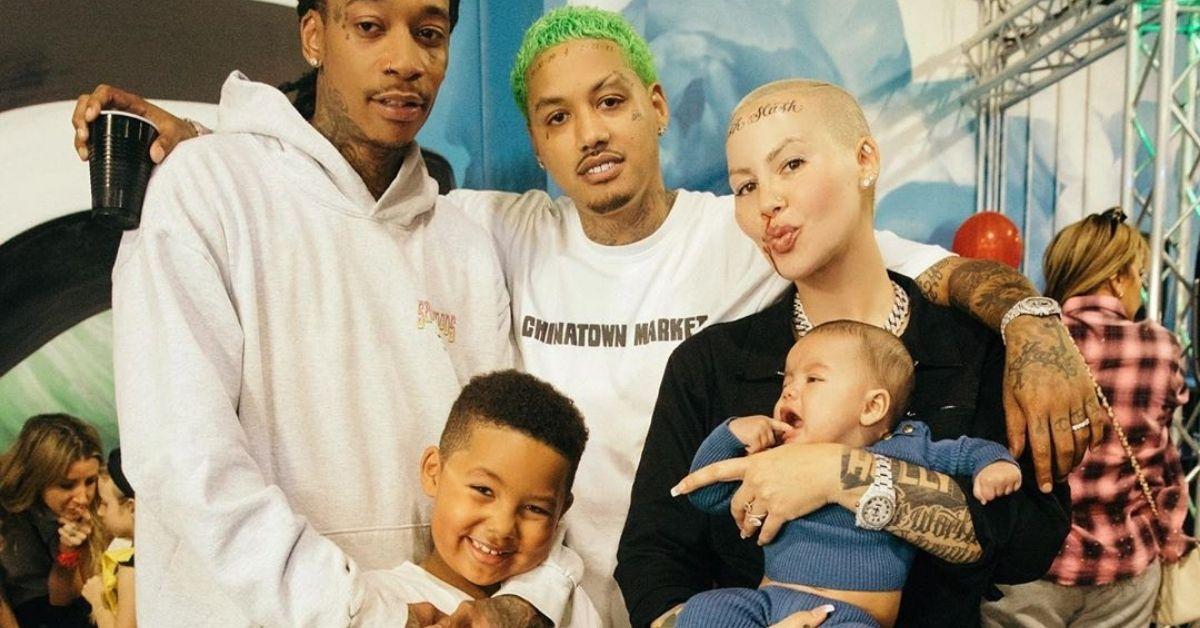 Some of us have a more colorful dating history than others and when it comes to celebrities, it's more fun to revisit their past. Amber Rose's exes are pretty popular names, and she's had a pretty high-profile dating life. However, it seems like she may have found her Mr. Right.
Article continues below advertisement
Amber Rose is a gorgeous model, and it's been very clear from her dating history that she's able to catch some pretty high-profile guys. Let's take a trip down memory lane, shall we?
For Amber Rose, the exes include Kanye West.
Amber was brought into the spotlight pretty quickly after she was linked to the hip hop star and now half of Kimye, Kanye West. The two were first spotted together way back in 2008 and their relationship lasted for a while. It was reported that they dated for two years, and their break-up was a little messy.
Article continues below advertisement
They had some heat between them on social media, and by the end of their relationship, Amber accused Kim Kardashian of being a homewrecker. We're assuming she wasn't quite finished with Kanye before he and Kim started something up.
Article continues below advertisement
Next up for Amber Rose is her first child's dad, Wiz Khalifa.
When the relationship between Kanye West and Amber fizzled out, she met and fell in love with another hip hop star. A year after Kanye, Amber met Wiz Khalifa, and the two started dating in early 2011, with their relationship progressing pretty quickly.
By the time March 2012 rolled around, Amber and Wiz were engaged. The two shared the news that they were taking their partnership to the next level on social media. At the time, Wiz tweeted, "She Said Yes!!!" and Amber shared a picture of her ring on Instagram (the photo has since been deleted).
Article continues below advertisement
By the end of the year, the in-love couple shared that they were entering the world of parenting and were expecting their first child together. While at the MTV Video Music Awards, Wiz shared that they were expecting. "We're expecting a beautiful little baby named Amber," Khalifa said on the red carpet, and her bump was very visible.
Article continues below advertisement
The two welcomed a little boy, Sebastian Taylor Thomaz, who was born on Feb. 21, 2013. However, the following year, Amber had filed for divorce citing irreconcilable differences. The two had a long divorce, but settled on joint custody and years later, they say they're great at co-parenting.
Article continues below advertisement
After her marriage ended, Amber was linked to Nick Simmons.
A few months after her separation, Amber Rose was rumored to be dating Nick Simmons, the son of KISS singer Gene Simmons. They were spotted hanging out together, though we're not sure how serious it was. Amber took to Twitter to share that they were just dancing tighter and not really dating.
Article continues below advertisement
There were a few more rumors as to she was dating, but Amber said they were only friends.
She was also linked to French Montana, Quincy Brown, Chris Brown, and James Harden. There were also rumors that she was dating Machine Gun Kelly in 2017. While a guest on Larry King Now, she said that the two were just "enjoying each other's company" but didn't really do much more than that to squash rumors.
Article continues below advertisement
After appearing on 'Dancing With the Stars,' Amber Rose got into a relationship with Val Chmerkovskiy.
During Season 23 of Dancing With the Stars, Amber was paired with Maksim Chmerkovskiy and that's when she met his brother, Val Chmerkovskiy. The two struck up a relationship and they dated for five months before ending in February 2017.
Article continues below advertisement
Later that summer she started seeing 21 Savage and he spoke very highly of her at the time. "She's a real cool woman," he told Real 92.3 LA. "She treats me like a king, you know. It is what it is. [She] makes me do s—t that I don't normally do, like take vitamins and drink water."
After a few months, their love fizzled, and they confirmed their split in March 2018.
Article continues below advertisement
But, later that same year, Amber Rose got into a relationship with Alexander Edwards, aka AE.
Amber and AE started dating in September 2018, according to TMZ, and their relationship went pretty quickly, too. In April 2019, the two shared that they were expecting a child together and they both documented the pregnancy on social media.
They welcomed a son together, Slash Electric Alexander Edwards, on Oct. 11, 2019, and even though 2020 has been a weird year for everyone, their love is still going strong.