This Amy Poehler and Jimmy Fallon Story Has Everyone Talking
Everyone is talking about Amy Poehler and Jimmy Fallon after this Tina Fey anecdote resurfaced on social media. But is it a real feud between the two?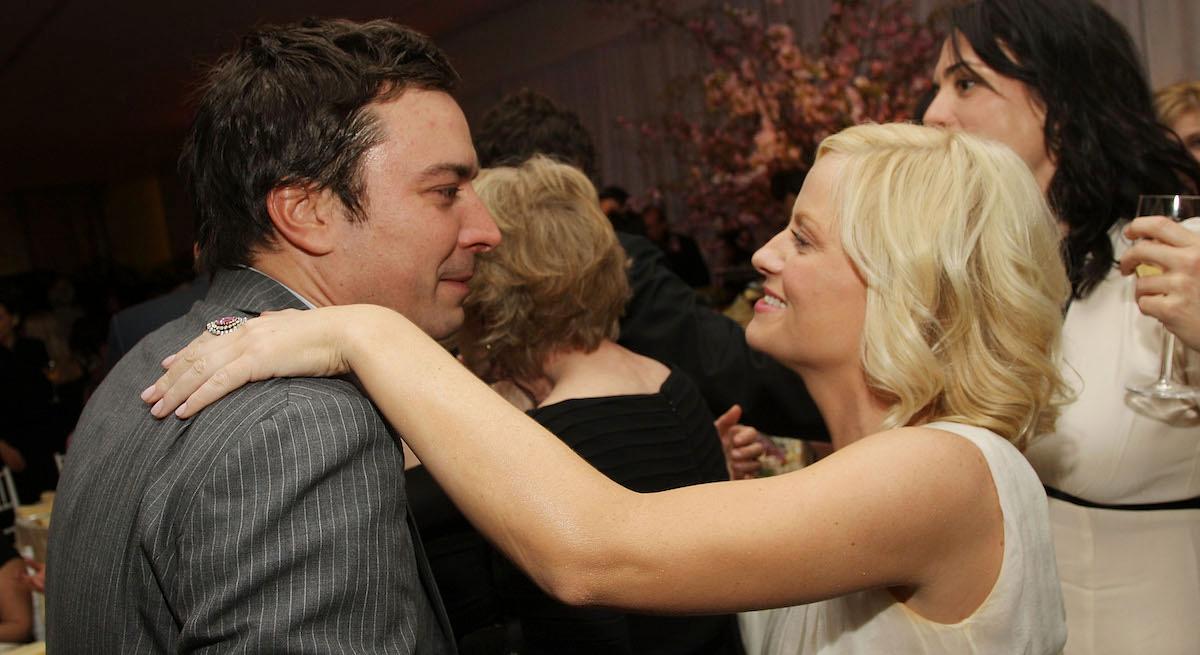 Late-night TV host Jimmy Fallon has been on the hot seat after allegations of a toxic workplace on The Tonight Show Starring Jimmy Fallon, and that has led to social media discussion of the star's past behavior. Erin Overbey, archive editor for The New Yorker, has made headlines by reposting an excerpt about Jimmy from Tina Fey's 2011 memoir Bossypants.
Article continues below advertisement
Overbey posted on Twitter/X that Tina had Jimmy "dead to rights" when Tina described a brief interaction between Fallon and Amy Poehler over two decades earlier. At the time, all three comedians were working on Saturday Night Live.
But some folks are taking the excerpt and Overbey's comment to mean that Amy Poehler and Jimmy Fallon dislike one another. So what actually happened, and is it a legitimate feud? Here's what's been said.
Article continues below advertisement
Amy Poehler and Jimmy Fallon had a tense interaction while on 'Saturday Night Live.'
In Bossypants, Tina describes a moment between Jimmy and Amy that took place in the Saturday Night Live writers' room. "She did something vulgar as a joke," Fey wrote. "I can't remember what it was exactly, but it was dirty and loud and 'unladylike.' Jimmy Fallon...turned to her and in a faux-squeamish voice said, 'Stop that! It's not cute. I don't like it.'"
According to Tina, Amy's response was quick and blunt. The future Parks & Recreation star "went black in the eyes for a second, and wheeled around on him. 'I don't fucking care if you like it.' Jimmy was visibly startled."
The tweeted excerpt doesn't include any further exchange between the two performers. Amy departed SNL in the middle of 2008 to star in Parks & Rec, while Jimmy stayed with the show until 2004.
Article continues below advertisement
Tina Fey has responded by denying that there was any feud between Amy Poehler and Jimmy Fallon.
While many TV fans have taken the republishing of this story as a sign that Amy and Jimmy don't get along, Tina has spoken out to clarify that it really wasn't a big deal. Per USA Today, Tina responded to Erin's tweet saying that "Jimmy and Amy are very good friends and there was never any real beef between them."
Amy has also appeared on The Tonight Show, which further suggests that there isn't any ongoing drama between her and Jimmy.
Article continues below advertisement
While neither Amy nor Jimmy has commented on the resurfaced Bossypants story specifically, Jimmy continues to deal with the fallout from the Rolling Stone article in which several employees claimed that he made The Tonight Show a toxic workplace.
Jerry Seinfeld has since rebutted the anecdote that he once told Jimmy to apologize to a staff member. The Seinfeld star called it "stupid" in a statement to the publication, saying, "It was not uncomfortable at all... Idiotic twisting of events."
The Rolling Stone allegations have sparked plenty of discussion about Jimmy's behavior both on and off-camera, but this particular tweet doesn't appear to substantiate any feud between Amy and Jimmy—especially with the author of the quoted piece specifically saying that the two are still friends.