Amy Schneider Came to Slay! The Genius 'Jeopardy!' Champ Is Breaking Records
Genius 'Jeopardy!' contestant Amy Schneider is making headlines for all the right reasons. She is diversifying the game show and breaking records!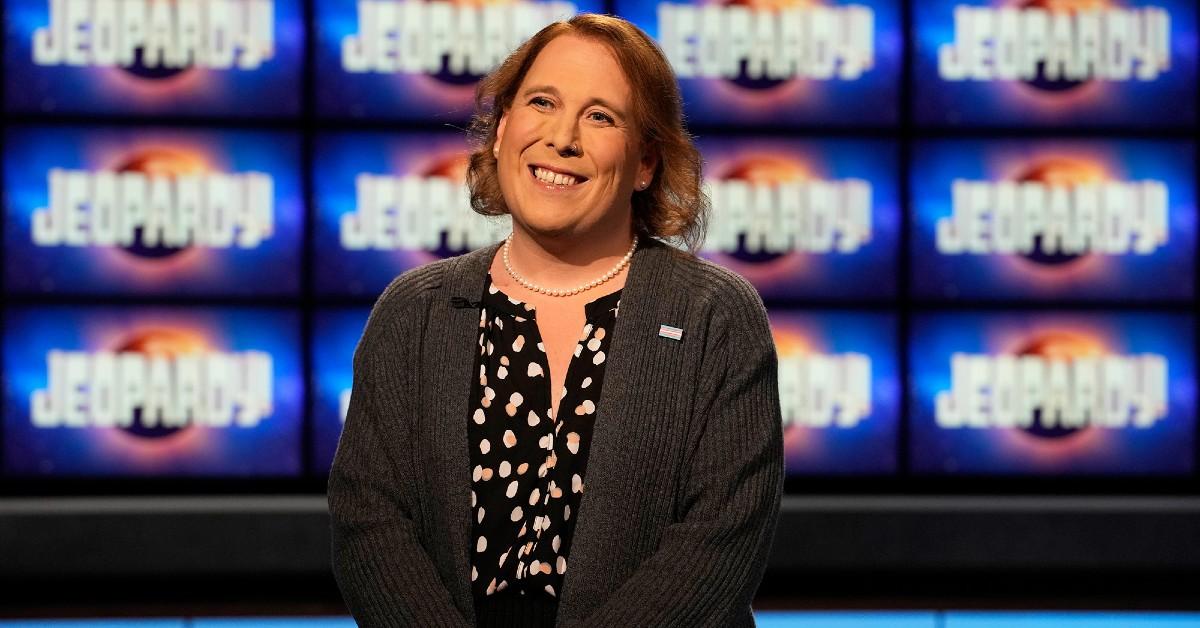 ABC's long-running trivia game show Jeopardy! has seen a slew of contestants come and go, some lasting just one game, others sticking around for a handful of episodes. Of the contestants who have stood before the late Alex Trebek's podium, Ken Jennings, James Holzhauer, and Brad Rutter are some of the most notable and successful.
Article continues below advertisement
In fact, Ken Jennings — aka the highest-earning American game show contestant of all time — currently hosts Jeopardy! And as much as we love Ken and the other smarty pants dudes, the champion energy has been, shall we say, masculine?
Enter Amy Schneider. Amy first appeared on Jeopardy! on Nov. 17, 2021, and it doesn't look like the brainy gal is going anywhere anytime soon. She's been smashing records for weeks now. Here's what we know about the trailblazer contestant and how she's making history.
Article continues below advertisement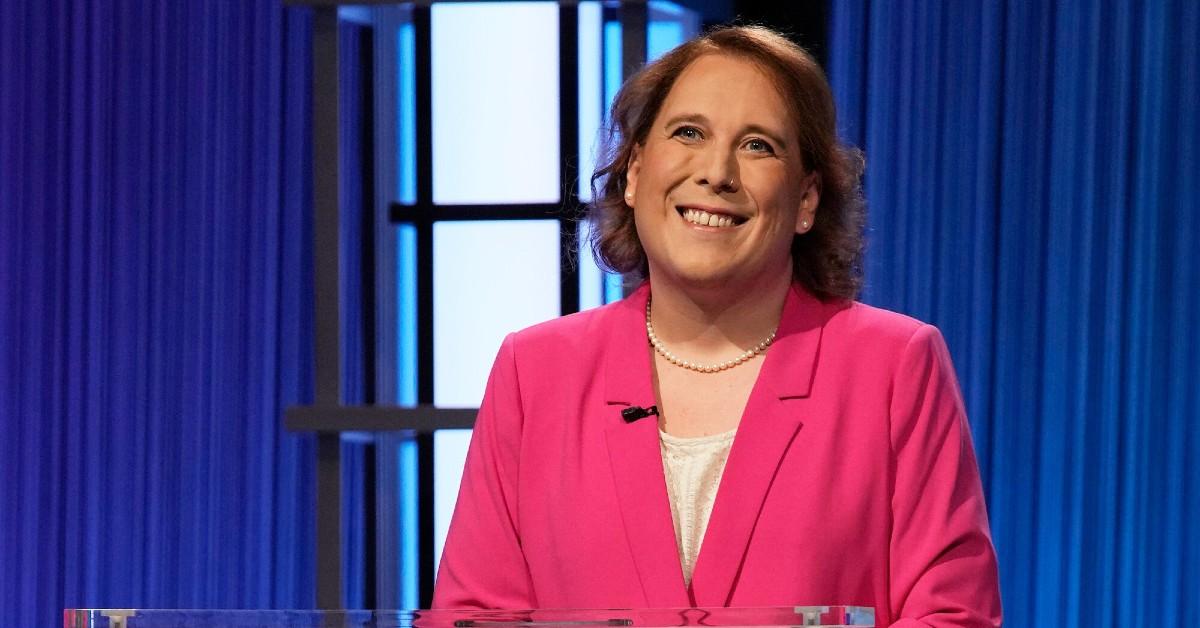 What 'Jeopardy!' records does Amy Schneider hold?
After winning 19 games, Amy might as well get comfy, because it's looking like she's not going anywhere anytime soon. Amy Schneider's first record-breaking victory came when she won her fifth consecutive game, becoming the first openly transgender contestant to qualify for Jeopardy!'s annual Tournament of Champions.
Article continues below advertisement
"Seeing other trans women in a good spotlight inspired me to not be afraid of trying to compete in the thing I have always loved," Amy warmly told KGO-TV. "I am so incredibly grateful. Hopefully, I can send a positive message to the nerdy trans girl who wants to be on the show too."
Article continues below advertisement
On Christmas Eve 2021, Amy broke a record previously held by Jeopardy! contestant and science fiction writer Larissa Kelly. On that night, Amy's winnings climbed to $706,800, making her the highest-earning woman in Jeopardy!'s history. Larissa Kelly — who formerly held the record with $655,930 — took to Twitter to symbolically pass over the crown.
"Well, it was fun to hold a Jeopardy! record for a few years ... but it's been even more fun to watch @Jeopardamy set new standards for excellence, on the show and off. Congratulations to Amy on becoming the woman with the highest overall earnings in the show's history!" Larissa tweeted.
Article continues below advertisement
According to Entertainment Weekly, if Amy keeps up her winning streak, winning a total of 21 games will put her in the top four ranking category alongside Matt Amodio, James Holzhauer, and Ken Jennings. It'll no longer be a boys' club!
Article continues below advertisement
What else do we know about Amy Schneider?
As impressive as her run on Jeopardy! is, the trans advocate is more than her smarts. The 42-year-old earned her bachelor of science at the University of Dayton and currently works as an engineering manager in Oakland, Calif., (though it's not clear if she'll return to that job).
Like many Jeopardy! contestants, the Dayton, Ohio, native grew up watching the beloved game show. "I can't remember not watching it," said Schneider. "Alex Trebek started hosting when I was like 5 or 6, and we must have been watching since the beginning of that," she told The Daily Beast.
Article continues below advertisement
You may have noticed Amy's arm tattoo, which showcases L. Frank Baum's Wizard of Oz character Princess Ozma. Though she mentioned it on Jeopardy!, Amy further explained her cherished ink on Twitter.
"She had been the rightful heir, but was kidnapped as a baby by a sorceress, who enchanted her to become a boy," she tweeted.
Article continues below advertisement
"Eventually, the enchantment is lifted, and she is revealed to be the beautiful princess she always was. So it seemed like the perfect image to commemorate my transition!" Amy continued. Who doesn't love literary symbolism?
And while much of the talk surrounding Amy has to do with her transgender identity, Amy urges people to understand she's more than just a symbol of trans representation with a rainbow floating above her head.
"Being trans is an important, huge foundational part of my identity and also, not. I'm not going on Jeopardy! to be trans on Jeopardy! I'm going on Jeopardy! to try to win some money," she explained to The Daily Beast. We hear that. Earn that paper, girl!
Amy Schneider is truly a gem, and we're blessed to watch her mind and her heart soar every weeknight on Jeopardy!