Angelina Pivarnick Slid Into a New York Jets Player's DMs and His Wife Has the Receipts
Angelina Pivarnick, known by most for her role on 'Jersey Shore: Family Vacation' on MTV, was accused of sliding into the DMs of a married Jets player.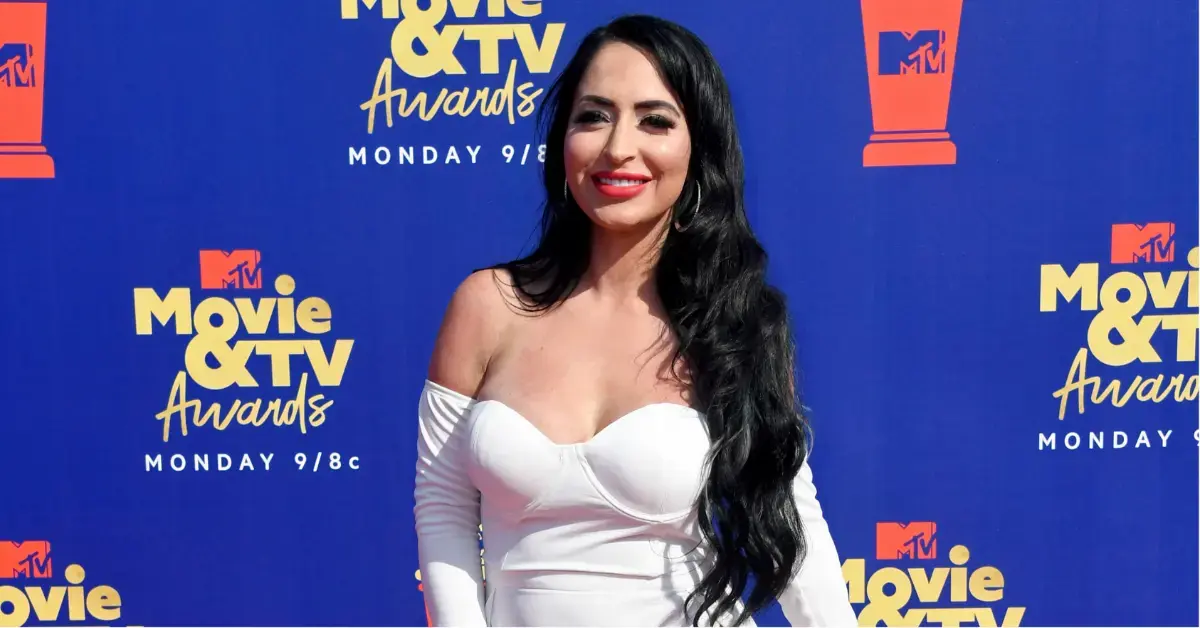 The Gist:
Jets player Nick Bawden's wife, Alexis Bawden accused Angelina Pivarnick of sending a DM to her husband.
Angelina responded to Alexis's TikToks on Instagram.
Angelina is engaged to Vinny Tortorella.
Article continues below advertisement
The stars of Jersey Shore: Family Vacation don't have to go to the Shore to get a heavy dose of drama. After New York Jets fullback Nick Bawden's wife, Alexis Bawden, accused Angelina Pivarnick of sliding into Nick's DMs on TikTok, a whole saga began and we wouldn't be surprised if it ends up on the MTV series at some point.
Article continues below advertisement
Did Angelina Pivarnick actually DM a Jets player?
Alexis shared a TikTok on Sept. 25 where she announced that she has "piping hot tea" about a certain Jersey Shore star. In her TikTok, Alexis calls Angelina "Angela," though to be fair she also explains that she has never watched the show. Alexis reveals that, following the Jets game on Sept. 24, where she saw Nicole "Snooki" Polizzi, Angelina sent Nick a DM that said "see u soon."
And Alexis shared a screenshot of the DM, so it definitely happened. Following the video, Alexis shared another follow-up TikTok where she says Angelina reached out to her and denied any ill intent behind the DM. However, the message Angelina sent Alexis has a lot more colorful language and a warning to "take the f---ing TikTok down."
Article continues below advertisement
After Alexis shared more details of her would-be feud with the Jersey Shore star, Angelina wrote a lengthy post she shared to her Instagram Stories. In it, she accuses Alexis of being a "clout chaser" and even potentially fabricating her screen recordings and screenshots of the DMs she says Angelina sent her. It's a big mess, but Alexis came with receipts and you can't deny the proof.
Article continues below advertisement
Who is Nick Bawden's wife?
Alexis and Nick were married in July 2023. They met a at WM Phoenix Golf open in Scottsdale, Ariz. and they share a daughter, Skylar. Alexis is an avid supporter of her husband as a fullback for the Jets. And Alexis is an influencer herself, with more than 35,000 Instagram followers. She also makes TikToks regularly, either about her life as the wife of an NFL player or relatable parenting content.
Despite the drama with Angelina, Alexis seems to be taking it all in stride. For her, the entire situation appears to be almost comical and Alexis has even commented on TikTok that she plans to make merch for her followers. It's hard to say if that will actually happen, but the entire fiasco certainly sounds like a future Jersey Shore: Family Vacation storyline.