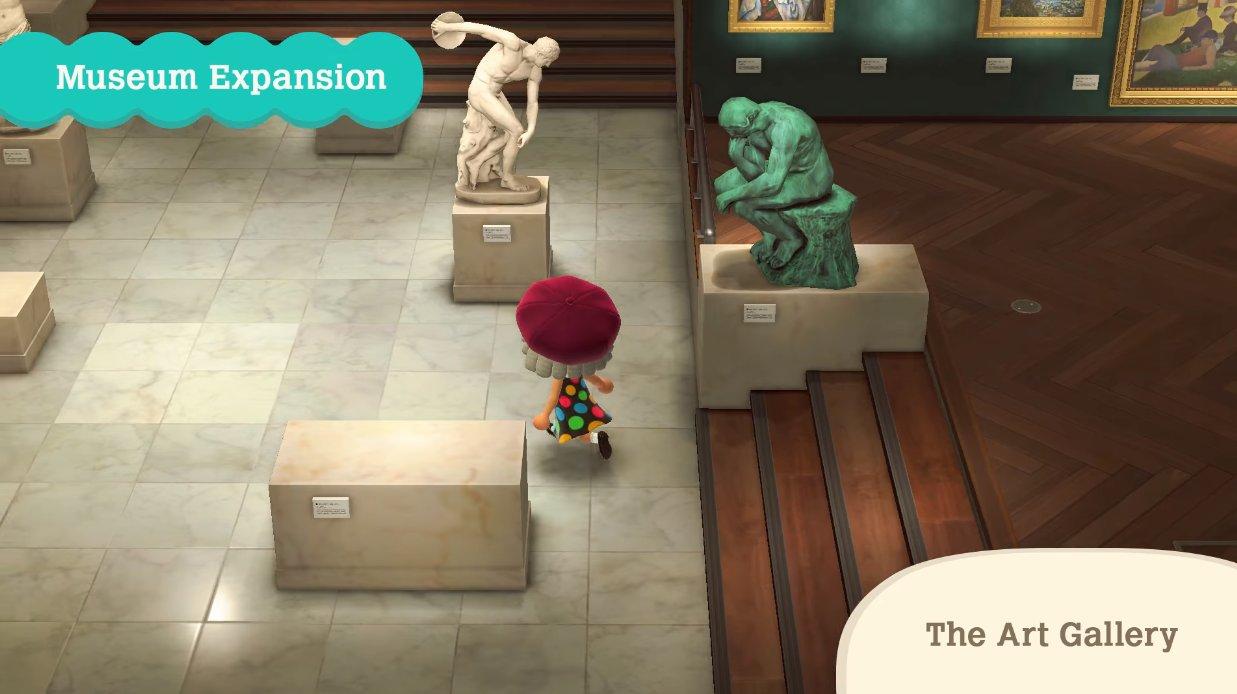 How to Fill Your 'Animal Crossing' Museum With Priceless Works of Art
With the new update, your museum on 'Animal Crossing: New Horizons' will collect art. Here's a guide to how to get art from new merchant Crazy Redd.
The April 23 update to Animal Crossing: New Horizons brought a lot of exciting new features to the game, but art history buffs are probably most excited about the museum expansion, which will allow you to collect priceless art along with the fossils, fish, and bugs you've been donating. But where do you get art? It's not going to be suddenly buried in the ground like those dinosaur bones. Instead, look to the beach on the north for a new, sketchy merchant. Read on for a full guide to art collecting on Animal Crossing: New Horizons.
Article continues below advertisement
'ACNH' art guide: Where do you find art on 'Animal Crossing'?
The first thing players must do is talk to Blathers at the museum. According to dataminer Ninji, your museum must have at least 60 donations to trigger Blathers to consider expanding to include art. The next day, you should encounter a pirate fox named Jolly Redd.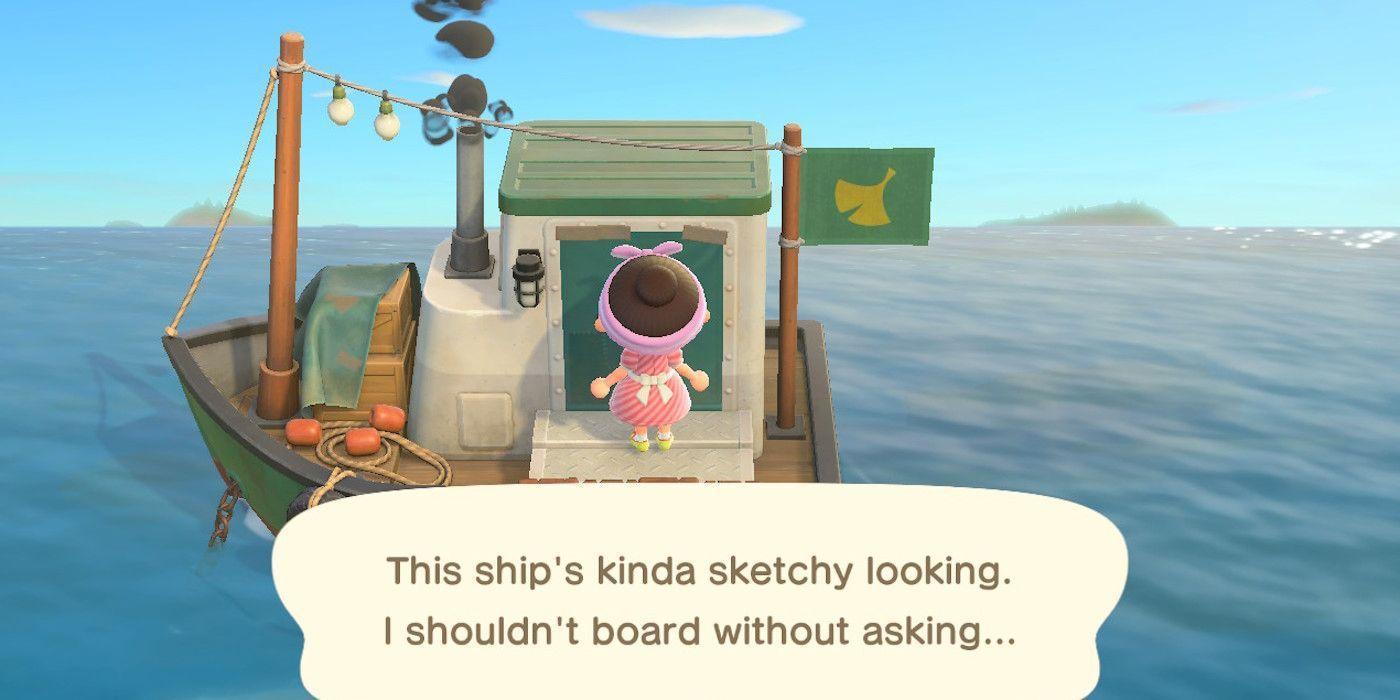 Article continues below advertisement
Fans of past versions of Animal Crossing will recognize him better as Crazy Redd. Seems the knockoff artist has rebranded himself as a pirate sailing his "Treasure Trawler" to newly developed ports like yours. Along with some pricy furniture you won't find at Nook's Cranny, Redd will sell paintings and statues. But caveat emptor: while some are genuine works of priceless art, many will be counterfeit, so be sure to examine them closely.
How can you tell if art is counterfeit in 'Animal Crossing'?
Thankfully, Redd isn't exactly a master forger. If you study the works of art closely enough with the real deal — Google Images is your friend! — You will usually be able to spot some subtle and not so subtle differences.
Article continues below advertisement
Players who have their Nintendo Switch hooked up to a big screen TV will probably have an easier time spotting forgeries, though, and early intel from some people who have time traveled to get a jump on their museum's art wing have noted that the forgeries are a little more convincing than they were in Animal Crossing: New Leaf.
Article continues below advertisement
How often does Jolly Redd come to your island?
The only predictable appearance of Jolly Redd comes the day after Blathers mentions his sudden interest in fine art. He'll be walking around your island and will give you a piece of art and tell you about his Treasure Trawler. After that, he will show up randomly like other merchants like Flick, Saharah, Kicks, and Label.
Article continues below advertisement
He will always show up on his boat, which will dock on the small beach on the northern shore of your island. While this slip has seemed pretty useless up until now, it will now be moorage for the pirate ship whenever he visits. Here's hoping he stops by at least once a week!
What famous artworks does Jolly Redd sell?
Article continues below advertisement
Sculptures
Ancient Statue: Jōmon period dogū figurine Shakōki-dogū, artist unknown
Beautiful Statue: Venus de Milo, artist unknown
Familiar Statue: The Thinker, Rodin
Gallant Statue: David by Michelangelo
Great Statue: King Kamehameha I by Thomas Ridgeway Gould
Informative Statue: Rosetta Stone, artist unknown
Motherly Statue: Capitoline Wolf statue, artist unknown
Mystic Statue: Bust of Nefertiti, Thutmose
Robust Statue: Discobolus, artist unknown
Rockhead Statue: Olmec Colossal Head, artist unknown
Tremendous Statue: Houmuwu Ding, artist unknown
Valiant Statue: Nike of Samothrace, artist unknown
Warrior Statue: Terracotta Army, artist unknown
Article continues below advertisement
Paintings
Academic Painting: Vitruvian Man by Leonardo da Vinci
Amazing Painting: The Night Watch by Rembrandt van Rijn
Basic Painting: Blue Boy by Thomas Gainsborough
Calm Painting: A Sunday Afternoon on the Island of La Grande Jatte by Georges Seurat
Common Painting: The Gleaners by Jean-François Millet
Detailed Painting: Ajisai Sōkeizu by Itō Jakuchū
Article continues below advertisement
Dynamic Painting: Thirty-six Views of Mount Fuji The Great Wave of Kanagawa by Katsushika Hokusai
Famous Painting: Mona Lisa by Leonardo da Vinci
Flowery Painting: Sunflowers by Vincent van Gogh
Glowing Painting: The Fighting Temeraire by Joseph Mallord William Turner
Graceful Painting: Beauty Looking Back by Hishikawa Moronobu
Jolly Painting: Summer by Giuseppe Arcimboldo
Moving Painting: The Birth of Venus by Sandro Botticelli
Moody Painting: The Sower by Jean-François Millet
Mysterious Painting: Isle of the Dead by Arnold Böcklin
Nice Painting: The Fifer by Édouard Manet
Perfect Painting: Apples and Oranges by Paul Cézanne
Proper Painting: A Bar at the Folies Bergère by Édouard Manet
Quaint Painting: The Milkmaid by Johannes Vermeer
Scary Painting: Ōtani Oniji III as Yakko Edobei by Tōshūsai Sharaku
Scenic Painting: The Hunters in the Snow by Pieter Brueghel the Elder
Serene Painting: Lady with an Ermine by Leonardo da Vinci
Sinking Painting: Ophelia by John Everett Millais
Solemn Painting: Las Meninas by Diego Velásquez
Twinkling Painting: The Starry Night by Vincent van Gogh
Warm Painting: The Clothed Maja by Francisco de Goya
Wild Painting (comes in two parts): Folding Screen of Fūjin and Raijin by Tawaraya Sōtatsu
Wistful Painting: Girl With a Pearl Earring by Johannes Vermeer
Worthy Painting: Liberty Leading the People by Eugène Delacroix
Happy collecting!