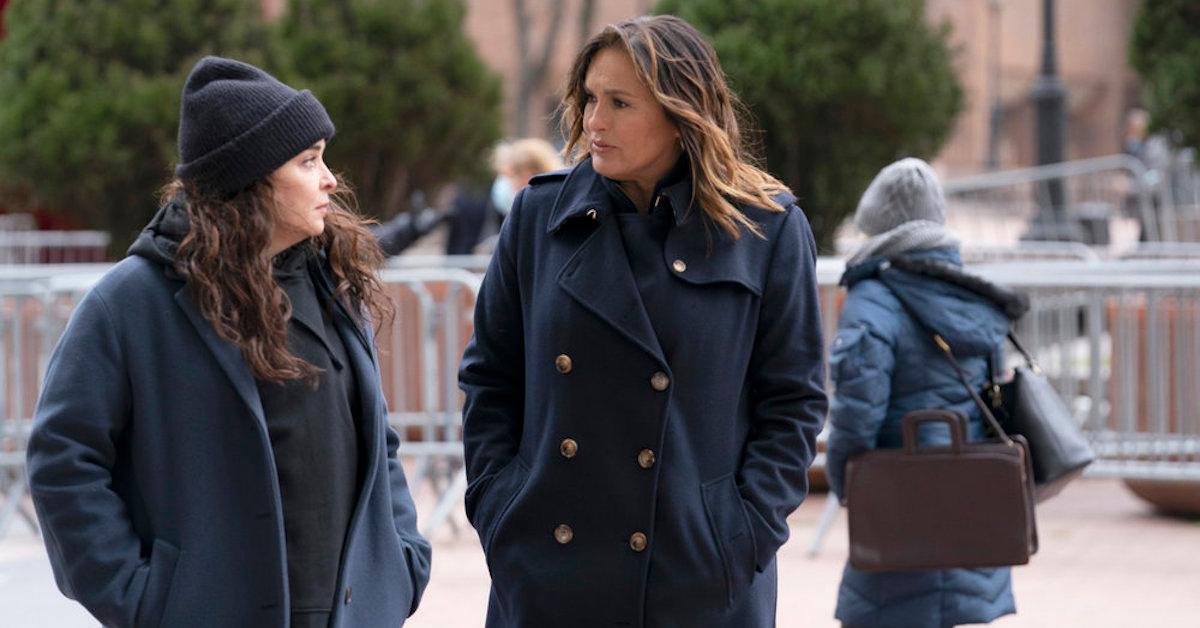 'Criminal Intent's' Annabella Sciorra Reprises Her Role as Carolyn Barek on 'SVU'
Criminal Intent's Annabella Sciorra reprises her role as Detective Carolyn Barek in Feb. 18's episode of Law & Order: Special Victims Unit, "Hunt, Trap, Rape, and Release."
Annabella hasn't appeared in a Law & Order episode since 2006, which makes her return all the more anticipated.
Article continues below advertisement
Keep reading for everything you need to know about Annabella Sciorra and what C.I.'s Carolyn Barek is up to today.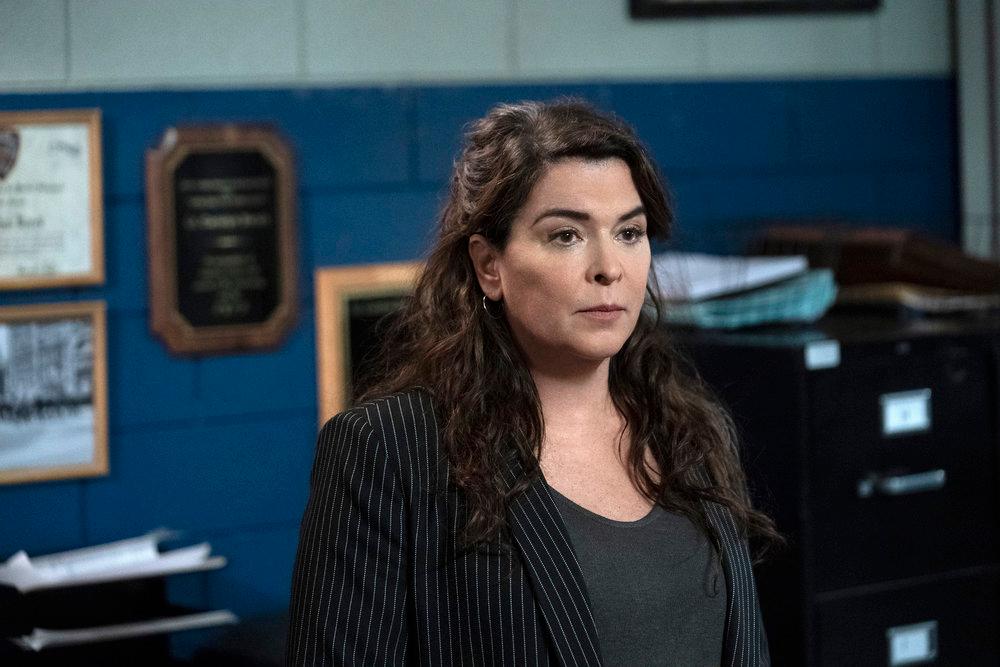 Article continues below advertisement
Who is Annabella Sciorra on 'SVU'?
It's been over a decade since her character's time as Detective Mike Logan (Chris Noth)'s partner on the Major Crimes team, but now, Carolyn Barek is returning for duty.
All these years later, Barek has transitioned out of Major Crimes and over to the Bronx Special Victims Unit, where she has now been promoted from detective to lieutenant.
"Hunt, Trap, Rape, and Release" will see Benson and Barek collaborate on a manhunt to take down a serial rapist whose six victims live in both Manhattan and the Bronx. But Barek's team doesn't seem too keen to have Manhattan's SVU breathing down their necks. "It's a Bronx case," Barek tells Benson when she asks to coordinate plans.
Article continues below advertisement
Back in her Criminal Intent days, Barek only lasted a season, after seemingly butting heads with Detective Logan and being generally low-energy as a Major Crimes cop. We're excited to see what she's like all these years later, now that she's risen through the ranks.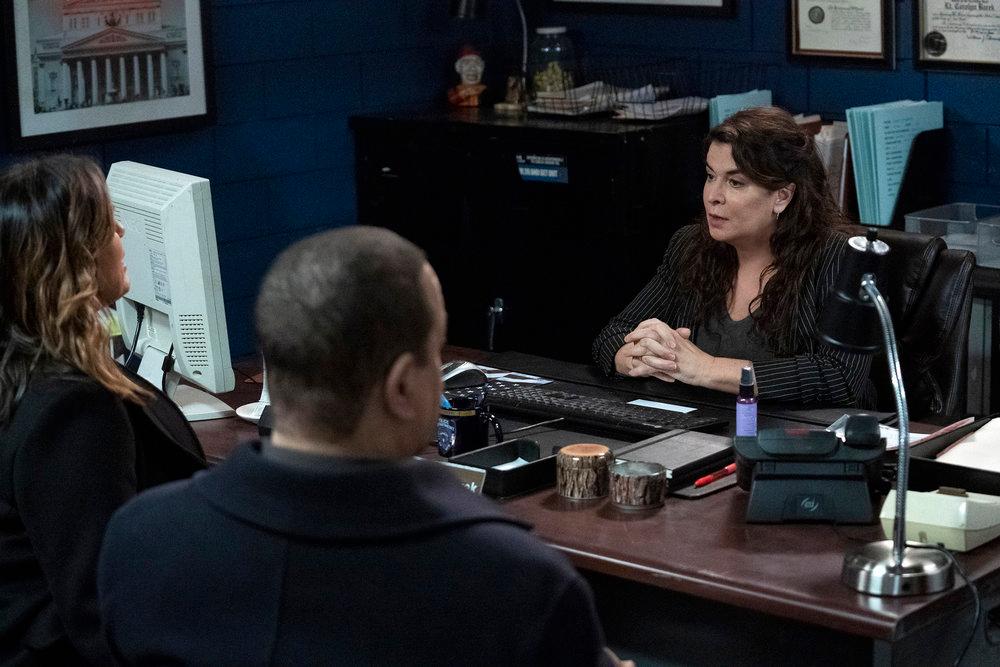 Article continues below advertisement
Barek's return is the latest in Season 22's franchise veteran surprises.
Carolyn Barek is just the latest Law & Order veteran to make an appearance on the current Season 22. Following Barba's heartfelt return, audiences have seen Wentworth Miller's ADA Holmes come back to the show to help on a case to bring down Judge Gallagher.
Elizabeth Marvel's Rita Calhoun has also returned to 1PP this season, where she had a dramatic elevator altercation with Benson, and we even got to see Jennifer Esposito's Phoebe Baker agree to marry Fin Tutuola in the New Year's Eve episode.
Article continues below advertisement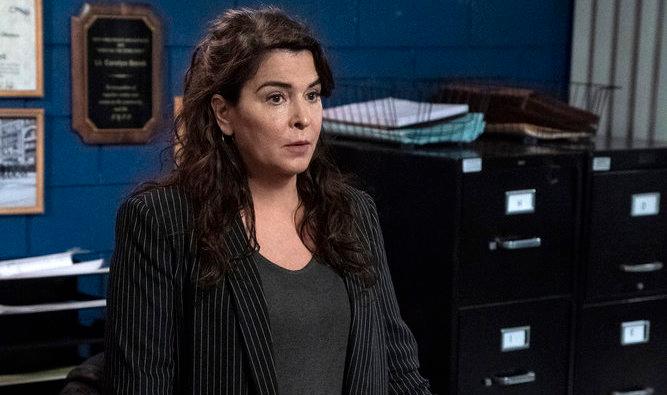 Where else have you seen Annabella Sciorra before?
Aside from her role as Carolyn Barek on Criminal Intent, Annabella Sciorra has appeared in another Law & Order franchise, Trial by Jury, where she played defense attorney Maggie Dettweiler in a 2005 episode called "The Abominable Snowman."
Article continues below advertisement
This Emmy-nominated actress might be best known for her role as Gloria Trillo on The Sopranos, one of Tony's gumars, with whom he develops an affair with after a scheduling mix-up at psychologist Jennifer Melfi's office.
Following that tragic role, Annabella would go on to play Kate Arden in The L Word, Diana Moore in ER, and Nora Skoff in Mental.
The star made headlines in 2017 when she alleged that disgraced film producer Harvey Weinstein had raped her after forcing his way into her house. She explained that she had not reported the incident at the time for fear that Weinstein would "destroy" her career in Hollywood.
Aside from her appearance on SVU, Annabella's most recent roles are in the series Truth Be Told, where she plays Erin Buhrman, and the action film The Kitchen, where she plays Maria Coretti.
New episodes of Law & Order: SVU air Thursdays at 9 p.m. on NBC.