6 April Fools' Day Jokes to Play on Your Co-Workers Inspired by Jim Halpert From 'The Office'
Well, hello! Given that you clicked on this article, you're probably interested in playing an April Fools' Day prank on your co-worker(s). Wow! We have one word for you: Brave.
Kidding! There is definitely room in the workplace for April Fools' Day pranks, but make sure to choose your victims wisely.
Article continues below advertisement
With the big holiday approaching, we decided to take some tips from the ultimate office prankster himself: The Office's Jim Halpert. The scene where he puts Dwight Schrute's stapler inside of Jell-O literally plays on repeat inside our heads.
But since your boss is probably not Michael Scott, and you work in an actual functioning office unlike Dunder Mifflin, we've decided to offer up some practical, won't-get-you-fired alternatives to Jim's epic pranks.
Ready to start scheming? Keep scrolling for April Fool's Day jokes to play at work, inspired by Jim from The Office.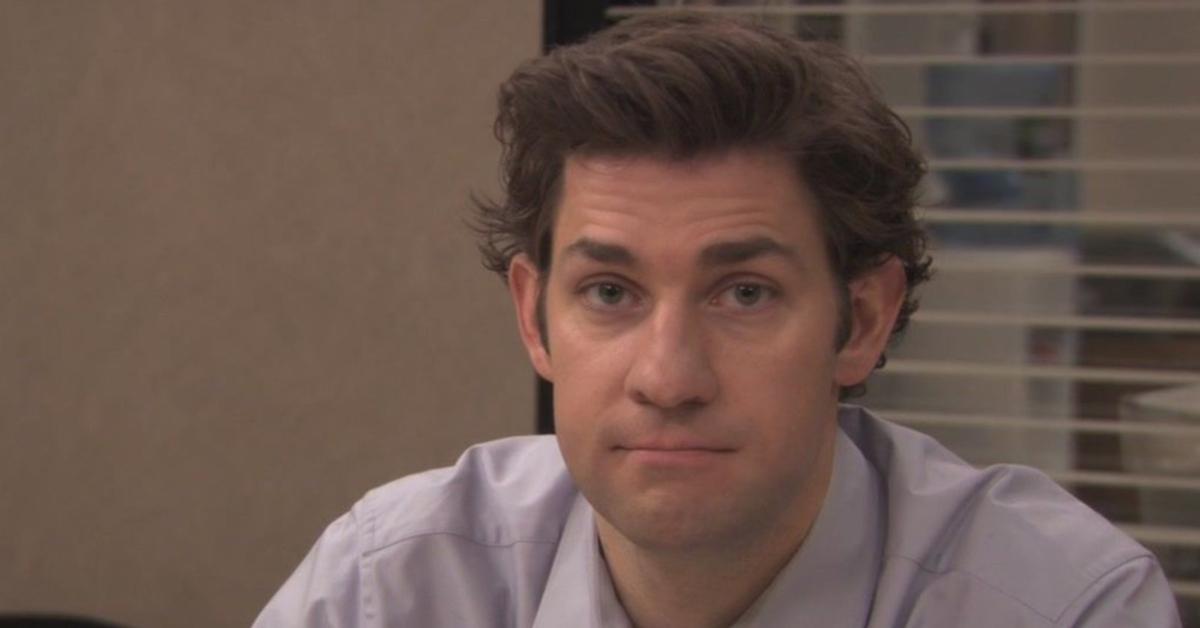 Article continues below advertisement
Move your co-worker's stuff every time they get up from their desk.
During Season 2 of The Office, Dwight compiles a list of complaints against Jim. In one of his offenses, Dwight accused Jim of moving his desk two feet closer to the copier.
"I just moved it an inch every time he went to the bathroom. And that's how I spent my entire day that day," Jim said during the episode.
While you probably shouldn't mess with your co-worker's desk, you may be able to recreate the prank with a different item. Think of something small that you could move in increments throughout the day. For example, you could try tilting your co-worker's monitor by a tinge every time they leave their desk. If all goes well, their monitor will look like it's about to fall over by the end of the day and they'll have no idea why.
Article continues below advertisement
Plug your keyboard into your co-worker's monitor and start typing random letters.
In the episode "Goodbye Toby," Jim connected his Bluetooth headset to Dwight's cellphone when he wasn't looking. Then, whenever Dwight would get a call and try to answer, he wouldn't be able to hear anything because Jim was hooked up to the audio.
To be clear, we don't recommend trying that at work as it's an invasion of personal privacy. However, if you do want to mess with your co-worker in a similar manner, try connecting your keyboard to their monitor when they're not looking. Then, when you hear them typing, start hitting random letters on your keyboard to create unexplained typos. They'll be so confused!
Article continues below advertisement
Play a faint humming or buzzing sound in the background.
During Season 6, Jim and Pam learned morse code just so they could talk about Dwight without him being able to understand. Then when an annoyed Dwight confronted them about it, they denied his claim and ultimately gaslighted him.
Looking to try your own version of this prank? Using your phone or computer, put on a faint humming or buzzing noise (maybe this one?) in the background. When your co-worker asks if you hear it, pretend you don't. Then, gradually increase the volume until your co-worker has had enough.
Article continues below advertisement
Give your co-worker some nasty jelly beans.
In the episode "Garage Sale," Jim convinced Dwight that he had bought magical beans from Jamaica. Were they actually magical? Of course not. It was nothing more than a pack of legumes.
But now that we've got beans on the brain, we can't help but suggest buying a pack of Jelly Belly's Beanboozled and dumping them all into a candy bowl for your co-workers to try.
While some flavors are sweet (Birthday Cake, Toasted Marshmallow, etc.), others are just the opposite (Dirty Dishwasher, Stink Bug, etc.). If you're lucky, your co-worker will scoop up a handful then have an out-of-body experience once they taste all the flavors.
Article continues below advertisement
Pretend to be an important client or customer with a ridiculous name.
During the episode "Customer Survey," Jim and Dwight must complete a sales exercise. When Jim is asked to role-play a client, he makes up the ridiculous persona of Bill Buttlicker, a hearing-impaired old man who gives Dwight an extra hard time.
If you work in a customer or client-based industry, you can try this as a prank call! Just make up your own eccentric persona and give your co-worker a ring. See how long you can keep them on the line before telling them it's you.
Article continues below advertisement
Change your outfit throughout the day.
During Season 3, Jim pushes Dwight's buttons by dressing up as him for the day. While it's not much of an April Fools' prank to just mimic your co-worker's style, there's another outfit-related prank you could try.
Arrive at work with multiple outfits similar in color and style. Then, change your clothes every hour or so. If anyone asks, you've been wearing that all day. This will drive your overly observant co-worker insane.