'Black Ink Crew: New York's' Donna and Alex Have Reportedly Ended Their Engagement
Some rush to get married, others get engaged and stay so for a while. So, what about Donna and Alex from 'Black Ink Crew'? Are they still together?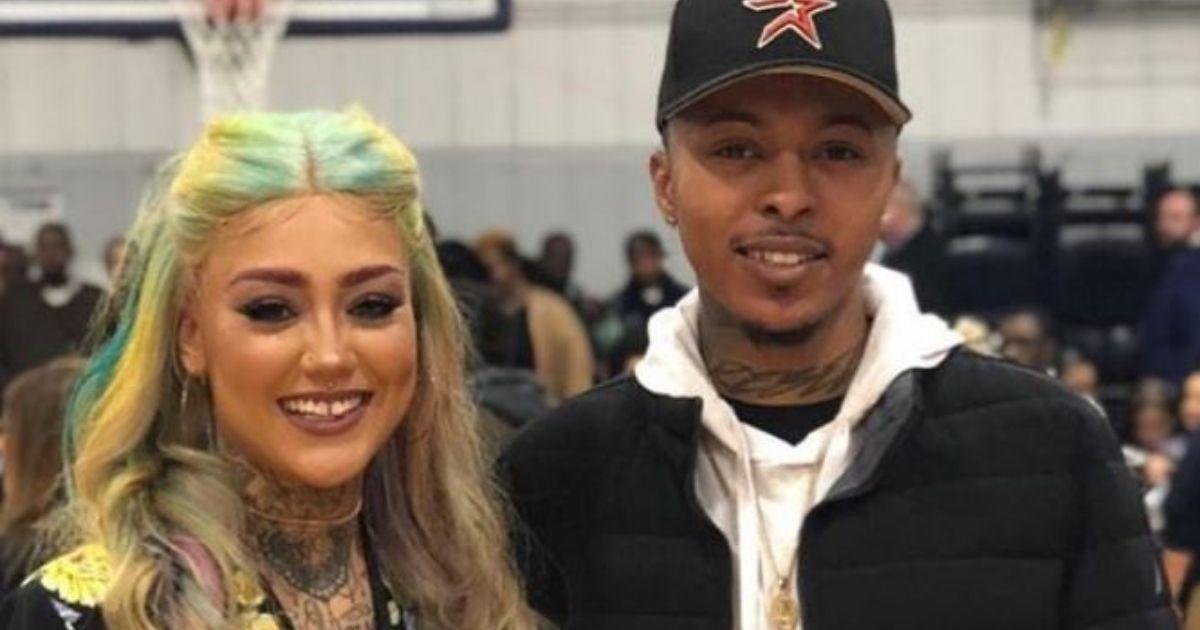 When VH1's Black Ink Crew hit the air, it quickly drew a following thanks to the interesting people that worked at the tattoo shop. There is drama at every corner, which makes for great television, and when two of the favorites confirmed a relationship together, it definitely helped the ratings.
Article continues below advertisement
Over the years, fans have been rooting for Alex Robinson and Donna Lombardi's relationship. Once Season 9 aired, many viewers believed that something was amiss between the pair. And with Alex and Donna not being present on each other's respective Instagram pages, fans are convinced the couple may have called it quits. So, are Alex and Donna still together? Here's what we know.
Article continues below advertisement
Donna and Alex have reportedly called their engagement and relationship quits.
Folks, the end is upon us. According to blog site Reality Entertainment TV, Alex and Donna are no longer a couple. On Jan. 12, 2022, the site shared the news with followers, and many are not surprised by it.
"No offense, how you get them is how you lose them because she cheated with him. That wasn't going to last since she cheated on Moe with Alex in a bathroom," one user commented.
"Good because she's abusive and they were in a domestic violence relationship," another fan commented.
Keep in mind, neither Donna nor Alex has confirmed or denied reports yet. In fact, Donna has remained mum about the topic and has only been focused on growing her merchandise business on Twitter. As for Alex, it appears that his Instagram page has been wiped clean, with one photo of a sketch of the artist remaining on the page.
So, it's safe to assume that the pair ended their relationship.
Article continues below advertisement
Donna and Alex first started dating on Season 6 of 'Black Ink Crew.'
In case you've been MIA, Alex first met Donna after joining the show in Season 6. Their relationship started off with some drama that could have taken things into a different direction. Instead, they ended up together and quickly became one of the show's most loved pairings.
Article continues below advertisement
Viewers first got the hint of a budding romance when a video of pair went viral on social media. Donna was in a relationship with Moe but she found herself having what looked like an intimate moment in a bathroom alone with Alex, which was caught on video.
Later, the video went viral and Moe was rightfully upset. After breaking things off with Donna, Alex stood by her. He later told Donna that he had feelings for her and the two became an item.
Article continues below advertisement
Their relationship was a storyline on the show for a while, and they seemed to be happily in love. Fans grew attached to them as a couple — especially after the pair got engaged during Season 8 — but things later got weird for them at work. Their relationship began to see a strain, and rumors started to circulate about their relationship status.
In July 2020, Urban Belle Magazine reported that the couple possibly put their engagement on hiatus, which came after Alex posted a public apology to Donna. According to a screenshot captured by the magazine, Alex also made it known that he was not going to share why he was apologizing, saying in the caption, "Don't ask what I did, just know I'ma do better!!"
Article continues below advertisement
The photo that accompanied the caption read, "I want to sincerely apologize to Donna for not being the man that I was when we first started dealing with each other. I've been dishonest, lacked communication amongst other situations and I just wanna say that I'm sorry & I will be the man that I'm destined to be & give you the world that you deserve. I love you Big Mama."
Article continues below advertisement
The image was later deleted, but the magazine reported that Donna replied to the apology, writing in the comment section, "I love you and I know we can be everything."
However, once Season 9 of Black Ink Crew aired, it was clear that Alex and Donna had serious issues — especially after accusations of domestic violence came to light. Even though Alex admitted that he falsely accused Donna of physical abuse, most fans believed that the damage was done.
However, Cheat Sheet reports that in an July 2021 Instagram Live, both Alex and Donna shared their sentiments about the show and blamed production for how their storyline played out. And while it seemed that the two were in a better place, new reports reveal that the couple has cut ties.
Alex and Donna may rekindle their romance in the future, but only time will tell.