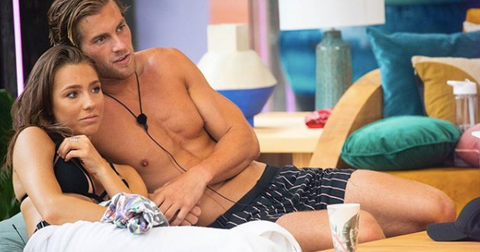 Dylan and Alexandra From 'Love Island' Are Instagram Official and Still Very Much Together
By Jacqueline Gualtieri
Not all fans were convinced of Dylan Curry's intentions when he joined Love Island. Even when he and Alexandra Stewart began developing their relationship, some people still believed that he was looking for fame, not love. So when the first season of Love Island came to a close, many fans believed that the answer to the question, "are Dylan and Alexandra still together?" would be a resounding, "nope." But the couple appears to be proving everyone wrong.
Are Dylan and Alexandra still together? They're Instagram official.
After the conclusion of Love Island Season 1, Alexandra took to Instagram to let her fans know that she and Dylan were excited to try a real relationship "outside that villa." The two live in different locations, with Alexandra being located in Los Angeles and Dylan being in San Diego, but it looks like they are now frequently making trips to see each other following their return from Fiji.
Since that first post, there's been a pretty steady stream from Alexandra about her boyfriend. However, the last post that Dylan was featured in was back on Oct. 7. So has something happened in the past month? Nope, Dylan has just stepped more behind the camera as Alexandra's feed has become more curated for her sponsored posts as a Revolve, Good American, and Function of Beauty influencer.
While Dylan is still credited as the photographer on some of Alexandra's posts, he's mostly gone missing from actual photos. But over on Dylan's Instagram, the photos are a little more candid. His feed shows that the couple is not only posing on the red carpets, but also spending real couple time together, doing things that are less for the camera, like strolls on the beach with his dogs. And if Alexandra isn't in the photo, she's at least in nearly every caption.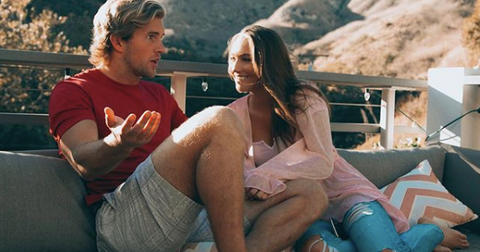 Is anybody else from Love Island Season 1 still together?
Love Island has proved to have found love for more than just Alexandra and Dylan. Winners Zac and Elizabeth are still going strong. Ray and Caro are still together and are even planning on spending their first Thanksgiving together.
Weston and Emily were together as of October, although they haven't shared any recent updates on their relationship. We imagine that Weston would remove the Instagram Story Highlight titled "EMILY" from his page if they had broken up. Cashel and Kyra are dealing with being so far apart by visiting each other frequently and nearly every other post on Cashel's Instagram is of the two together and him professing his love. So we think they're doing pretty well as well.
So far, Love Island has proven itself to be pretty much a matchmaking heaven, with most of its couples staying strong months after the show's end. The success may bode well for future seasons of the hit show. If you're hoping to be another one of its success stories, the show is casting now for its second season's hopeful lovers.