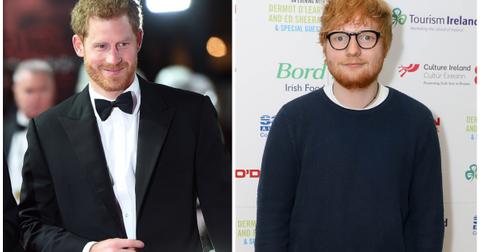 Prince Harry and Ed Sheeran Are Not Best Friends... Yet
By Anna Quintana

Updated
Everyone's favorite British royal Prince Harry (don't @ me) and Ed Sheeran are teaming up for Mental Health Awareness Day — and fans are definitely excited to see the two famous gingers meeting face-to-face. 
Are Prince Harry and Ed Sheeran friends? 
The "Shape of You" singer showed up to Harry's door in the short clip posted to Instagram and it didn't take long for Ed to make a joke about their resemblance. 
"It's like looking in a mirror," Ed said before entering the London house, which is not Harry and Meghan Markle's home at Windsor Castle.
So, it is no surprise that fans are wondering if Ed and Harry are actually friends in real life. The answer may surprise you. 
Prince Harry and Ed Sheeran met in 2011. 
Around the time of Harry and Meghan's engagement, Ed was getting a lot of questions regarding the upcoming royal wedding, and whether he would be providing the entertainment. 
It was then that Ed broke down their relationship or lack thereof. 
"I get asked this all the time like I know the Royal family. I've met Harry once," he told Entertainment Tonight at the time. "And] that was in 2011 at his grans' Jubilee, and it was like, 'Hey.' 'Hey'… I barely know him!"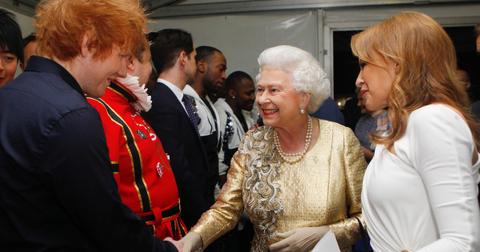 However, that did not stop Ed from offering to sing at their wedding, adding a quick, "Yeah, why not?"
In case you were wondering, he did not end up performing his wedding anthem "Thinking Out Loud" at their nuptials. 
Ed Sheeran does have other royal connections... 
In 2017, Ed received an MBE from Prince Charles on behalf of Queen Elizabeth, which means he is a member of the Most Excellent Order of the British Empire. 
Ed joins other famous Brits like Adele, Keira Knightley, and Eddie Redmayne with an MBE. Plus, he has also met with Harry's brother, Prince William, and it was reported that William jokingly asked Ed to stop singing with soccer player Wayne Rooney during their short chat.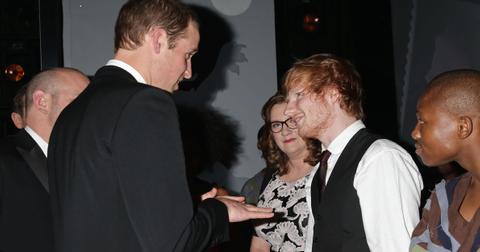 Prince Harry and Ed have more in common than their looks. 
While their friendship might be budding, Harry and Ed do share an uncanny resemblance. In fact, while meeting with students from Francis Holland School in London, Harry was asked if he was the British singer. 
When another school girl asked if he was the "real Prince Harry," Harry responded, "Yes, the other one is Ed Sheeran." Fast forward, and the doppelgängers are teaming up for Mental Health Awareness Day — a cause that is close to both the redheads.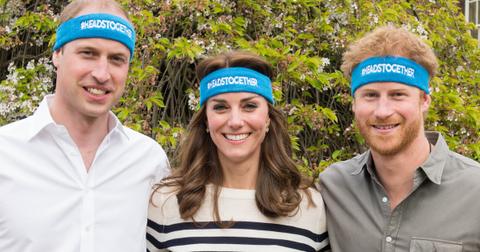 Ed works with the non-profit organization Young Minds, which is dedicated to helping the well-being of children and young adults. He has also been very open about his own struggles with mental health in the past. 
"I get anxiety every day. It creeps up on you. I've been working on it for eight years and I closed off from reality," Ed explained in an interview with Charlamagne Tha God earlier this year. "I have no problem with talking to people, but it's when people film me and stare at me... it makes me feel weird." 
As for Prince Harry, he has long worked alongside his brother and sister-in-law Kate Middleton in advocating mental health initiatives. This year, the trio narrated a video for a new initiative with the NHS called Every Mind Matters — a website that offers people mental health advice and support. 
We don't know about you, but we think this is the beginning of a beautiful friendship.