Meghan Markle honestly can't catch a break. The latest rumor about the Duchess of Sussex? That she's pregnant with her second baby. It's been just five months since she gave birth to her first son, Archie, with husband Prince Harry, but fans are relentless when it comes to the newly vetted royal. So, is Meghan Markle pregnant again? Scroll down for everything we know!
Article continues below advertisement
Is Meghan Markle pregnant again?
If she is, she hasn't announced it yet, so we'll go with no. Even though the palace has yet to confirm anything about baby No. 2 for Meg and Harry, fans can't help but look for clues that she may be expecting every time she steps out.
Some have pointed out that Meg wore the same exact blue dress she wore when she was pregnant in Australia last year during her current Africa tour with Harry. They've also noticed that she's worn loose-fitting clothes the entire trip.
Article continues below advertisement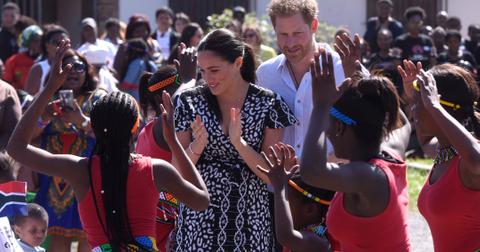 Body language expert Judi James also commented on Meghan's body language when speaking to Express UK. "As well as this mutual admiration and love there are also some rituals and gestures that could easily prompt rumors that baby number two is on the way, especially as Meghan's first pregnancy was announced on their last tour," Judi said.
Article continues below advertisement
She added, "Meghan is often seen with her hands either covering, touching or loosely clasped in front of her belly and this is often seen as a clue of a pregnancy."
But that could mean more than one thing. "Archie is still very small and a reading of a couple of the non-verbal cues could suggest that either Meghan is pregnant again or that she is just still acting like a very new mom," Judi noted.
Article continues below advertisement
But if there's anyone who's p----d off about the rumors surrounding Meghan, it's her husband. That said, he's now taking a stance to the ruthless British press and fans by pursuing legal action.
"Unfortunately, my wife has become one of the latest victims of a British tabloid press that wages campaigns against individuals with no thought to the consequences — a ruthless campaign that has escalated over the past year, throughout her pregnancy and while raising our newborn son," Harry said in a statement on Tuesday, Oct. 1. 
Article continues below advertisement
"It is for this reason we are taking legal action, a process that has been many months in the making," he added. "The positive coverage of the past week from these same publications exposes the double standards of this specific press pack that has vilified her almost daily for the past nine months; they have been able to create lie after lie at her expense simply because she has not been visible while on maternity leave."
"She is the same woman she was a year ago on our wedding day, just as she is the same woman you've seen on this Africa tour," Harry emphasized added. "For these select media this is a game, and one that we have been unwilling to play from the start. I have been a silent witness to her private suffering for too long. To stand back and do nothing would be contrary to everything we believe in."
Well, there you have it. Prince Harry is done with the rumors about his wife... and we should be, too.