Prince Harry and Meghan Markle's Christmas Cards Get Cuter Every Year
It's a tradition for most families during the holidays to send out a Christmas card, and the same is true for the British royal family.
Each year, royalists anticipate the release of Prince William and Kate Middleton's holiday card featuring their adorable children Prince George, Princess Charlotte, and Prince Louis.
Article continues below advertisement
And when Prince Harry tied the knot with Meghan Markle in 2018, they also began sharing an annual Christmas card with the public, and soon their children, Archie and Lilibet, would be featured alongside them.
Here is a look back at Prince Harry and Meghan's Christmas cards over the years!
2018 — Prince Harry and Meghan shared a photo from their wedding.
Not technically a Christmas card, but the couple released a never-before-scene photo from their 2018 wedding, which was shared by Harry's brother William on Twitter.
Taken from behind, the black-and-white image shows Harry (or should I say H) and Meghan as they watch fireworks goes off in the night sky above Frogmore House.
Article continues below advertisement
2019 — Archie makes his debut on the Sussexes' Christmas card.
This time the Christmas card / GIF was shared by The Queen's Commonwealth Trust on Twitter, and featured the couple's then 7-month-old son Archie.
Article continues below advertisement
2020 — Harry and Meghan highlighted a charity with their Christmas card.
Seeing as they are activists, it is no surprise that Prince Harry and Meghan used the release of their Christmas card to spotlight the charity Mayhew, where Meghan is a Patron.
The illustrated card shows Harry, Meghan, and Archie (19 months old at the time) along with their pups.
Article continues below advertisement
2021 — Lilibet Diana makes her grand debut!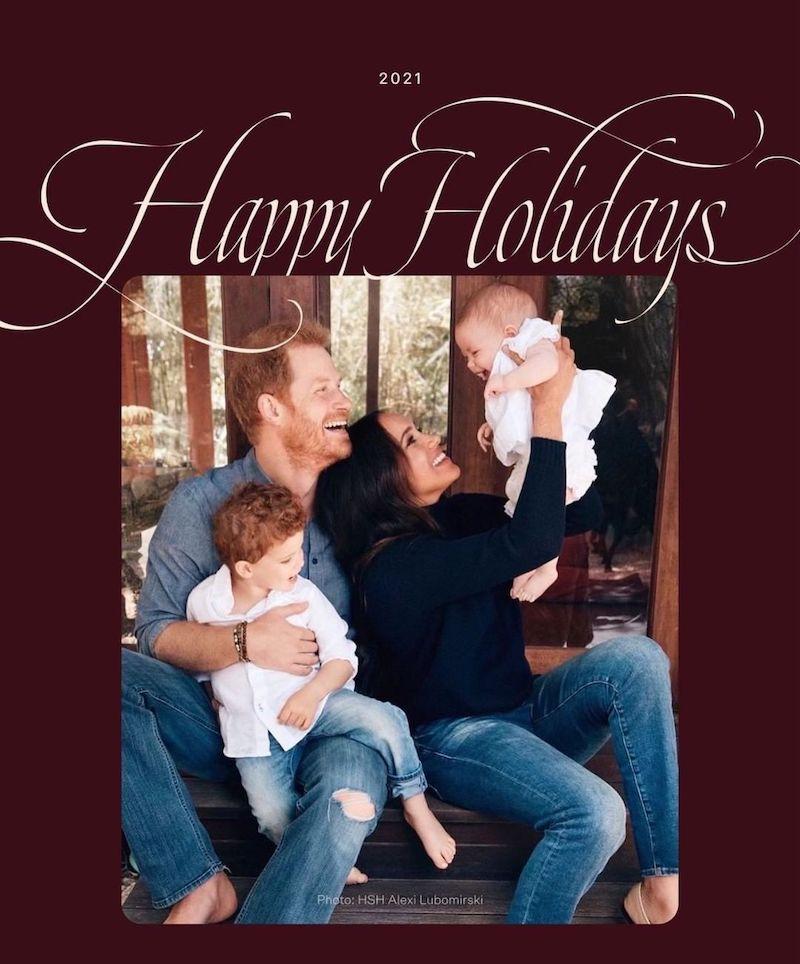 Last year, Prince Harry and Meghan gave the world the first look at their daughter, Lilibet Diana — named after her great-grandmother and her grandmother Princess Diana — in this adorable Christmas card.
The couple is matching in jeans while Archie and Lili wear white shirts.
Article continues below advertisement
"This year, 2021, we welcomed our daughter, Lilibet, to the world. Archie made us a 'Mama' and a 'Papa,' and Lili made us a family," they captioned the card on Instagram. "As we look forward to 2022, we have made donations on your behalf to several organizations that honor and protect families — from those being relocated from Afghanistan, to American families in need of paid parental leave. Wishing you a happy holiday season and a prosperous New Year, from our family to yours!"
Article continues below advertisement
2022 — Prince Harry and Meghan Markle keep it simple.
For 2022's Christmas card, the royal couple kept things simple amid the release of their Netflix documentary with a black-and-white photo of themselves at the Robert F. Kennedy Ripple of Hope Award Gala.
"From our family to yours, and on behalf of our teams at The Archewell Foundation, Archewell Audio, and Archwell Productions, we wish you health, peace, and a very happy new year," the card read.
We can't wait until next year!