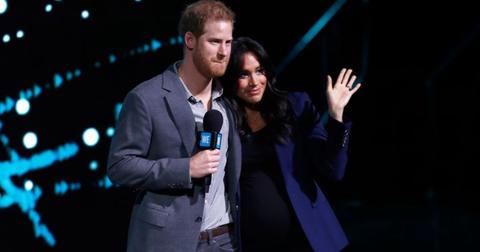 Prince Harry and Meghan Markle's Baby Already Has an Adorable Nickname!
By Gabrielle Bernardini
Fans are eagerly awaiting the arrival of Prince Harry and Meghan Markle's baby, and the Duke and Duchess of Sussex already have a cute name for their little bundle of joy.
As to what Meghan Markle's baby will be called, the royal couple revealed on their Instagram page that they've been referring to their first child as "Baby Sussex." Yes, we're already obsessed!
The pair asked fans to donate to charities — Lunchbox Fund, Well Child, Baby2Baby, and Little Village — instead of sending their little royal baby gifts. The couple thanked fans on Instagram in an official statement, which read, "Just one week ago, The Duke and Duchess of Sussex asked that you kindly consider supporting various organisations around the world in lieu of sending gifts for the upcoming arrival of their first born. Not only did many of you lend your support, you took action."
The statement continued, "Their Royal Highnesses wanted you to know the impact of your support — the direct effect your donation, energy, and action made! You chose to be part of the collective good, and you have made a real difference… You made this happen. Thank you."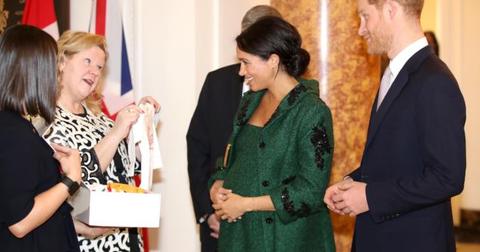 When is Meghan Markle's due date?
According to Hello Magazine, the Duchess of Sussex is reportedly currently at Frogmore Cottage in Windsor, which is the couple's new home. Though her exact due date has not been released, fans are theorizing that Meghan will give birth to a baby girl or boy as soon as Easter.
Also noteworthy, Queen Elizabeth will turn 93-years-old on April 21, so there is a possibility that the new royal baby could share a birthday with his/her great-grandmother.
Details regarding the birth of the newest royal baby have been kept under wraps per the couple.
"The Duke and Duchess of Sussex are very grateful for the goodwill they have received from people throughout the United Kingdom and around the world as they prepare to welcome their baby. Their Royal Highnesses have taken a personal decision to keep the plans around the arrival of their baby private," read a statement from the couple released via Buckingham Palace. "The Duke and Duchess look forward to sharing the exciting news with everyone once they have had an opportunity to celebrate privately as a new family."
Will Meghan Markle's baby have a title, and what will he or she be called?
Though Meghan's baby will be born of royal blood, that does not necessarily mean that he or she will be dubbed a prince or princess. Seventh in line for the throne, behind Prince Harry, the new child under the current decree will not have "His/Her Royal Highness" attached to the name.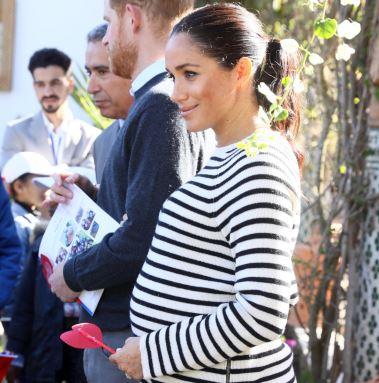 While an early 20th century decree by King George V declared that only the eldest son of the Prince of Wales was entitled to hold the title of HRH, Queen Elizabeth issued a new Letters Patent. The 2012 ruling declared that all of Prince William and Kate Middleton's children will hold the royal title.
"The Queen has been pleased by Letters Patent under the Great Seal of the Realm dated 31 December 2012 to declare that all the children of the eldest son of The Prince of Wales should have and enjoy the style, title and attribute of Royal Highness with the titular dignity of Prince or Princess prefixed to their Christian names or with such other titles of honour," read the official statement.
Therefore, if Meghan's baby is a boy, he may be dubbed as Earl of Dumbarton, and if a girl, her title will be known as Lady.
Meghan's baby may possibly be a US citizen, too.
The Duchess of Sussex currently has citizenship in the United States, and in a statement made to CNN by Kensington Palace, a spokesperson confirmed that she will apply to become a British citizen.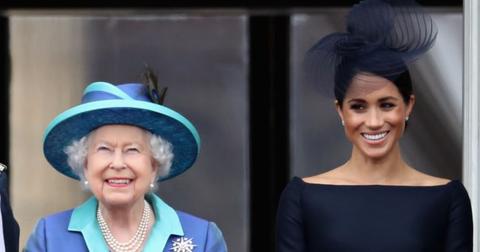 However, the rep said it was "too early to say" if she will maintain dual citizenship in both countries. Basically, if Meghan maintains her citizenship in the States, all of her children will have dual nationality too.
Here are the top three baby name predictions being made:
According to the British betting company Ladbrokes, many think the couple will name their first child Diana (if it's a girl) after Prince Harry's late mother. Another top name in the pool is Elizabeth, which would be after the Queen and the little girl's great-grandmother.
If the the little cherub is a boy, top names on the site are Albert and Philip.
Well, we certainly can't wait to meet the new baby!