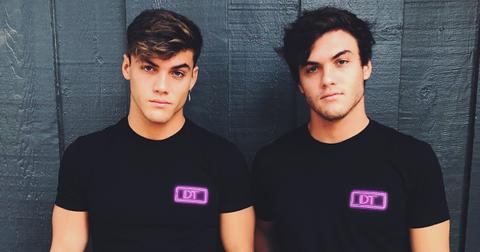 The Dolan Twins Said They Feel "Trapped" With Their YouTube Channel
By Shannon Raphael

Updated
Well, we can certainly say that we didn't see this one coming. Grayson and Ethan Dolan — aka the Dolan Twins — are two of the most recognizable faces of YouTube stardom. The 20-year-olds first gained fame on the now-defunct app Vine, but they transitioned to making YouTube videos. They've since profited off of their joint channel.
Article continues below advertisement
After purchasing a $2 million home in 2019, fans expected that the brothers would be expanding their vlogging empire. But, after a sit-down interview with Shane Dawson in October of 2019, they announced that they were growing tired of doing daily vlogs, and that they were interested in focusing on other ventures.
In August of 2020, the brothers appeared on the Impaulsive podcast, and they further elaborated on their shift in image.
Are the Dolan Twins quitting YouTube? We're breaking down their past emotional interview with Shane Dawson, what they said to Logan Paul, and how they want to devote attention to their own podcast.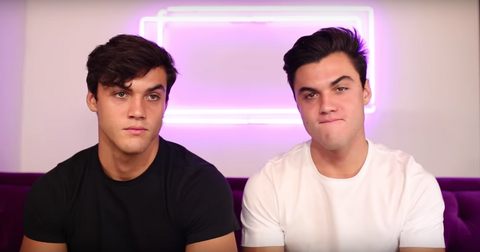 Article continues below advertisement
Are the Dolan Twins quitting YouTube?
Grayson and Ethan's shared YouTube channel boasts more than 11.1 million subscribers, so there was a lot of buzz when it was revealed that they were making a documentary-style video with Shane Dawson in 2019. The Dolan Twins tweeted about how the documentary would be extremely emotional, and fans began speculating as to what exactly they'd be talking about.
In the video, Ethan and Grayson announced that "a change needs to be made" and that they'd be taking a step back from their channel. The brothers said that the pressure to post a video to their channel every Tuesday had them feeling burnt out, and prevented them from growing personally.
"We have to stop posting weekly videos," Ethan announced. They also noted that they've been doing weekly videos since they were 14 years old.
Article continues below advertisement
The two then opened up about how the commitment to their channel has shifted the relationships in their lives, and how they haven't been able to live as teenagers for years. 
"I've lost a lot of friends and stuff, and even in like relationships," Ethan said. "I can't have a life."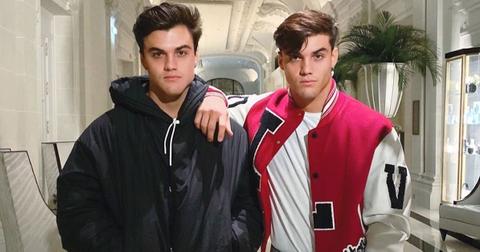 Article continues below advertisement
Grayson and Ethan did say that they would continue to make videos, but only when they felt passionate about the subject matter. They said that they would not be releasing videos on a set schedule, and they've stuck to that promise.
Though the brothers have posted dozens of vlogs since their sit-down with Shane, they are doing so on their own time.
Changes in the Dolan Twins' personal lives led them to make this shift too.
The Dolans' announcement video did take quite an emotional turn when the twins began speaking about the loss of their father. In January of 2019, their dad, Sean Dolan, passed away from cancer after a two-year battle. Grayson and Ethan said that they weren't really able to mourn or support their other family members at the time because they were still trying to create new content each week.
Article continues below advertisement
"Had we not been filming a new video every week, then we would have been able to spend more time with our family when they needed us," Ethan continued.
"We were filming it three weeks after," Grayson said of returning to the channel after their father died. "Because we had to get a video up the next week. We didn't want to take a month off."
Article continues below advertisement
The Dolan Twins went on to say that they don't feel as though they've been able to process their father's death because filming new videos took such a priority in the subsequent weeks and months after. They're hoping that creating videos in their own time will allow them to enjoy the process again, and to make improvements in their personal lives.
Article continues below advertisement
Grayson and Ethan said they feel like they play a "character" in their vlogs.
The famous YouTube duo appeared on the Aug. 20 episode of Impaulsive alongside host Logan Paul, and they noted that they still aren't fully comfortable with where their channel is going. Though it has been more than 10 months since they sat down with Shane Dawson, Ethan and Grayson admitted that they still feel like they are putting up a facade when they vlog.
"It's hard to find the balance of what you want to film and what the fans want to see," Ethan explained on the podcast.
"We've been talking about it and having deeper discussions about what the f--k to do," Grayson said. "We've come to some realizations about how we haven't been living our lives as dudes."
They said that they even considered retiring all together at one point.
Article continues below advertisement
Later in the podcast, the two noted that they're not being authentic to themselves when they vlog.
"I feel like I've become trapped in my 17-year-old body as soon as the f-----g camera turns on because this is what my audience likes. I have to turn it on," Ethan continued.
They said that they've struggled to figure out how to change their vlogging style as they've aged up. Though their fanbase has also grown up with them, they're still unsure of how to translate this in their videos.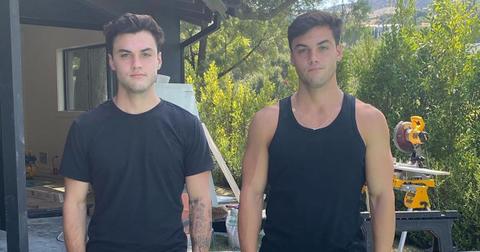 They shared that they feel like they can share more personal information when they host their podcast, Deeper. Ethan described it as an "open conversation" that they don't get to have on their YouTube platform.
While the two have yet to fully end their YouTube careers, it's clear that they are looking to make a significant change to their style in the future.