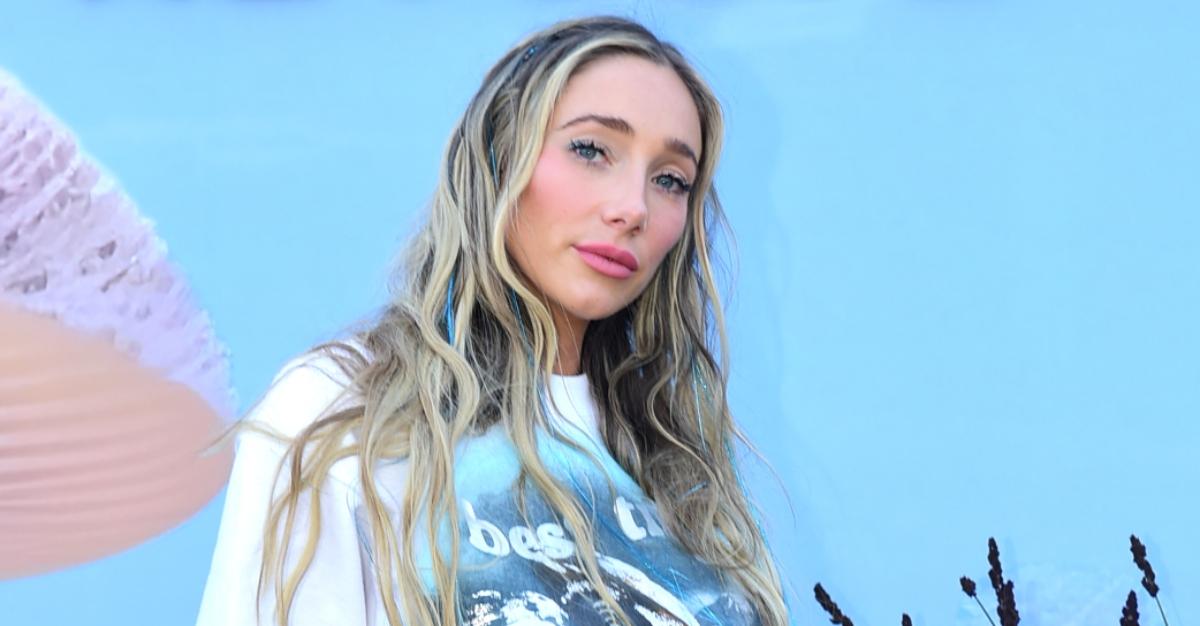 Aurora Culpo Says She Had a "Breast Milk Facial" — Talks Unique Wellness Trends (EXCLUSIVE)
Aurora Culpo spoke with 'Distractify' about motherhood, including dealing with postpartum, and the unique wellness trends she's tried.
If you follow Aurora Culpo on social media, you know that the content creator is super into health and wellness trends. Aurora's Instagram bio even states that she is a "wellness junkie."
And, if you tuned in to the reality series, The Culpo Sisters, which documents the daily lives of Aurora alongside her influencer sisters Olivia and Sophia Culpo, you know that the mother-of-two is not afraid to try an obscure beauty trend (or two).
Article continues below advertisement
In an exclusive interview with Distractify, Aurora — who partnered with Thorne — opened up about motherhood, including dealing with postpartum after her two kids, managing mom-shaming as an influencer, as well as the most out-of-the-box beauty trend that she has tried. (Spoiler alert: it involves breast milk!)
Article continues below advertisement
Aurora Culpo talks postpartum, motherhood, and wellness.
Aurora and her ex-husband Mikey Bortone share two children together — Remi Berkeley Bortone was born on June 13, 2018, and their daughter Solei was born just a couple years last on August 16, 2020.
"Being a mom and going through the hormonal changes of pregnancy and the weight fluctuations, I dealt with some postpartum, anxiety and depression after both of my kids ... I wanted to find some kind of support," Aurora told us, explaining that she didn't want to take prescription medication.
"Not that I'm against that, but I found a lot of the Thorne products to be super beneficial just for optimizing my sleep [and] my health," she added.
Wanting to maintain her energy levels and "be the best version" of herself, Aurora told us that her kids were the "number one driving force for cutting out alcohol, also just using supplements to support my energy levels, my stress levels, and to maximize my sleep and my recovery after working out."
Article continues below advertisement
Wellness influencer Aurora Culpo says she did a "breast milk" facial.
Aside from taking daily vitamins, Aurora is not shy about showing her following the wellness trends she has tried — such as wrapping her entire body in bandages to sweat out any toxins in her body.
So, we couldn't help but ask what has been the most extreme health or beauty trend the influencer participated in.
Article continues below advertisement
"So I have tried my own breast milk like in shots," Aurora spilled. "I also did a breast milk facial. That was interesting."
"I have recently been trying different IV drips that are kind of cool. I do like an NAD drip," she continued, which is said to help improve cognitive function, organ function, combat depression, and more, according to St. Andrews Medical Center.
Article continues below advertisement
"I've been leaning into [mushrooms] — and this is not the psychedelic kind of mushrooms — but like using mushrooms for health and kind of like the different brain — not altering — but supportive properties that you can find in mushrooms and fungi," she added.
Aurora Culpo on being mom-shamed on social media.
Being a social media influencer also comes with internet trolls wanting to pick apart your parenting style.
"There's always going to be somebody commenting on the way you parent," Aurora told us about how she deals with mom-shaming on the internet. "I think just, you know, doing all the things that you need to do for yourself to be functioning at the highest energy level, mental clarity, getting the best sleep, do all the things to keep your health strong and vibrant, that the kids are only going to get the trickle over effects of that."
Article continues below advertisement
Luckily, Aurora also has a strong family support system surrounding her. For now, the influencer is focused on parenting her two children and her podcast, Barely Filtered, which she co-hosts with Kristen Gaffney.
"[We talk] a lot about health and wellness," she said. "We have a lot of experts come on to talk about things like gut health and optimizing your sleep and your health and your beauty."